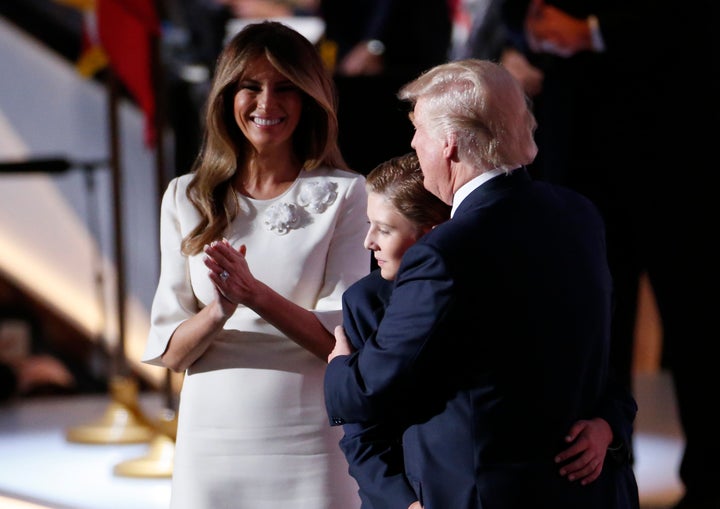 Melania Trump, the wife of Republican presidential nominee Donald Trump, denied on Thursday that she had ever broken immigration laws, in response to a Politico report that calls into question whether she committed visa fraud and worked without authorization during her early visits to the U.S.
Trump is now a U.S. citizen, but her husband's virulent opposition to undocumented immigrants and foreign workers makes her own immigration history particularly of interest. And as Politico noted in a piece that's worth reading in full, there are a lot of questions about when she came to the U.S. and how.
Among them: What type of visas did she use to come to the U.S. in the 1990s? Did her visas authorize her to work as a model? If so, why has she repeatedly described going through a process more typical of short-term visas that wouldn't allow her to work? If she came to the U.S. in 1996, as she has said, why are there photos of her here that were reportedly shot in 1995?
The Trump campaign, and now Melania Trump herself, did not really answer those questions.
Campaign spokeswoman Hope Hicks told Politico that "Melania followed all applicable laws and is now a proud citizen of the United States."
Melania Trump posted a statement of her own on Twitter Thursday, saying "there has been a lot of inaccurate reporting and misinformation concerning my immigration status back in 1996."
"Let me set the record straight: I have at all times been in full compliance with the immigration laws of this country. Period," she continued. "Any allegation to the contrary is simply untrue."
Her reference to 1996 is notable because it implies she first came to the U.S. that year. The New York Post resurfaced nude photos of Melania Trump and published them earlier this week, stating they were shot in 1995 in New York. Politico also cites other evidence she was in the U.S. in 1995.
As Politico notes, Trump previously told Harper's Bazaar and MSNBC that she never stayed in the U.S. "without papers" and would in her early time in the U.S. go back to Europe "every few months" to get her visa stamped.
If she had an H-1B work visa, as has been reported, she would not have been required to return to her native country that frequently. She would have been required to do so under other visas, such as the tourist visa, but a tourist visa does not allow individuals to work in the U.S.
The Trump campaign did not immediately respond to a request for clarification on what types of visas Melania Trump held and whether she was in the U.S. at any point in 1995.
If Melania Trump did misrepresent her past immigration record, it wouldn't be the first inconsistency in her husband's campaign on foreign workers. In spite of Donald Trump's statements in opposition to foreign workers taking American jobs, his businesses have previously and continue to employ guest workers from other countries.
Popular in the Community