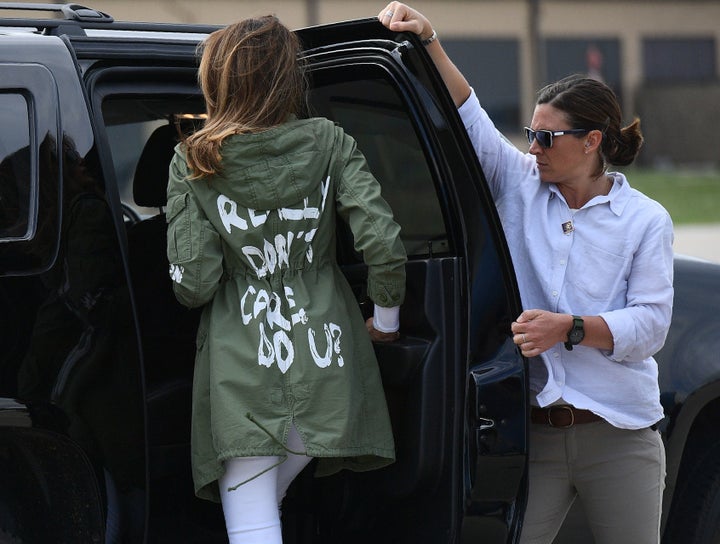 When HuffPost asked Trump press secretary Stephanie Grisham of the outfit, Grisham said: "I'd hope you guys would want to cover her visit with children today. It's a jacket. There was no hidden message. After today's important visit to Texas, I hope the media isn't going to choose to focus on her wardrobe. (Much like her high heels last year)." Trump sparked criticism in 2017 for donning Manolo Blahnik stilettos while visiting Hurricane Harvey-stricken Houston, Texas.
Grisham did not confirm where the jacket came from.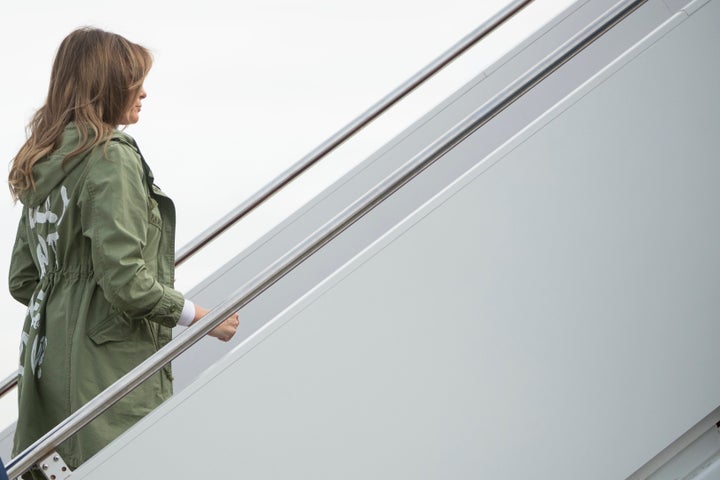 Upon arriving back at Andrews on Thursday evening, hours after a public firestorm over the the jacket, Trump was again photographed wearing it.
President Donald Trump then tweeted about the controversy, offering a different take on the jacket from what the first lady's spokesperson said earlier in the day:
The Daily Mail reports that the jacket is from Zara. The company did not immediately respond to HuffPost's request for comment, nor did Trump's stylist, Hervé Pierre.
Clearer photos of the jacket can be seen on the blog Crazy Loves Fashion from a post in 2017. The blogger's jacket bears remarkable similarities to the one Trump was wearing.
A person familiar with the situation who did not want to be identified said he could clearly see lettering on the front of Trump's jacket that matches that of the Zara jacket seen in the blogger's images.
Reactions to the jacket have exploded on social media:
"I'm here to learn about your facility, in which I know you house children on a long-term basis," said Melania Trump while at the Upbring New Hope Children's Shelter. "And I'd also like to ask you how I can help these children to reunite with their families as quickly as possible."
Sebastian Murdock contributed reporting.
This story has been updated with a new photo that clearly shows the jacket and President Trump's tweet.
Before You Go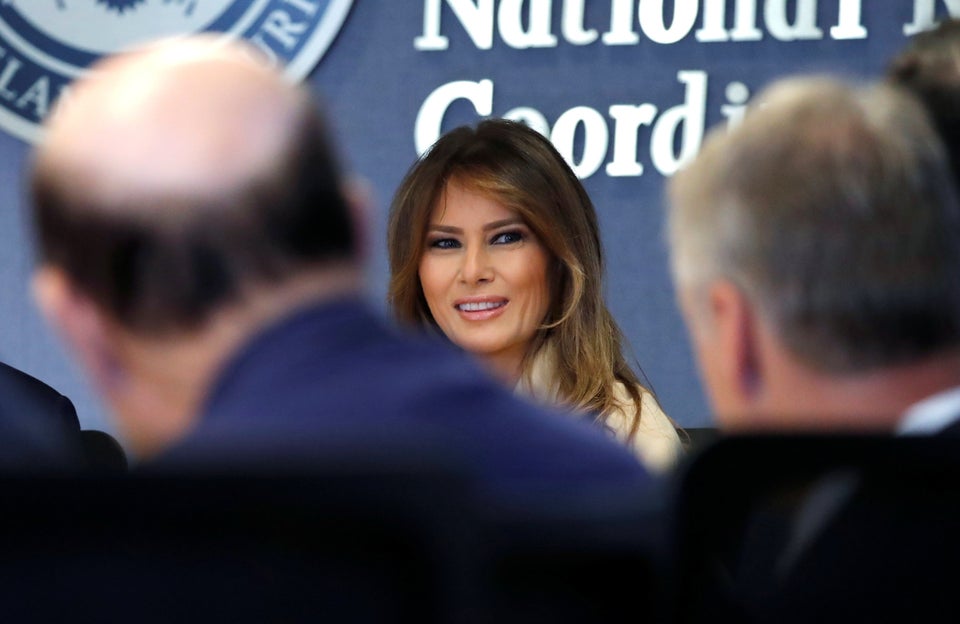 Melania Is Back!