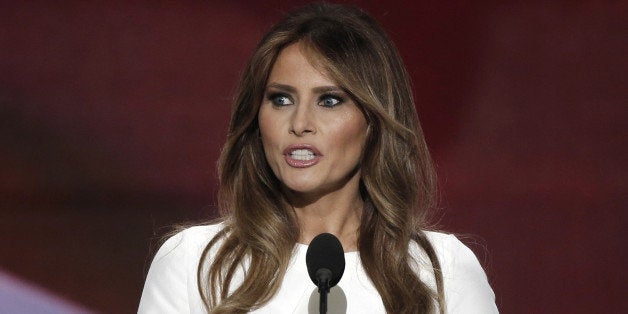 The centerpiece of the opening night of the Republican Convention was the speech by Melania Trump, the wife of Donald Trump. But her pleasant performance was soon overshadowed by allegations of plagiarism.
Candidate Trump, the ultimate showman, made an unprecedented and dramatic appearance on the first night of the convention to introduce his wife. Mrs. Trump praised her husband, speaking in a Slovenian accent, to an enthusiastic reception from the delegates. But shortly after the convention wrapped up she became the center of a swirling controversy. Two of the passages she read were strikingly similar to the speech Michelle Obama made to the Democratic National Convention in 2008.
"From a young age, my parents impressed on me the values that you work hard for what you want in life," a poised Mrs. Trump said, "that your word is your bond and you do what you say and keep your promise, that you treat people with respect. They taught and showed me values and morals in their daily life." In her 2008 speech Mrs. Obama said, "And Barack and I were raised with so many of the same values: like, you work hard for what you want in life, that your word is your bond, that you do what you say you're going to do, that you treat people with dignity and respect, even if you don't know them and even if you don't agree with them."
Mrs. Trump then added, "We need to pass those lessons on to the many generations to follow... Because we want our children in this nation to know that the only limit to your achievements is the strength of your dreams and your willingness to work for them." Back in 2008, Mrs. Obama added, "Barack and I set out to build lives guided by these values and to pass them onto the next generation, because we want our children -- and all children in this nation -- to know that the only limit to the height of your achievements is the reach of your dreams and your willingness to work hard for them."
Earlier in the day Mrs. Trump told NBC News that she had written the speech. Whether she did or not, someone in the campaign should have caught the similarities. Instead, reactions to the convention speeches focused on whether Mrs. Trump had plagiarized Mrs. Obama. Had Mrs. Obama done the plagiarizing, the Republicans would have called for a Congressional investigation.

Donald Trump will have to find a scapegoat in order to save his wife's reputation.

Monday evening's convention theme was "Make America Safe Again." It is usually the practice of a political party to feature their values and positions on key issues during the first night. But this was an evening that reflected Mr. Trump's combative tone. Former New York City Mayor Rudy Giuliani electrified delegates, especially with an attack against the presumptive Democratic nominee. "It was Hillary Clinton who advocated the overthrow of Qaddafi in Libya. Now Libya is in chaos," he charged. "Hillary Clinton is accountable for this and much more. For dereliction of duty and failure to keep our people safe played a major role." At times seeming almost unhinged, he took a swipe at President Obama. "We must not be afraid to define our enemies. It is Islamic. Extremist," he yelled. "For the purposes of the media...I said Islamic. Extremist. Terrorism."
The evening's most emotional speech was delivered before the broadcast networks began telecasting the proceedings. Pat Smith, the mother of U.S. diplomat Sean Smith, who was killed during the 2012 attack in Benghazi, drew the rapt attention of delegates as she blamed Hillary Clinton for the death of her son. "I blame Hillary Clinton personally for the death of my son," she said and accused Clinton of lying to her. "If Hillary Clinton can't give us the truth, why should we give her the presidency," she added. However, Smith's speech came before the large prime time audience tuned in. So too did the dramatic floor fight over convention rules led by the anti-Trump forces that failed. The GOP remains divided.
But Tuesday's news headlines focused on Melania Trump's speech. Trump campaign officials scrambled to explain the controversy. Campaign manager Paul Manafort tried to quell the dispute Tuesday, "There's no cribbing of Michele Obama's speech," he told CNN. "These were common words and values that she cares about -- her family, things like that." However, Reince Priebus, the Republican National Committee chairman, said that someone has to be fired for the plagiarism. And it is likely that Donald Trump will have to find a scapegoat in order to save his wife's reputation.
In many ways, opening night of the Republican Convention reflected the unpredictable and at times disorganized approach of the Trump campaign. The theme for day two of the convention is "Make America Work Again." But Trump clearly has a lot of work to do to make his nominating convention work.
Calling all HuffPost superfans!
Sign up for membership to become a founding member and help shape HuffPost's next chapter