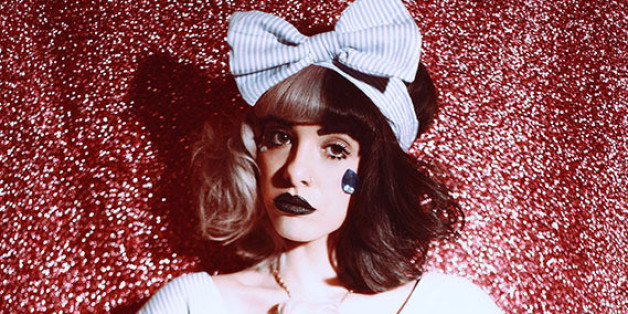 Singer Melanie Martinez remembers playing her first big live show -- ever -- on national television. At 17, she'd decided to try out for NBC's "The Voice"; that night, she perched in a chair and played Britney Spears' "Toxic," her hair two-toned and tied up with a large red bow, kicking a tambourine between her feet.
"I liked singing and just took a chance with it," she says in an interview with HuffPost Entertainment. "I didn't have any real idea that I was going to be an artist; I had no idea what that meant."
Now, it's nearly two years later. No, Martinez did not win "The Voice"; instead, she is making a name for herself as an artist in her own right.
"I think the hardest thing [after the show] was to get the people who listened to me to understand that I'm a songwriter," Martinez says.
And she's a good one. After leaving "The Voice," Martinez played a number of live shows and wrote constantly. She signed a deal with Atlantic Records and began working with producers Kinetics & OneLove (B.o.B.'s "Airplanes"). She released her first EP, "Dollhouse," in May, along with the video for "Dollhouse," which has garnered over 7 million views and counting.
Watch "Dollhouse," and it's easy to understand why people are drawn to Martinez: "You don't hear me when I say 'Mom, please wake up -- Dad's with a slut, your son is smoking cannabis,'" Martinez croons in the video. Two plastic doll-arms cradling a pair of eyes wind around her neck; her hair is purple, Barbie pink and black, like bruises and cotton candy.
Among the many to notice Martinez's unique style were those at FX's hit show, "American Horror Story." Another track on her EP "Carousel" recently scored airtime on the first trailer (below) for "Freak Show," the show's fourth season, which premieres Oct. 8. For Martinez, the placement was a dream come true. "AHS" is "absolutely, hands-down" her favorite show. (Martinez is a Jessica Lange fan, in particular. "She's nuts," she said of Lange.)
In fact, when Martinez heard "American Horror Story's" next theme would be carnival-related, she went right to her manager and pitched one of her songs, "Carousel," with the show in mind. She didn't hear anything for nearly a year. But, lo and behold, two days before the promo aired, she found out the song would be featured.
"The whole thing was just crazy," she said, laughing.
Martinez's career will only pick up from here. Next, she will release the video for "Carousel," and she is currently finishing her first full-length album for Atlantic. In the meantime, she'll take off for the second leg of her Dollhouse Tour, which she's happy about -- her favorite part of being a musician is playing live:
"I just really love seeing [audience members'] faces," she said. "It's so different than seeing people tweet at me ... I'm so thankful for that, but the faces of people as they sing along to songs, it gives you a different feeling. It's insane."
Catch Melanie on the second leg of her Dollhouse Tour, this fall.
CLARIFICATION: A former version of the story implied that Martinez wrote "Carousel" after she heard about the "Freak Show" theme. She wrote it before.
Calling all HuffPost superfans!
Sign up for membership to become a founding member and help shape HuffPost's next chapter
BEFORE YOU GO
PHOTO GALLERY
Artists To Know In 2014