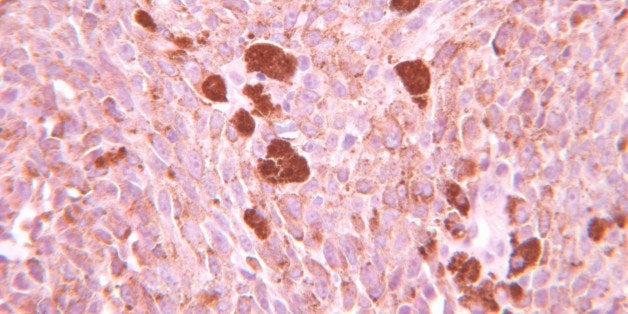 Mar 3 (Reuters) - A drug that uses the body's own immune system to kill cancer cells has produced lasting remissions - some as long as two years - in patients with melanoma that had spread to other parts of the body, according to data published on Monday.
Follow-up from an early-stage, 107-patient trial of the drug, Bristol-Myers Squibb's nivolumab, found that a year after treatment, 62 percent of patients were alive. After two years, 43 percent were alive.
Patients with advanced melanoma, the deadliest form of skin cancer, have a median life expectancy of around a year, said Dr. F. Stephen Hodi, director of the Melanoma Treatment Center at Boston's Dana-Farber Cancer Institute and one of the study's senior authors.
"The durability of clinical benefit, now with long-term follow-up is fairly remarkable," he said. "As well as the notion that somebody who stops the drug still gets a benefit."
Patients in the Phase 1 trial, whose cancer had worsened despite prior treatment with standard drugs, were given intravenous infusions of nivolumab every other week for up to 96 weeks.
Side effects of the drug included fatigue, rash, and diarrhea.
The trial results were published in the latest edition of the Journal of Clinical Oncology.
An editorial accompanying the study noted that the nivolumab data suggest the drug may be even more effective in patients with earlier-stage cancer.
Nivolumab is part of a new class of experimental immunotherapies designed to work by disabling a protein known as PD-1, or Programmed Death receptor, which acts as a brake on the immune system's ability to attack cancer cells.
Bristol Myers is conducting several Phase 3 trials of nivolumab in different types of cancer, including melanoma, lung and kidney cancer.
Some of the trials involve combination therapy with Yervoy, also known as ipilimumab, a Bristol immunotherapy cancer drug designed to disrupt a different cell receptor.
Bristol declined to comment on when it expects to report data from later-stage, randomized nivolumab trials.