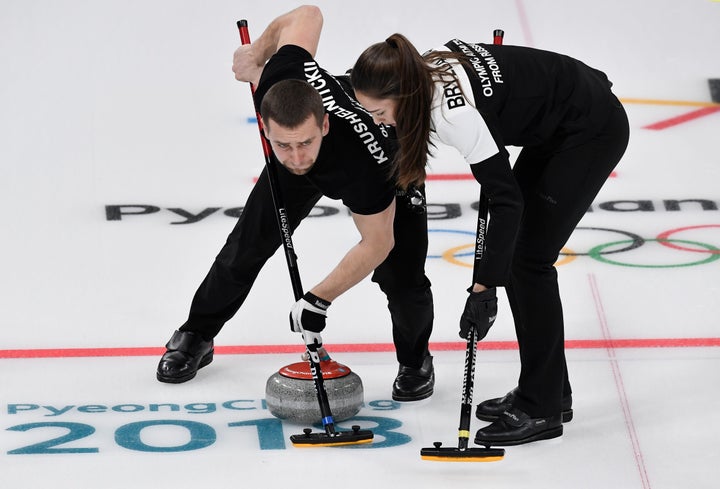 Any way you sweep it, the doping scandal surrounding Russian Olympic curler Alexander Krushelnitsky is bizarre.
After a podium appearance at the 2018 Winter Olympics, he reportedly tested positive for meldonium, a drug that would have been crazy for any curler to take before an international competition. For one, the drug's purported benefits ― increased blood flow and faster recovery after a workout ― don't seem particularly necessary for curling, a sport in which some athletes were known to take smoke breaks mid-match.
Plus, Krushelnitsky, his managers and his doctors knew what the rest of the world knew going into the Winter Games: There's a microscope on Russia because of revelations about its state-sponsored doping regime and its athletes' taste for meldonium in particular. Tennis star Maria Sharapova admitted to taking meldonium at the 2016 Australian Open, which earned her a 15-month ban, and enough members of Russia's under-18 hockey squad tested positive for the stuff that the team was replaced en masse before the 2016 world championships.
Perhaps most peculiar, though, is the fact that meldonium, a heart drug, was banned in the first place. The drug's performance-enhancing properties have not actually been scientifically confirmed. But they never had to be, because Russian athletes were taking a lot of it, and that was enough to get the World Anti-Doping Agency's attention.
"How could every member of a team need the same medical treatment?"
WADA took aim at meldonium, developed in 1970 in Latvia, when it noticed that a number of professional athletes in the old Eastern Bloc were using it. A study of the 2015 European Games, published in the British Journal of Sports Medicine, found a "high prevalence of meldonium use by athletes." It found that 13 medal winners were on meldonium at the time, and 66 of 762 athletes tested positive for it.
Russians, meanwhile, were crazy for it. A study by the country's anti-doping agency found that 17 percent of samples taken from 4,316 Russian athletes between October 2014 and February 2015 had traces of meldonium, according to the Times. When researchers looked at rugby players, that number skyrocketed to 53 percent.
WADA spent only a year monitoring the drug before banning it on Jan. 1, 2016. (By comparison, it's taken years to ban other substances ― some drugs, like caffeine, sit on the monitoring list indefinitely.) After meldonium was banned, athletes largely from Eastern European countries failed more than 170 doping tests due to the drug, including Sharapova.
Dr. Olivier Rabin, WADA's science director, noted that after the Sharapova scandal, the group banned meldonium in part because everyone was doing it.
"For meldonium, it quickly came to our attention that there were clear patterns of use by entire teams, which usually suggests a drug isn't being taken for medical purposes," he told NPR in 2016. "How could every member of a team need the same medical treatment?"
But although Rabin says there are studies suggesting the drug had a "potential performance-enhancing benefit," there isn't any preponderance of evidence that this is true. In fact, one study Rabin referred to actually states that "The evidence to demonstrate any performance enhancing effects of meldonium in the athlete population is limited."
Of course, this didn't need to be about performance enhancement. Before banning a drug, WADA also looks at other criteria, including health risks and an even wider catch-all, "whether taking the drug goes against the spirit of sport," according to Rabin. Meldonium, apparently, falls into the latter category, since Radin previously noted that "meldonium is probably not a very toxic substance."
Meldonium's short history on the naughty list is a classic case of authorities post-hoc'ing their way through a drug war. A suspect class of people took a substance; the substance became suspect as a result.
"Here's a situation where WADA has to play constant catch-up," says John Hoberman, an Olympic historian and professor at the University of Texas at Austin. "They had to include related substances [on the banned substances list] as well, because some underground chemist would tweak the testosterone molecule that wasn't covered by the statute. They have to react to events."
In the case of meldonium, that meant banning a drug without conclusive evidence that it enhances athletic performance.
"Meldonium's short history on the naughty list is a classic case of authorities post-hoc'ing their way through a drug war."
During the 2018 Winter Games in Pyeongchang, South Korea, clean Russian athletes are only permitted to compete under a neutral flag and uniform as "Olympic Athletes from Russia." The IOC banned 11 Russian athletes for life over allegations of state-sponsored doping and what the committee called "unprecedented systematic manipulation" of the anti-doping system at the 2014 Sochi Winter Games.
Russia ranked No. 1 in doping violations in 2013-2015, according to WADA, and the country has been implicated in doping scandals across many international sports in prior years.
It's unclear what will happen to Krushelnitsky, or whether Russia will be reinstated as an Olympic competitor after the latest scandal. The IOC had previously suggested that it could lift its suspension on Russian athletes marching under their national flag for the closing ceremony, but IOC spokesman Mark Adams told The Associated Press that a failed doping test could prevent that.
Related
Popular in the Community