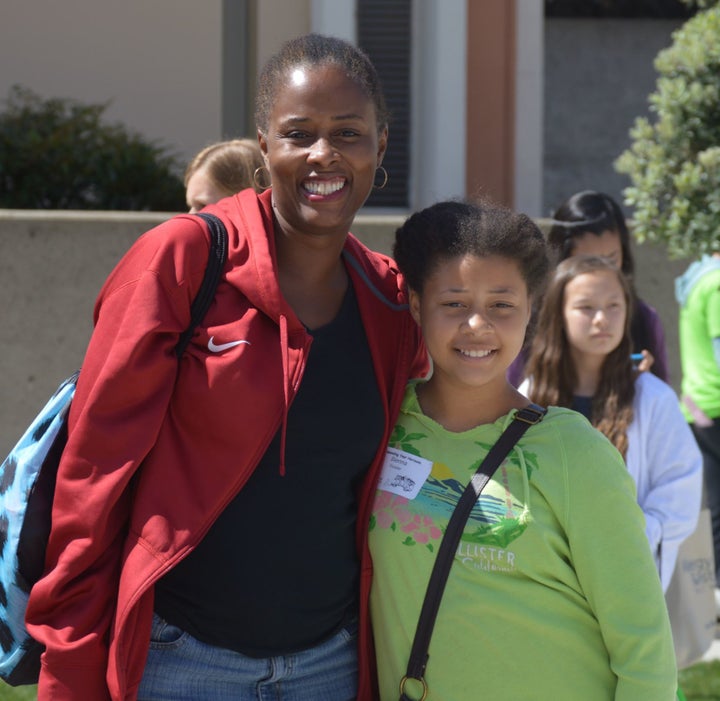 Co-authored by Kara Sammet
Melinda Gates has a new mission - promoting gender equity in computer science - and she's asking for input. When Melinda was in college thirty years ago, women were 37% of computer scientists. Since then, the percentage has decreased, to 18%. Yet, as Melinda notes, tech jobs are "high impact" because they pay well and tend to be flexible. Just as important, the ability of girls and women of every background to create technology – not just to be consumers of it – is about power, power to change the world.
Our message to Melinda: To get more girls and women creating at the tech table, more initiatives have to be family-friendly. If you ask a girl who her mentors are, you are likely to find out that it's her mom or dad that she most looks to for guidance. Girls are twice as likely as boys to look to their parents for college and career advice over any other resource. Encouragement from parents is a big contributor to teen girls' interest in computer science, even when parents have no background in tech. All of this leads us to argue that girls' families are the most under-utilized resource in the girl-centered revolution to hack the gender gap in technology.
Here are three family-friendly fixes to get girls in tech:
One of our most important insights came from a conversation with a teenage girl's father. He regretted that he couldn't do more to support his daughter. He thought that because he hadn't gone to college, wasn't a professional, and wasn't fluent in English, he couldn't do enough to guide her. Yet we knew that he re-arranged his work schedule and took time off from his job to drive his daughter to our weekend science, technology, engineering and math (STEM) program. He encouraged and made it possible for his daughter to participate in every session and that was important.
Girls don't need their parents to be engineers, computer scientists, or college graduates. What girls need is for parents to offer encouragement and support to engage in coding classes and informal computer science-related activities. Research backs this up. A study by Google revealed that encouragement by parents and exposing girls to out-of-school computer science-related activities are key factors in females' persistence in computer science. Imagine how empowering it is for parents like the one above to learn that they are already doing some of the most important things to help their girls get into computer science. Take a strengths-based approach with parents and let them know what a positive asset they can be for their daughters.
Also share other research-based resources with families. Expanding Your Horizons (EYH) offers parent workshops and introduces lessons about growth mindset, community resources and science and tech activities that families can do together. The National Center for Women & Information Technology (NCWIT) offers families an array of resources including books, games, computer clubs and online programs to encourage girls' interest in computing. Google's Made with Code offers fun, girl-centered and culturally-responsive coding projects for young, first-time coders, with links to other places to learn coding online. For more computer science activities and events, families can use The Connectory, the largest directory of STEM opportunities.
#2 Build in access and bridge the digital divide
We need to be especially mindful as we develop, invest in, and scale technology programs so that they are truly accessible to girls from families who live in underserved communities. We attended an EYH workshop this spring and asked girls how they got there. One of the girls said it was "mom magic." She explained how her mother is always looking for opportunities and signing her up for programs. While this is indeed one form of mom magic, not all parents have equal access to technology and knowledge about how to use it to find resources in tech for their daughters.
The communities and schools of low income girls and girls of color have less access to technology than their more affluent or white peers. Covering the costs of tech classes is important but not enough. If tech programs for girls aren't careful about how they reach girls' families, they will exacerbate this digital divide. A research team at Georgia Institute of Technology found that low-income and low-educated families found it hard, if not impossible, to find computer science resources online.
One way to bridge the divide is by recruiting and hosting girls' computer science programs at locations that are convenient and familiar to girls' families. Collaborate with family-focused places such as churches, mosques, community centers, and grocery stores. Scientific Adventures for Girls holds programs at local libraries for girls and their brothers, and friends. Not only does this approach enable girls to participate who wouldn't typically participate, but parents also feel comfortable staying and learning alongside their kids. Potential participants may be more interested in opportunities and feel safe enough to register if they hear about them in their own language, and from girls and members of their own community. Families may benefit from help filling out program applications through workshops and one-on-one advising. Programs that are successful at building in accessibility from the start meet girls' parents where the parents feel comfortable.
#3 Learn from and with families
Once you know parental support is a big key to success for girls in tech, it makes sense to think about how to best support parents to support their girls. The most important suggestion we can offer for this is to invite girls' families to the program design table. We have learned that we can't assume to know what will make for successful programs for girls' families. Work with allies from within girls' communities to broker introductions. Ask families what they want, what they need, and how to best collaborate with them to support their daughters.
There simply is no one-size-fits-all approach to successfully engaging girls' families. When possible, replicate parts of successful, evidenced-based family engagement initiatives. The next step is to use a culturally-responsive, human-centered design process to learn, design, and redesign to get programming right. Abriendo Puertas/Opening Doors discovered the plan they had for an app wasn't what Hispanic families wanted. By talking with families before they built out their app, the team was able to design an app with features that Hispanic families wanted—short on text, information for parents with children of all ages, and videos with real families. When girls' families feel welcome, they will partner with programs to iterate and develop best practices that balance family needs with organizational resources.
Melinda Gates, we admire your approach of taking time to learn and plan before jumping in to work on girls' equity and inclusion in tech. We encourage you to take the lead in making family engagement a central element of your efforts. Meet with girl-serving organizational leaders and other experts who are on the frontline of the revolution to hack the gender gap in technology to learn how they approach working with families. These include Black Girls Code, Iridescent, Techbridge, Girls Who Code, and Girl Scouts of the USA, who are creating pathways into technology for girls from every background.
Most importantly, invite families to the table as early as possible to help you define the challenges and opportunities to scale effective programs and innovate new ones. Imagine what is achievable when you empower families to support the potential of their daughters.
Linda Kekelis, Ph.D., is a consultant for education, research, and policy, promoting girls' inclusion in STEM and empowering the influencers in their lives.
Kara Sammet, Ph.D., is a research and design consultant for girls' education and leadership initiatives, currently working with Google's K-12 Education Outreach division.
Related
Popular in the Community