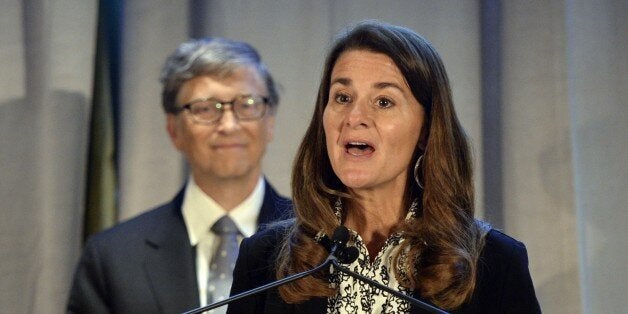 Melinda Gates believes providing contraception is key to empowering women, and she doesn't care how much flak she gets for it.
Prior to receiving this year's Lasker-Bloomberg Public Service Award from the Albert and Mary Lasker Foundation, Bill and Melinda Gates sat down with the New York Times to chat about their foundation's efforts to improve global health, and kicked off the conversation with their family planning efforts.
When asked if they get criticism for pouring so many resources into offering contraception and education on family planning, Melinda Gates was quick to shrug off any concerns.
"It's not controversial in many, many other places in the world. And just because it's controversial doesn't mean you shouldn't do the right thing for women. If women are telling you that, 'I don't want to have seven children, I can only feed two or three, but I don't have a way to plan for those children,' we should do the right thing, regardless if it's controversial."
She also shared the defining moment that shocked her into getting more involved in bringing contraception to women in need.
While traveling in Africa, Gates met with a number of women who knew where to get condoms, but because of frustrating cultural restrictions, they couldn't use them.
"Women in the developing world will tell you they cannot use condoms," she told The Times. "They can't negotiate a condom even in their marriage because they're either suggesting their husband has AIDS or that they do. I thought something should be done."
According to the organization, more than 220 million women in developing countries who don't want to get pregnant don't have access to effective methods of contraception and voluntary family planning information and services.
But it's not just the cultural and religious barriers in developing countries that have made family planning a dicey issue, according to Gates.
"I started to realize that we had stepped away from family planning, as a world, because it had gotten controversial in the United States," Gates told HuffPost blogger Marianne Schnall last year. "We really weren't giving women the option to plan their lives -- the contraceptives that we take for granted here in the United States or in countries like the UK."
To help break down these barriers, the foundation is currently working to develop innovative contraceptive technologies, raise awareness among donors, national governments, and the private sector and improve the efficiency of contraceptive distribution.
The pair offers some convincing arguments, too.
Every dollar spent on family planning, according to the organization, can save governments up to $6 that can be allocated for improving health, housing, water, and other public services.
But at the core of Gates' mission, is the need to remove the "c-word" from the topic altogether.
Popular in the Community