WASHINGTON -- The Internet went wild last week when a top federal prosecutor and the FBI jumped aboard the "Batkid" craze, issuing a fake indictment against comic book villains as part of a massive effort to grant the wish of a 5-year-old boy with leukemia who dressed up as his favorite superhero and "saved" San Francisco.
But as Melinda Haag, the U.S. attorney for the Northern District of California, helped make one sick child's day, her office continues cracking down on medical marijuana facilities that parents and pot advocates say would hurt dozens of others.
Jayden David, 6, of Modesto, Calif., suffers from rare form of epilepsy that has sent him rushing to the hospital more than 45 times. His father, Jason David, said his son has taken more than two dozen kinds of medication, but nothing calmed his seizures until he tried a liquid, non-psychoactive form of cannabis.
Jayden's medicine has been supplied by Harborside Health Center, a medical marijuana facility located in Oakland, Calif., across the bay from Haag's office in San Francisco. Harborside, which is helping roughly two dozen other parents and their sick children, is one of the three major Bay Area pot dispensaries that Haag is trying to close.
Harborside's proprietors are quick to point out the hypocrisy. "A bat costume and a bunch of people acting like they need to get rescued by Batkid is not going to make the cancer go away. Cannabis might," Andrew DeAngelo, general manager of Harborside, told The Huffington Post.
DeAngelo's brother, Steve, Harborside's executive director, added that sick children (who are treated with a highly concentrated cannabis oil that doesn't contain marijuana's psychoactive properties) are among his fastest-growing clientele. Across the country, parents of chronically ill children are increasingly turning to medicinal cannabis, including a coalition of Mormon mothers in Utah fighting for legal access to the plant.
Cannabis properties have long been used to help alleviate chronic pain, and recent studies have shown that marijuana compounds can kill certain forms of cancer cells. "When Sanjay Gupta showed how powerful cannabis treatment can be for gravely ill children [on his CNN documentary 'Weed'], it sent a beacon of hope to thousands of parents of sick children around the world," Steve DeAngelo said.
California became the first state to legalize marijuana for medicinal purposes when voters passed Proposition 215 in 1996. Since then, California's cannabis industry has flourished, generating hundreds of millions of dollars in annual revenue for the state.
But the plant remains illegal under federal law. And in late 2011, a group of federal prosecutors, including Haag, launched a renewed crackdown on medical marijuana facilities across California, resulting in hundreds of shuttered businesses and thousands of lost jobs. Haag began going after Harborside last summer and also is waging aggressive campaigns to close down Berkeley Patients Group in Berkeley, Calif., and Shambhala Healing Center in San Francisco.
This isn't supposed to be happening. Deputy Attorney General James Cole, the number two official at the Justice Department, issued a memo to the country's 94 U.S. attorneys in August that instructed them to leave medical marijuana providers in states that permitted its use alone unless they violated one of eight specific priorities. The criteria include providing pot directly to minors, letting it flow into states where it's still illegal or directly aiding drug trafficking organizations.
Haag's office has yet to identify an instance of Harborside either meeting any of the conditions outlined in Cole's memo or breaking California state law.
"Harborside is the gold standard of dispensaries in terms of everything we do," Henry Wykowski, a lawyer who represents all three dispensaries targeted by Haag, told HuffPost. The businesses remain open while their cases wind through the federal court system.
The city of Oakland sued the U.S. Attorney's office last year in an effort to block Haag's actions against Harborside. And on Thursday, Rep. Barbara Lee (D-Calif.), whose district includes Harborside, publicly called for Haag to drop her charges. "This harassment and constant threat of prosecution should end," she said in a statement.
After nearly two days of phone tag, Haag's office declined to comment to HuffPost on "anything regarding this issue," her spokeswoman, Lili ArauzHaase, said.
Under the Cole memo, U.S. attorneys are banned from considering "the size or commercial nature of a marijuana operation alone" when deciding whether to crack down on a particular business. But that's the very reason Haag originally cited when she first targeted Harborside.
"The larger the operation, the greater the likelihood that there will be abuse of the state's medical marijuana laws, and marijuana in the hands of individuals who do not have a demonstrated medical need," she said in a statement at the time. With two dispensaries and nearly 108,000 patients, Harborside has been billed as "the world's largest pot shop."
When the Cole memo was first issued, Haag's office indicated the directive wouldn't influence existing cases against Bay Area dispensaries.
"We were disappointed, but not surprised, that Melinda Haag feels the DOJ memo does not apply to her," Steve DeAngelo said. "Her persistence in trying to close locally licensed dispensaries -- in the face of legal opposition from the cities where they are located -- is part of a clear pattern of arrogance and lack of accountability evidenced during her entire term as U.S. attorney."
"You have to question her failure to read this directive that came out from the Justice Department," Wykowski added. He said an assistant U.S. attorney under Haag recently told a federal judge that the Cole memo "is not retroactive," even though other federal prosecutors in California have since dropped forfeiture cases against other facilities.
Haag's aggressive pursuit of marijuana facilities puts DOJ officials in a tough spot, as U.S. attorneys are appointed by the president and operate semi-autonomously. A Justice Department official said when the Cole memo was issued that U.S. attorneys were responsible for interpreting the criteria and applying them to cases in their district, but added that the guidance was not optional. There has been no indication of any formal oversight from DOJ headquarters over marijuana cases pursued by U.S. attorneys.
Attorney General Eric Holder acknowledged the internal conflict over marijuana guidelines in an interview with The Huffington Post last month. "Change is not always an easy thing," he said at the time. "People, bureaucracies, tend to want to stay with those things, those concepts, those activities that are known to them."
Under the plain language of the Cole memo, there is no distinction between facilities that provide cannabis tinctures to sick kids and those dishing out marijuana to teens to get high. This lack of specificity may provide a loophole that an aggressive U.S. attorney like Haag could exploit.
A spokeswoman at Justice Department headquarters in Washington wouldn't clarify if the Cole memo intended to allow U.S. attorneys to pursue distributors for providing medical marijuana to sick children and referred calls to Haag's office.
DeAngelo explained that Harborside doesn't provide cannabis directly to children. Rather, he sells it to parents who come in with a doctor's recommendation. He added that regardless of any future federal action, he will never stop providing to sick kids.
"If they want to impose federal action against us because we are helping children who are dying, bring it on," DeAngelo said. "There is no way I will ever stop helping these kids, come hell or high water."
Ryan J. Reilly reported from Washington. Carly Schwartz reported from New York.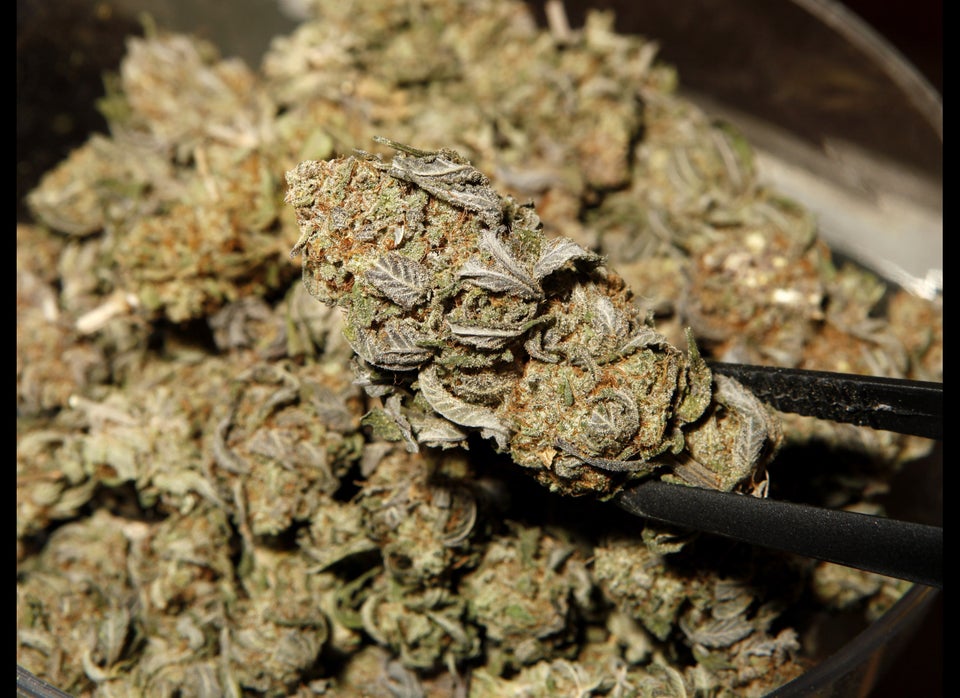 14 Reasons Why Marijuana Is Good For The Economy
Popular in the Community