Katz's campaign again declared victory at the close of the recount on Thursday.
"Now that every valid vote has been counted and recounted, the results confirm once again that the people of Queens have chosen Melinda Katz as the Democratic nominee for District Attorney," Katz campaign adviser Andrew Kirtzman said in a statement.
Cabán remained defiant, however. Flanked by New York City Councilman Jimmy Van Bramer (D) and election attorney Jerry Goldfeder, she promised at a Thursday afternoon press conference outside of a city Board of Elections site in the Middle Village neighborhood of Queens to fight in court to reinstate invalidated ballots her campaign believes could change the outcome of the race.
"This race is not over," Cabán said. "We are going to continue to fight to make sure that every single valid vote is counted."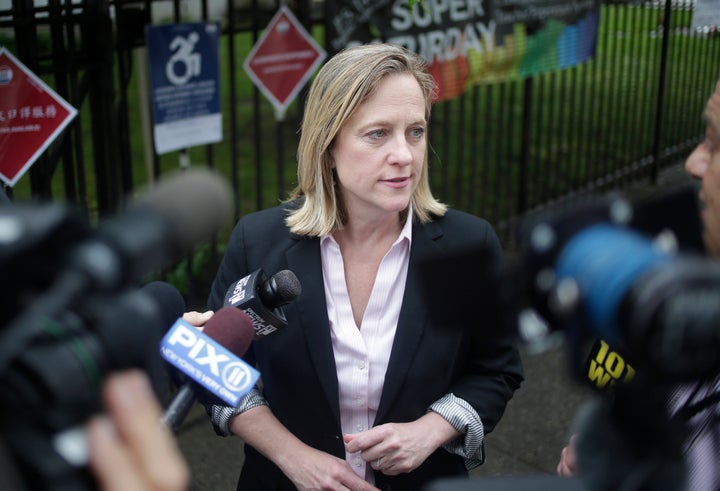 Cabán and her attorneys will get their date in state Supreme Court to challenge the disqualification of affidavit ballots ― those granted to voters without proper proof of party registration ― on Aug. 6. Cabán's team plans to argue that many of the ballots of registered Democratic voters who made clerical errors while completing the affidavit ballot should not have been thrown out. Her attorney also plans to challenge polling administration errors, and election board rulings against Cabán during the recount process.
The news of Katz's lead came from the dueling campaigns, rather than the city Board of Elections, which officially oversees vote counting. The board confirmed that the recount is over and said it would release the certified results on Tuesday.
The Cabán campaign estimated that the recount gave Katz a lead of 59 or 60 votes.
The outcome, however tentative, brings Katz, and the vaunted Queens Democratic Party machine backing her, one step closer to victory in a contest that drew national attention.
The recount results are the latest twist in an unusually contentious post-election period. Cabán shook the political world with an upset performance that netted her a more than 1,000-vote lead over the favorite, Katz, on election night.
But while Cabán declared victory, the New York City Board of Elections did not certify the result, proceeding instead with its protocol of counting absentee and affidavit ballots. Katz's success among absentee voters, as well as the board's disqualification of over 2,000 affidavit ballots, subsequently granted her a 20-vote lead over Cabán. 
Given the narrow size of Katz's lead, the board announced on July 3 that it would conduct a manual recount of all ballots ― a practice the board initiates automatically when a victory margin is under 0.5 percentage points. The Cabán campaign announced that it would be challenging the disqualification of many ballots in court.
When a recount was announced on July 3, the Cabán campaign flagged the political nature of the Board of Elections commissioners who oversee the elections. The Queens County Democratic Party and the Queens County Republican Party each appoint a commissioner of the borough's branch of the Board of Elections. The Democratic appointee to the board, José Miguel Araujo, has profited handsomely from patronage work as an appointed guardian in Queens Surrogate's Court where the estates of individuals with no clear heirs are resolved.
But asked about the politicization of the process on Thursday, Goldfeder said merely that the campaign was working within the boundaries of the system as it was set up. He commended the professionalism of the board's apolitical staff, which oversaw the recount, even as he said he disagreed with many of their decisions.
Goldfeder alluded, however, to the way the stringency of New York state's election law had adversely affected Cabán's campaign by creating a higher threshold of admissibility for affidavit ballots.
"We now have early voting in New York. We now have a better situation in terms of absentee ballots," Goldfeder said. "What we don't have yet and we hope we will have soon is the elimination of hyper-technical requirements that unfairly invalidate ballots."
The Democratic-controlled New York legislature passed legislation this session that would soften the requirements to count affidavit ballots. But New York Assembly Speaker Carl Heastie (D), who endorsed Katz, has yet to send the bill to New York Gov. Andrew Cuomo's desk to be signed into law. (Cuomo also endorsed Katz and raised money for her.)
Asked whether she was calling on Cuomo to sign the bill promptly, Cabán replied, "Absolutely.
"This isn't just about this campaign, this is about all campaigns," she continued. "We are in dire need of these election reforms."
Of course, Goldfeder and the rest of Cabán's legal team is also navigating the election laws with an eye toward maximizing Cabán's advantage. Goldfeder conceded that he had challenged a number of ballots cast for Katz, though he would not say how many. He insisted that extraneous writing on ballots was an appropriate basis for invalidation, but failure to complete an element of an affidavit ballot was not.
Even if Cabán ultimately prevails, an arcane dispute over election procedures is hardly the way that she and the grassroots groups backing her envisioned her race coming to a close as she picked up momentum in May and June. Cabán, a 31-year-old queer Latina raised in a working-class home in Richmond Hill, generated deep excitement from activists affiliated with, among other organizations, the progressive Working Families Party and the city's chapter of the Democratic Socialists of America.
Cabán promised to be not only a progressive prosecutor in an office long known as a conservative outlier within city limits, but to go further and become a "de-carceral prosecutor" ― a law enforcement official with a mission to dramatically lower the percentage of the 2.3 million-person borough's population sitting in jail. The stance that perhaps distinguished her most was her support for full decriminalization of sex work in the borough limits, a policy that found favor with many sex workers who volunteered for her campaign.
In the final weeks of Cabán's bid, leading national luminaries on the left, including Rep. Alexandria Ocasio-Cortez (D-N.Y.) and Sens. Elizabeth Warren (D-Mass.) and Bernie Sanders (I-Vt.), lent their imprimatur to Cabán's radical platform.
On Thursday, Van Bramer praised the campaign's significant force of volunteers for sticking around to perform the unglamorous office work that a recount entails, including monitoring vote counting, data entry and the occasional campaign event. He suggested that the energy Cabán had unleashed would not soon abate.
"It's a breath of fresh air ― this campaign and Tiffany Cabán," he said.
Calling all HuffPost superfans!
Sign up for membership to become a founding member and help shape HuffPost's next chapter