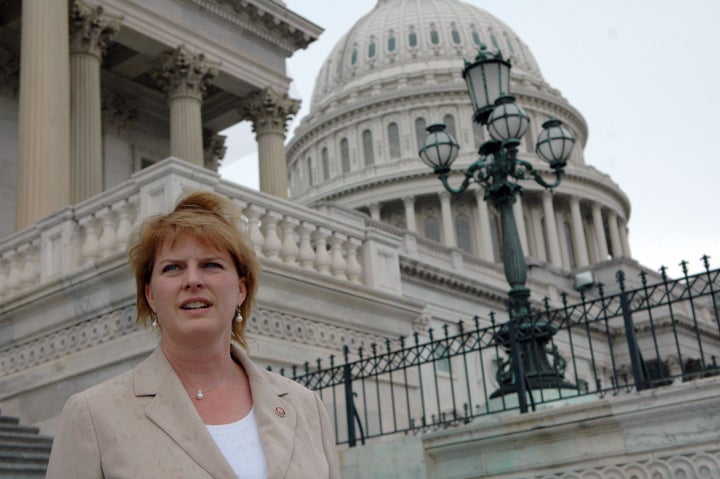 Rep. Melissa Bean stands at the chokepoint of financial reform in the House of Representatives.
The Democrat from suburban Chicago is only in her third term, but she's the co-chair of the 68-member New Democrat Coalition's financial services task force -- and financial reform doesn't go anywhere in the House without the support of New Dems.
So when Democratic leaders in Congress want to rein in Wall Street, they have to go through Bean. And when bank lobbyists want to stop them, they go to Bean as well.
Why hasn't the overwhelmingly Democratic House -- and the House Financial Services Committee led by Barney Frank -- been able to pass a more aggressive financial regulatory reform package? As HuffPost has reported, a significant obstacle to progressive reform is that Bean and 15 other New Dems on the committee have effective veto power.
For this, the most passionate backers of financial reform call Bean a bank lobbyists' stooge and "Wall Street's favorite Democrat."
It's all perfectly flabbergasting to Bean. "I agree with the progressives on 15 things then disagree with them on one, and they slam me," she said in an interview with HuffPost. "Unbelievable."
After all, the Illinois Democrat supports reform. She insists that she played a constructive role in getting a bill passed in the House of Representatives in December. She even supported the proposal to create an independent government agency that protects consumers from the financial industry, going so far as to stand up on the House floor and denounce an amendment designed to gut the agency.
But while she holds a pitchfork in one hand, she's got the red pen in the other.
In the spring, for instance, Bean joined an outraged majority of the House in voting for a bill to ban bonuses at bailed-out firms. At the same time, she amended the bill to exempt any firm that had a "payment schedule" to hand back its taxpayer money -- even if it wanted to pay it back over, say, 20 years. She argued that the bill would otherwise encourage banks to repay the money too quickly.
Reformers didn't buy it. "Score one for the banks," wrote Firedoglake blogger Jane Hamsher.
In the fall, Bean went to war with fellow Democrats on the issue known as preemption. Progressives want states to be allowed to enforce tougher consumer protection laws than those adopted at the federal level. Bean championed the banking industry's position, which is in favor of federal preemption -- so that federal rules would be the ceiling, rather than the floor, for bank regulation.
Currently, state laws are often preempted by federal laws. In December, a federal judge shot down part of a class action lawsuit against national banks issuing gift cards with dormancy and maintenance fees. The more lenient federal law, which allows such fees, preempted a tougher state law in New Jersey. In October, for the same reason, a federal judge tossed out an appeal from Missouri homeowners who said banks broke state law by charging fees for document prep done by non-lawyers.
Early drafts of financial regulatory reform essentially did away with preemption, which freaked the industry. It was American Bankers Association President Ed Yingling's foremost concern when he testified before the House Financial Services Committee in September. "Without such preemption," said Yingling, "we will have a patchwork of state, and even local, laws that will confuse consumers, greatly increase the cost of financial services, and serve as a strong disincentive to create new products of value to consumers."
Bean offered an amendment that would have created "uniform standards" for federal institutions, preserving preemption.
Lisa Madigan, the Democratic attorney general from Bean's home state of Illinois, sent Bean a letter on Oct. 14 stressing that preemption prevented state regulators from suing banks over the lending practices that contributed to the financial crisis. Madigan's letter urged Bean not to change the bill.
"As proposed, the Act would create a single financial regulator tasked with establishing and enforcing consumer protection rules applicable to all lenders and all consumer loan products," wrote Madigan. "This enforcement authority should be shared with the states."
Bean thinks her critics just don't understand her amendment. "There's a lot of misunderstanding about that original amendment, partly because there were those state AGs who didn't understand it and were under the perception that somehow it would undermine their ability to provide enforcement or bring suit, and that's just not true," Bean said. "My original amendment in no way undermined their authority, and in fact the bill that I strongly supported expanded their role. All my amendment said was, let's have a single standard, but let's have multiple cops on the beat to enforce it. So it strengthens the state's role in enforcement of federal regulation."
So Lisa Madigan didn't know what she was talking about?
"Clearly, she didn't. In fact, we had a conversation about it and I had to correct her misunderstanding of what it actually stated," said Bean.
"This is not a misinterpretation of the bill but a fundamental disagreement," said Madigan in a statement to HuffPost. "Rep. Bean's original amendment would have taken away the ability of the state attorneys general to enforce strong state laws to protect our consumers. It would have limited state attorneys general to enforcing federal uniform standards requested by the national banks. If this financial crisis makes anything clear, it's that consumers need strong enforcement at both the state and federal levels."
Bean withdrew her amendment, she said, after progressive Democrats on the House Financial Services Committee threatened to join Republicans in a vote against the entire package if it included her preemption language. Her family also suffered a bout of swine flu that forced her to stay home at the time she would have brought the amendment forward. Instead, she reached an understanding with committee Chairman Rep. Barney Frank (D-Mass.) that she could bring it back for a vote on the House floor. And when word leaked that Democratic leadership in the House wouldn't allow a vote on Bean's amendment, Bean led New Dems in a revolt against the bill that shut down the entire House.
"The big banks in particular are trying to get more preemption," said Frank at the time.
Bean faced off with top Treasury Department officials for hours in the office of House Speaker Nancy Pelosi (D-Calif.), until Rep. Steny Hoyer (D-Md.) brokered a compromise. "Neither side wanted to give an inch," said Frank. "Steny went in and said, 'We need to get this bill done.'"
The compromise added the words "materially impairs" to the new preemption standard, which would now say that a state law is preempted if it "prevents, significantly interferes with, or materially impairs the ability of" a national bank or thrift "to engage in the business of banking." The compromise also allows for a preemption determination in one state to apply to similar laws in other states, which Frank said was a significant concession to the banks.
But Frank is skeptical that Bean's work had such a bad effect on the bill. "I don't think she made very much difference," said Frank, who added that the change merely satisfied lawyers' "belt and suspenders" fetish for extra words. "I don't think 'materially impairs' adds anything to 'seriously interferes.'"
Still, the compromise has been called a victory for the banks, because the new law, if enacted as is, would not be as harsh on them as it could have been.
"I'm disappointed that Bean listened to the banks and not her attorney general," said Ed Mierzwinski, program director for the U.S. Public Interest Research Group. "The best consumer cops are gonna be back on the beat, but not to the extent that we would like them to be."
A lawyer who tracks policy for the financial services industry said he didn't understand why consumer groups were so upset. "Banks realize if this becomes law, then on a going-forward basis things are really going to have to change. They're going to have to build compliance systems to deal with state law."
Indeed: As of now, the clearest winner from the compromise will be the Wall Street lawyers. Rodge Cohen, probably the ultimate Wall Street lawyer, praised Bean's compromise in an appearance on Bloomberg TV after the bill passed.
So what motivates Melissa Bean?
Critics of Bean's effort say she's doing it to rake in big money from the financial industry. According to the Center for Responsive Politics, she ranks 9th in the entire House in terms of contributions from the sector in 2009, having taken in $1.4 million in campaign contributions from the finance, insurance, and real estate sector since the start of the 2008 election cycle.
And she gets attention for the way she raises her money. In June, she reportedly spoke about reform at a meeting with JPMorgan Chase officials, who subsequently donated $11,000 to her reelection campaign, according to the Public Accountability Initiative's LittleSis website.
"She laid out how she saw the president's proposal, and the difficulties politically in Congress, and Jamie [Dimon] and other members expressed their opinion of what they would like to see," JPMorgan Midwest chairman Bill Daley told the Chicago Tribune. But Daley was apparently not encouraged by Bean's stance on an independent consumer protection agency. He said: "It was clear in June that she did not have a knee-jerk aversion to the concept of a federal consumer protection agency, in spite of all our brilliant arguments."
Bean is certainly willing to listen, at least.
"The financial services community doesn't like what's being talked about. So what do they do? It's like clockwork. They go to [New Dem Dennis] Moore, Bean, the other New Dems," said a Republican lobbyist for the financial services industry. "She is your best chance to turn lemons into lemonade."
Bean doesn't dispute that her office is lobbyist-accessible. "There are some offices that are not available to all viewpoints. Frankly, everyone should have a similar policy and be available to all constituent viewpoints," said Bean. "And also just because I'm part of the leaders within the New Dems, I think sometimes because they know we meet regularly, and if you meet with someone who's talking to the whole group you reach a broader audience."
Raising money is an electoral imperative for every member of Congress. Like most, Bean says she wishes she didn't have to do it -- that's why she supports campaign finance reform.
"I support public financing of campaigns and have been on record for that for a long time," said Bean. "We have a system that is otherwise and it's part of how Washington works. What I can say is we raise money from all quarters but at the end of the day, speaking for myself, I vote on legislation based on the merit of the bill, and my record demonstrates that conclusively. I'm not 100 percent with anybody."
Bean's name appeared on the itinerary for a fundraising jaunt to New York City where six New Dems sandwiched a fundraiser between meetings with Goldman Sachs and JPMorgan. MoveOn blasted Bean and her cohorts for the trip, calling them the "Goldman 6." (Bean is on the itinerary for a meeting with JPMorgan officials; she told HuffPost she did not go on this trip at all.)
"Wall Street has relied on the members of the New Democrat Coalition to carry its water in Washington," said MoveOn.org in a Jan. 15 email to members. "Rep. Bean led the efforts to water down the Consumer Financial Protection Agency in the bill that just passed the House. And she and the other Goldman 6 all voted against rules that would have better regulated the derivatives that helped imperil the financial system."
Jeff Peck, a former Democratic staffer and current lobbyist for financial services industry clients, said the fact that Bean faced down top Treasury officials like Neal Wolin for several hours over preemption shows that she's not simply repeating lobbyist talking points handed to her at a fundraiser. "These are very, very smart people. She was debating them toe to toe, so this notion that somebody comes to her and says, 'Do this,' and she says, 'OK,' is just a ridiculous notion."
Peck called Bean's role in the preemption standoff a well-deserved "watershed moment" for the legislator.
"Melissa Bean is as thoughtful and deliberate a member as I have ever dealt with," said Peck, whose firm hired Bean's chief of staff as a lobbyist last year. "Even on preemption -- my clients were hoping it would go a lot further but she genuinely believes her approach on preemption is better for consumers."
Barney Frank said Bean's work on the reform bill disqualifies her from the title of Wall Street's favorite Democrat. "She supported most of the tough things in the bill. There would be many more conservative Democrats who Wall Street would like better," Frank said. He added that Bean doesn't hail from a very progressive district. She won her seat from ultra-conservative Republican Phil Crane in 2004. "Given who she replaced, she's a screaming radical. She replaced a guy who ran to the right of Ronald Reagan in 1980," Frank said.
Matt Flamm, a Democratic activist and candidate for state representative in Bean's district, said Bean deserves credit for pioneering an electoral strategy for Democrats in the suburbs. "She is terrifically progressive about some things, not as progressive as I like about other things, but I understand why," said Flamm. "When it comes to choice, when it comes to gay rights, 100 percent. When it comes to fiscal issues she is more conservative than I am. If she weren't, she couldn't get elected."
Flamm volunteered for Bean's previous campaigns. "She doesn't make decisions based on politics, she makes them based on what she believes in. I've seen her consistently from the beginning until now, and I think she is what she says she is," he said. "She is a pro-business Democrat. She is definitely more sympathetic to business of all stripes and small business in particular than most Democrats are. This is incredibly hostile territory."
Bean resents the criticism of herself and the New Dems. She says she was as committed to getting her way on preemption as she was to increased capital requirements, risk retention in loan underwriting, and a systemic risk regulator. (Asked if she'd have supported the CFPA if she hadn't won the preemption compromise, Bean said, "We didn't get there.")
"There's no question if you look at this regulation, it was our group that passed this legislation, it was our group that pushed back against the industry," she said. "We created a strong bill that was passable and we were there to make sure it happened. Look in the Senate. They don't even know if they'll have [a CFPA]. We should be getting credit for that, and we're not."

Popular in the Community