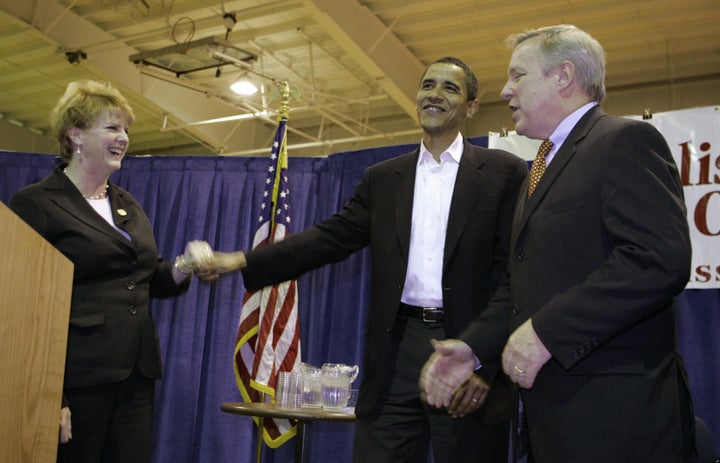 With a final vote on health care reform possibly coming Sunday, some Illinois Democrats remain undecided on the bill, while other key players have reluctantly gotten on board.
On Wednesday, former Obama ally and Illinois Congressman Luis Gutierrez wrote in a blog for the Huffington Post that he would not support a bill that "denies immigrants the opportunity to purchase health care with their own money," and ripped Obama for his inaction on immigration reform. He insisted he would vote "no" on the measure, but on Thursday, said he would reluctantly vote "yes."

Liberal Chicago Democrat Bobby Rush has also been going back and forth on the bill, but The Hill reported Thursday that he was "working something out" and called the bill "a moving target."
But other Illinois Dems have not been swayed yet, at least not publicly.
Minnesota congressman and staunch pro-lifer James Oberstar came out in favor of the bill Wednesday, and said the bill does not endanger the Hyde amendment, which prohibits federal funding of abortions, Progress Illinois reports. Whether his stance can sway Lipinski and Costello remains to be seen, but they may face some serious heat from their constituents if they vote "no."
In a letter to HuffPost Chicago, John Atkinson, who lives in Lipinski's district, wrote:
"...those who care to look beyond the headlines discover that the senate version of the bill is actually more pro-life than the version "The Heir" [Lipinski] wants in his. Never mind that scores of Pro-Life Catholic groups and leaders support the senate/Obama version, Danny boy still needs the attention his steadfast "no" vote gets him."
Health care protesters and supporters gathered outside Rep. Melissa Bean (D-8th District)'s Schaumburg office Tuesday to voice their opinions on the matter. Bean voted yes on the House bill, but has been undecided about reconciliation.
Debbie Halvorson (D-11th District) and Bill Foster (D-14th District), are also undecided on the bill. As NBC points out, Foster voted yes to House version last year, but opposed Senate bill. His spokeswoman told the Pioneer Press that Foster has "no specific problems with the bill as passed by the Senate last December," but wants to take time and re-read it.
Politico reports that Bean and Foster are part of a group who need to be convinced by party leadership to "stay on board despite the deteriorating conditions in many of their races, and figure out a way to assuage those who oppose abortion."
Also, following the Congressional Budget Office's report that the bill would decrease the federal deficit by $138 billion in a ten-year period, some state labor groups say they will bring down whoever votes against reform. Progress Illinois reports:
"We will pull support for any Democrat who opposes health care and seriously consider mounting primary challenges against them next cycle," says Jerry Morrison, executive director of the SEIU Illinois State Council (who sponsors this website). Those opposing the package will also have to go back to their districts and explain to voters why they ultimately prevented thousands of constituents from receiving affordable and comprehensive health care.
After taking out an ad in local papers ripping Lipinski for his stance on health reform, Atkinson added in his letter to HuffPost:
"My kids looked at this ad and said Dad, why are you doing this? Then they remember what we talked about when we discussed how to make this country better for others as they were growing up. Healthcare was always at the top of our lists."

REAL LIFE. REAL NEWS. REAL VOICES.
Help us tell more of the stories that matter from voices that too often remain unheard.