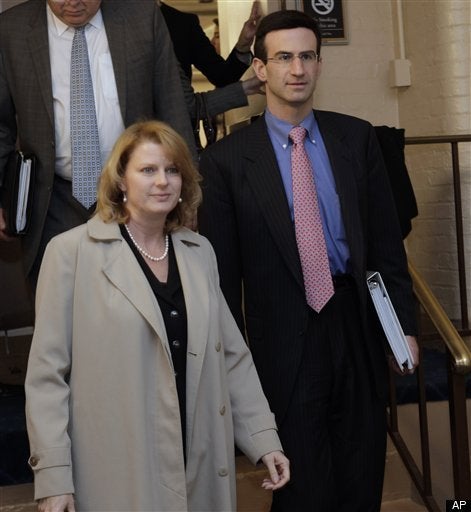 The first head of the Consumer Financial Protection Bureau could be Wall Street-friendly Rep. Melissa Bean, Politico's Morning Money reports, citing "buzz."
[A] possible Bean nomination is not sitting well with reformers on the left who say the moderate Illinois congresswoman is far too close to the banking industry. Said one administration official: "It's not clear she would be acceptable to the reformers."
Bean, an Illinois Democrat whose campaign war-chest is regularly filled by the finance and insurance sectors, is locked in a nail-biter election for her House seat. She trails by a thin margin but as of Sunday, the race was still too close to call. If Bean loses the race and is nominated to head the CFPB (which Elizabeth Warren is setting up), she would also have to be confirmed by the Senate.
As HuffPost's Arthur Delaney reported in February, Bean has been called "Wall Street's favorite Democrat," having worked regularly water down regulations on the financial services industry.
A Sunlight Foundation analysis noted last year that Bean had pushed "to remove a provision from the Consumer Financial Protection Act that would allow states to craft stronger consumer protections. The move is backed by national banks and trade groups like the Chamber of Commerce. Bean has received over 40% of her 2009 campaign contributions from the finance, insurance and real estate sector." Indeed, in 2008, Bean received more money from the Chamber of Commerce than any other House incumbent.
Matthew Yglesias, a progressive writer, argued today that a Bean appointment would ruffle feathers on both sides of the aisle. "Melissa Bean for CFPA would be a classic Obama 'angers base fails to appeal Republicans' move," he tweeted.
FireDogLake's Jane Hamsher is particularly angry, writing that the Bean proposal is "one of the most morally and politically bankrupt ideas of all time."
A spokesperson for Bean cautioned that speculation about a CFPB nomination is premature: "This race remains too close to call, and we are staying focused as this election process continues. With every passing day the vote margin continues to shrink, and it is premature to speculate what Congresswoman Bean might do next when election returns are incomplete and ballots are still being counted."
Related
Popular in the Community