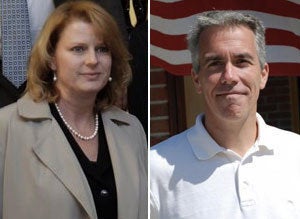 Though Republican Joe Walsh has already declared victory in llinois' 8th Congressional District, absentee ballots have helped Democrat Melissa Bean's standing.
The Associated Press reports that vote counting was temporarily put on hold over the weekend, and as of Friday Walsh was ahead by only 350 votes.
As the Chicago Tribune reported last week, Bean benefitted from absentee vote counting in Cook County, but the county suspended counting for the weekend. The AP reports that clerks in Lake and McHenry counties say they'll wait to count ballots until later this month.
Walsh has already said he is making plans for Washington, but Bean's campaign is still hoping absentee and provisional ballots will help the Democratic incumbent.
"Today's counting of absentee ballots shrunk the margin by 188 votes," Bean spokesman Jonathan Lipman said in a statement Friday. ". . .With more than 4,000 ballots potentially outstanding, this race -- more than ever -- remains too close to call."
[Walsh's] campaign manager quit, then sued him for $20,000 in nonpayment. The national GOP considered his campaign a dead loss and refused to fund it; a former Eagles guitarist threatened to sue for copyright infringement over a song on Walsh's website.
Further, the 8th congressional candidate was criticized for not disclosing his Evanston condominium had gone into foreclosure, and two top-level staffers quit, claiming an exodus of volunteers went with them.
Even if Walsh makes it to Washington, Democrats still managed to maintain control of the Illinois legislature--which could give new Republican leaders reason to worry. Chicago News Cooperative columnist James Warren explained Saturday that redistricting will hit people like Walsh the hardest, calling him a "political dead man walking."
Lost in the Election Day fray was one ramification of the Democrats' keeping control of the legislature and pushing the fumbling Gov. Pat Quinn to a full term: They will control the once-a-decade shaping of districts for 59 State Senate seats, 118 State House seats and all the Congressional seats.

. . .

The process has many permutations. But if you're in Las Vegas, place a wager that one of the ebullient newbie Republican representatives -- Robert Dold, Randy Hultgren, Adam Kinzinger, Robert Schilling or Mr. Walsh -- sees his district vanish before the 2012 election.
"This is not a good thing for Republicans," Walsh told Warren.
If Bean does not make a comeback in the 8th, she could have a new job lined up--as the first head of the Consumer Financial Protection Bureau.
Related
Popular in the Community