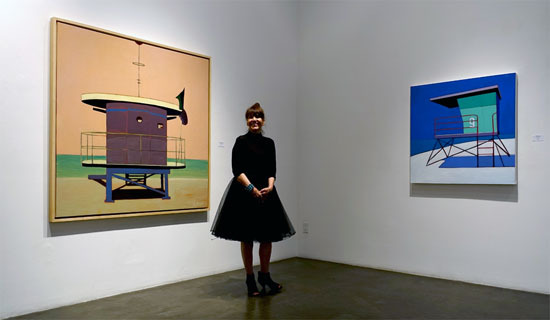 Photo courtesy of LAArtParty.com; Melissa Chandon at opening reception on June 25, 2016 at Skidmore Contemporary Art

On Saturday, June 25, I was at my usual art haunt... Bergamot Station Arts Center (in Santa Monica) rushing... while attempting to see as many new exhibitions as possible. As I barreled into Skidmore Contemporary Art to view a solo exhibition titled "American Weekend," featuring the paintings of Melissa Chandon, I noticed my stride slowed, and my frantic energy subsided. A wave of nostalgia hit me. The warm pastel hue of the paintings surrounded me as I took a moment to breathe in the exhibition. Memories of playing with my sister in the back of my family's old paneled station wagon popped into my head, along with fragmented snapshots of trips to state parks and sing-alongs in the car. "American Weekend" transported me back to when I was five with no agenda other than to live life and play.
I soon found the artist engaged in conversation with her fans. She was articulate, passionate, and open about her work. "I am captivated by the American landscape and road side vernacular," explained the artist, who has been painting since 1996. She revealed that her biggest inspiration was her teacher and friend, Professor Wayne Thiebaud, who urged her to 'never quit.' Chandon continued, "Thiebaud taught me to push forward with examination and determination so that I can continue to grow." At the age of 95, Thiebaud, who is still creating, is a shining example of this. Thiebaud's inspiration on the artist is evident, however Chandon has forged her own relationships with new subjects while implementing her own voice. "Take Red Rolls with its chrome and highlights," said the artist. "It has a glow much like a Thiebaud cupcake, served up on a yellow surface with a long cast shadow. It is here where I am fascinated by abstraction that I create movement. A good painting is one where the viewer can enter the pictorial surface, the eye is drawn in and is able to move about and then exit. Monet was an absolute pro at this feat."
Chandon said David Hockney has also had an impact on her. "The way Hockney handled water in a swimming pool is somewhat similar to how Thiebaud handled water in a drinking glass," explained Chandon. "Their ability to capture light is amazing. I like to think that we, as artists, borrow from those who came before us and hopefully we inspire others." Chandon herself is an adjunct professor, currently teaching at UC Davis. One can only assume her love of art and knowledge is in turn inspiring up and coming artists. She cited Andy Warhol, Joan Mitchell, Elaine de Kooning, Lee Krasner, Henri Matisse, Edward Ruscha, Richard Diebenkorn, and Chuck Arnoldi as additional influences.
She went on to say that she is fascinated with the post-world war birth of suburbia, particularly in Levitttown, Long Island, created by famed real estate developers Levitt and Sons. Automobiles are another source of attraction (as a subject) for the artist. "I feel I deeply appreciate beauty and fetishes and highly designed objects," added Chandon. "It is odd to me when you see a vintage car out on the road... say an orange 2002 BMW series. When you see them, they scream extinction and look as if they are a rare bird."
Art is so subjective, and as viewers, we bring our own history to what we see. For me, Melissa Chandon's "American Weekend" brings to mind happy family vacations and lazy summer days prior to the havoc introduced by the digital craze. "American Weekend" provides a glimpse into a story book that so many of my generation have shared. The artist appears to remark on our society's obsession with consumerism. The images Chandon portrays conjure up memories of family (in its purest form). Although she chooses not to paint people into her works, one cannot help but visualize one's own family home movies.
Chandon's work is rooted in realism juxtaposed against a backdrop of pure ebullience. The pastel palette further expounds on the playful serenity and nostalgic sentiment. "American Weekend" pays tribute to the patriarchal archetype... a simpler time when the phrase "politically correct" had not yet been uttered.
Chandon's work has been exhibited throughout the U.S. and internationally. Her paintings are in notable public and private collections such as Fine Arts Museums of San Francisco (de Young Museum Morgan Flagg Collection), Morris Graves Museum, Napa Valley Museum, Triton Museum of Art, University of New Mexico, Cancer Research Center, and more.
Chandon is currently represented by Skidmore Contemporary Art in Los Angeles, Caldwell Snyder Gallery in San Francisco, and Hubert Gallery in New York.
Treat yourself... take a moment out of your busy schedule to breathe in the paintings of Melissa Chandon..."American Weekend" will transport you back to your childhood and offer a moment of respite from today's hectic over-stimulated world.
Popular in the Community