Melissa Click, a communications professor at the University of Missouri who has been under fire this week for starting an altercation with journalists on campus, released a statement Tuesday apologizing for her behavior.
Click said she realized her actions were inappropriate after reviewing a video that shows her attempting to lead students to block reporters from accessing an area where activists were stationed. The incident happened during a day "full of emotion and confusion," she said.
"I have reached out to the journalists involved to offer my sincere apologies and to express regret over my actions," Click said in the statement provided to The Huffington Post. "I regret the language and strategies I used, and sincerely apologize to the MU campus community, and journalists at large, for my behavior, and also for the way my actions have shifted attention away from the students' campaign for justice. My actions were shaped by exasperation with a few spirited reporters."
Click said she spoke with student photographer Tim Tai, who she and students tried to keep from taking pictures of the protest, on the phone Tuesday and that he accepted her apology.
"I believe he is doing a difficult job, and I am grateful to have had the opportunity to speak with him," Click said in her statement. "His dignity also speaks well to the Journalism program at MU."
Tai confirmed that Click had apologized to him, and said she was "very gracious."
"I don't have -- and never had -- bad feelings against her and feel bad that she's been receiving threats and other nasty messages," Tai told HuffPost. "I wish she had handled the situation differently, but as a journalist it really just became part of the scene I was presented with and I never took her or anyone else's actions personally."
Students were demonstrating on campus after university system president Tim Wolfe resigned on Monday due to pressure over how he handled racist incidents on campus, as well as other issues. MU Chancellor R. Bowen Loftin also announced he would leave his job and shift to a different role.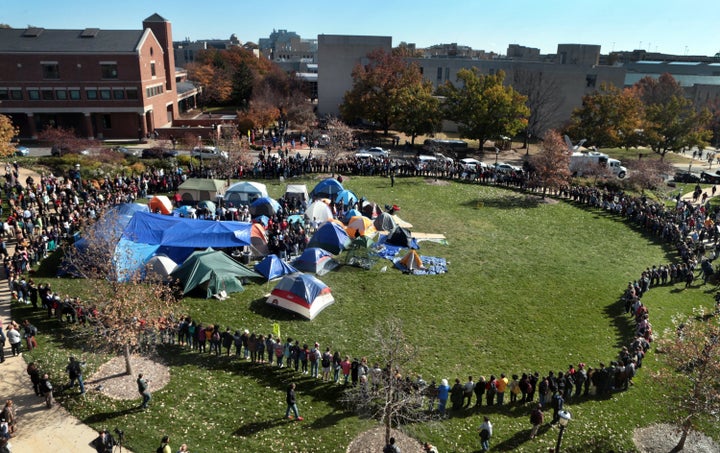 Click is a professor in the Department of Communication at the university. She is also affiliated with the university's journalism school, which said Tuesday it was considering revoking her appointment.
Click received personal threats after the video of the interaction went viral, which led her to cancel her classes on Tuesday.
The same day, activists removed controversial signs asking media to stay away. They also distributed a piece of paper saying interactions with the press had been a teachable moment, and invited journalists to come on campus to cover their activism.
UPDATE, 9:15 p.m. -- Melissa Click resigned her "courtesy appointment" in the School of Journalism on Tuesday evening.
David Kurpius, dean of the journalism school at Mizzou, posted the news to Twitter just before 9 p.m.
Click did not teach journalism classes, and is still an assistant professor in the Mizzou Department of Communication, a separate unit in the university.
Related
Popular in the Community