The University of Missouri on Thursday fired a professor who was videotaped threatening journalists covering student protests in November.
Melissa Click, an assistant communications professor shown on the widely shared video telling reporters to "get out," was terminated after an investigation that lasted nearly a month, the school said in a statement.
"The board believes that Dr. Click's conduct was not compatible with university policies and did not meet expectations for a university faculty member," the statement said.
"The board respects Dr. Click's right to express her views and does not base this decision on her support for students engaged in protest or their views. However, Dr. Click was not entitled to interfere with the rights of others, to confront members of law enforcement, or to encourage potential physical intimidation against a student."
The university said its investigation found that Click tried to block journalists from a public space on campus and knocked the camera of a Mizzou student photojournalist.
"Hey, who wants to help me get this reporter out of here? I need some muscle over here," Click said on the video.
Prosecutors charged Click with assaulting student Mark Schierbecker, whose camera she hit. Click pleaded not guilty and agreed to do community service to avoid prosecution.
Footage of a separate incident showed Click at the Mizzou homecoming parade joining student protesters blocking then-MU system president Tim Wolfe's car.
"Her conduct and behavior are appalling, and I am not only disappointed, I am angry, that a member of our faculty acted this way," interim Chancellor Hank Foley said after the video surfaced.
Click's actions touched off a nationwide debate over free speech and safe spaces on college campuses.
At the time, Mizzou students were protesting racism on campus and Wolfe's response. They had attempted to declare part of the public campus a "safe space" without the swarm of reporters drawn to the campus after members of the football team threatened to boycott games.
Click can appeal her termination. The university noted that "the board went to significant lengths to ensure fairness and due process for Dr. Click."
A spokeswoman for the PR firm representing Click said she had no comment on the decision, the Chronicle of Higher Education reports.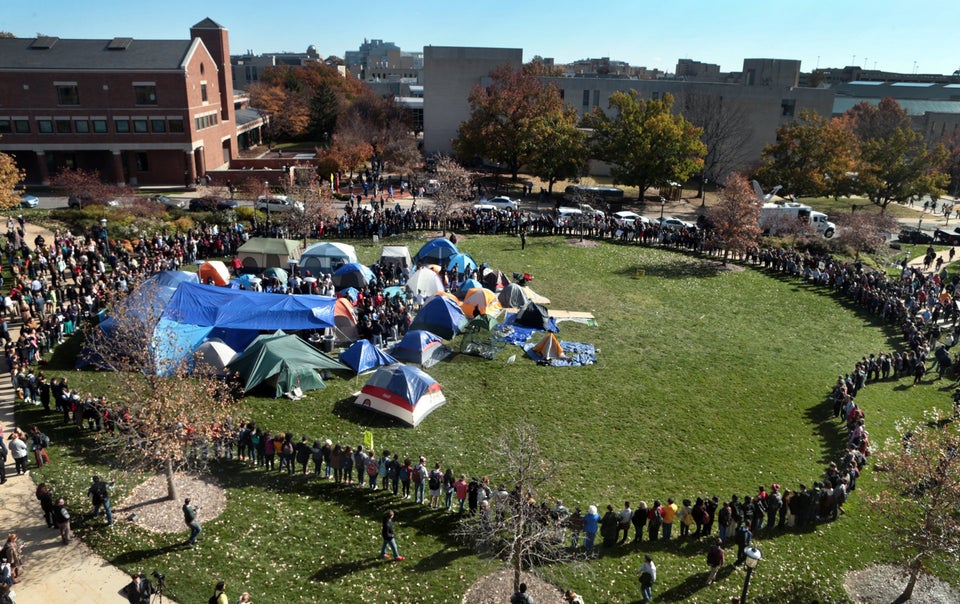 Scenes From The Protests At Mizzou
Popular in the Community