Since the early days of The Huffington Post Arts & Culture page we've known one thing to be true: people love their hyperrealism. The demanding artistic style has tickled the eyes of many a reader with its devious ability to masquerade as a photograph despite its manmade origins. We're well aware the genre requires time, patience and immense skill, yet we're also mindful of the backlash against the technique -- that it lacks creativity and originality.
Recently, we've noticed a surge of artists taking their hyperrealist talents to more surreal territories -- and we couldn't be happier. One of said artists is Melissa Cooke. The Brooklyn-based artist investigates the relationship between photography, performance and drawing in her images, conjuring visions that look even more lucid than reality itself. Cooke creates her drawing hybrids with powdered graphite, applying it with a thin brush rather than a pencil to avoid any heavy lines.
The result is absolutely mesmerizing.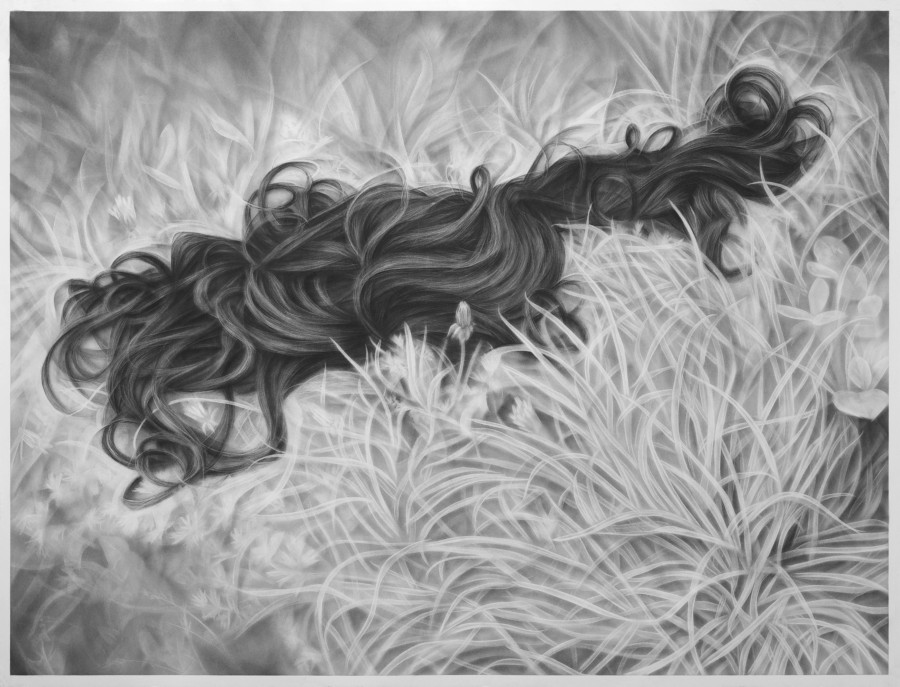 "Wig in the Weeds", 50" x 65", graphite on paper
"I started using powdered graphite in January of 2008," the artist explained in the email to The Huffington Post. "It was a point in my work where I was feeling stagnant, making small, tedious pencil drawings. I knew I had to make some changes... I grabbed a can of powdered graphite and a huge sheet of paper. No one had ever shown me how to use the medium; I just found the nearest brush and started feverishly dusting graphite onto the paper. Within four hours, I had a new drawing and was pulsating with excitement from this new process. I was immediately addicted."
Cooke's lightly rendered images look like they came out of a dream; a sensation heightened by her surreal and sometimes eerie subject matter. One of her series revolves around close-ups of women submerged in water or milk. Looking at it, we can't help but think of Laura Palmer's lifeless body.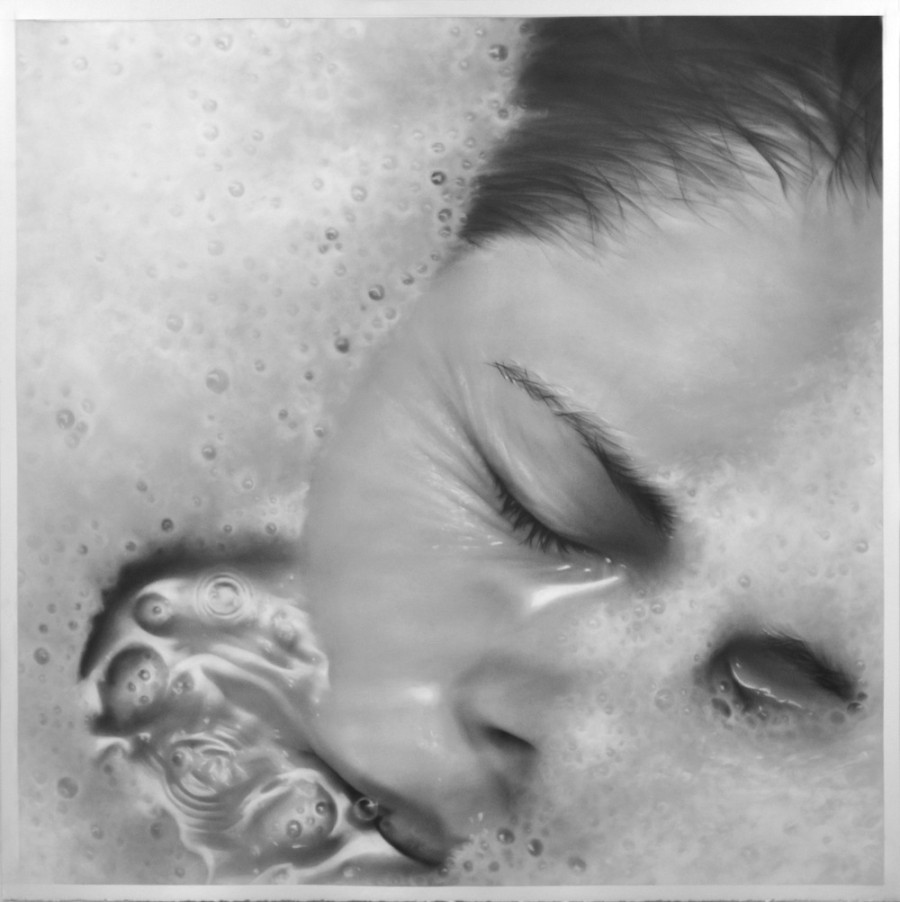 "Engulf", 50" x 50", graphite on paper
"Drawing is, and always has been, an obsession of mine. Even as a child, I needed to reproduce the world on paper. I've never feared my place in the art world. That in the making and the constant need to create, I would find my voice. Over the years, I learned how to navigate my skill to make it part of the contemporary dialogue. I am constantly questioning what I'm doing, and challenging myself to take on new directions. Currently, I have departed from portraiture and am working on still lives- these found narratives that I stumble across in my daily life. For example, 'Wig in the Weeds' was inspired by a photo I took of a long, curly wig that I found amidst the dandelions. These still lives are evidence of a larger story. There is both an attraction and repulsion to these discarded objects. That tension is something that has always inspired me."
Cooke's work is showing in the "Stranger Than Fiction" group exhibition, which opened on September 6 at Jonathan LeVine Gallery in New York. Get lost in the hallucinatory realness below.
REAL LIFE. REAL NEWS. REAL VOICES.
Help us tell more of the stories that matter from voices that too often remain unheard.
BEFORE YOU GO