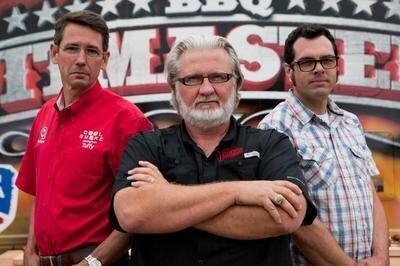 Last week, in episode 1 of season 3, BBQ Pitmasters unveiled a new and significantly improved format. Click here to read my review. This week it aired the best show ever in the series.

Taped in Memphis in late March, three contestants wrestled for 10 hours with bone-in pork butt and baby back ribs until only one was left standing. The winner will go on to the finals on Sunday, July 8 at 9 p.m. There are three more prelims, all on Sundays at 9 on the new Destination America channel (formerly Planet Green).
About the meat
Pork butt is from the shoulder, not where you think, and it is a large tangled mass of muscles, sinew, fat, and connective tissue. Typically about 8 pounds, if cooked properly, it makes succulent, tender juicy meat, usually served as pulled pork. If cooked improperly it is dry and unchewable. Nowadays meatadors in the big money competitions put more chunks of pork in their turn-in box as well as slices from one particular tubular muscle they call the "money muscle."
.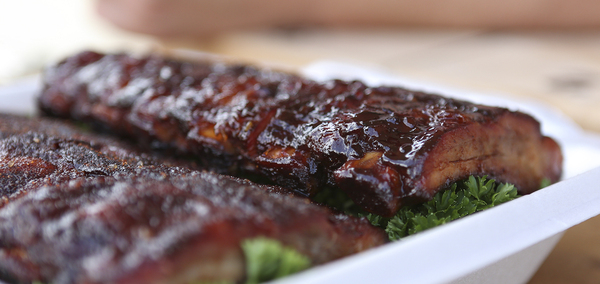 Making them cook baby backs was a minor twist since most competitors prefer to cook a section from the spare ribs, further down the side than baby backs, from the part of the rib cage just under the bacon. Babies tend to be less meaty and less juicy than spares. Like butt, ribs are best when cooked low and slow. Click here to learn more about cooking competition style ribs (hint, championship ribs do not fall off the bone).
All the teams cooked the meat in their smokers for a few hours and then wrapped them in foil, This step, called the Texas Crutch, speeds cooking along, helps tenderize the meat, and prevents evaporation so it will be moister.
Judges
The judging panel was Myron Mixon, winner of 180 grand championships as head of the Jack's Old South barbecue team and author of a best selling barbecue book "Smokin' with Myron Mixon
Judges scored each sample on a 10 point scale, on appearance, tenderness, and taste. Scores were weighted with 20% for appearance, 30% for tenderness, and 50% for taste. In case of ties, taste ruled, but according to producer John Markus, there were no ties.
The cooks
This batch of competitors were far more skilled than last week's, and the cameras and directors gave us real insight into how they cook and how they were judged. Five of the six entries were high quality, and the winner was deserving as far as one can tell while drooling in front of the television
set. I do wish the judges would share their scores with the viewers. I'm interested in hearing them, and there are some conspiracy theorists out there who suspect the outcome is scripted. I doubt it.
In order of finish, this week's contestants were:
1) Melissa Cookston of Memphis Barbecue Co. in Nesbit, MS.
2) Moe Cason of Ponderosa Barbecue in Des Moines, IA.
3) Donnie Bray of Warren County Pork Choppers in Bowling Green, KY.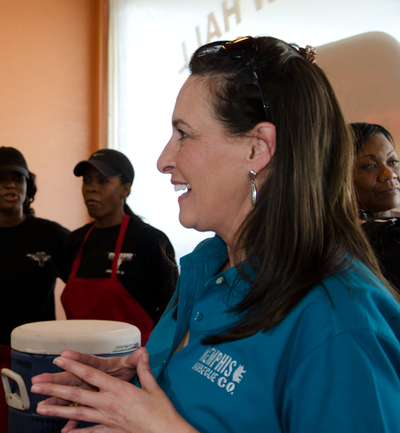 Cookston co-owns the Memphis Barbecue Co. restaurant in Horn Lake, MS, just across the border from Memphis. She cooks frequently on the Memphis Barbecue Network, an all-pork series of competitions and she has won Memphis In May, the largest event on the circuit with scores of teams from all around the country. While other teams proudly displayed their trophies around their outdoor kitchen on the show, Cookston simply won her World Champion ring and afterward snarked "Don't go cryin' to your mamas, boys, 'cause you just got beat by a girl. This Mississippi girl can cook."
Yes, she can. Cookston is simply one of the top pork barbecue cooks in the world, perhaps the best, a claim that Judge Myron Mixon might claim. The editors let us see a hint of the rivalry between the two when the showed Cookston grumble that his "wheels are spinning, but the hamster looks dead." In real life Cookston is full of Southern snark. When a fellow competitor was jawing she declared He's trying to bust my balls over here and he doesn't even realize I don't have balls."
Cookston and her husband used a Backwoods Smoker, a big box that looks like a black refrigerator. These designs are highly regarded on the circuit. They don't look as macho as the horizontal smokers, but they do very well because smoke and heat rise, they don't go sideways. This is a message to all of you lusting after this cheap horizontal offset smokers. Do't do it.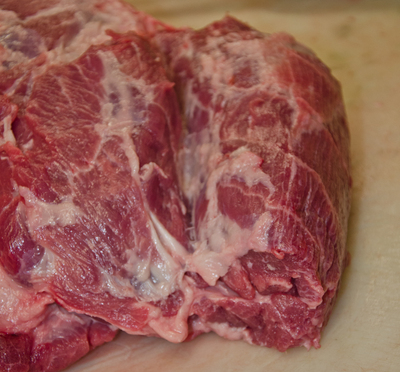 Cookston burns charcoal and her favorite flavoring woods are peach and apple. She trimmed off the entire fat cap and removed the "money muscle" (shown on the right side of the picture at right) from the rest of the butt, a step that is illegal in some competitions. Then she sprinkles her rub, a spice mix, on, squirts on ballpark yellow mustard, and then tops it with turbunado sugar. By removing it she was able to cook it to the proper temp, remove it while the thicker pieces come up to their proper temp, and get a nice crust, called bark, all around. She cooked the butt at 275F, hotter than many competitors, but at that temp she could be sure of getting the job done in the 10 hours allotted.
She was also gutsy, turning in some ribs with sauce, called "wet ribs", and some without sauce, called "dry ribs". Dry is a style that is popular in Memphis. The judges didn't care for the dry ribs. Instead of cutting the ribs into individual bones, she left them in two-bone sections, also gutsy, because the judges are sure to pull them apart and judge the tenderness even before they get into their mouths. But the technique gives them bigger bites, and helps retain moisture. Click here to get an idea of what judges look for in competition ribs.
I think she has a very good chance to win it all, although Johnny Trigg, DivaQ, and the others might have something to say about that.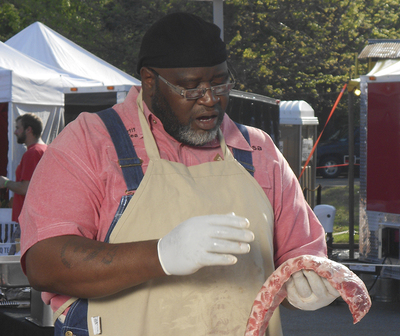 Cason (right), a mountain of a man with arms the size of hams, missed the finals by 0.6 points. He use an Ole Hickory UltraQue, another vertical box that looks like those big blue mailboxes on the corner. He prefers pecan wood with charcoal, and injected the meat with a cola based mixture, and slathered his ribs with Worcestershire and a sprinkling of jalapeno powder.
Bray was cooking on a home made wood burning smoker, called a "stick burner" by those in the know. His undoing was attempting to serve his pork butt without sauce. While it sat in the turn in box it oxidized, turned gray, and dried out. He attempted to revive it by painting on a sauce at the last minute, but failed. Mixon called it "half-assed barbecue."
Probably was. But like a hungry cotton farmer raised on real Southern smoke-roasted pit barbecue, for the last two years this franchise has been serving me boiled ribs, and when presented with the real deal, I am gobbling it down.
All text and some photos are Copyright (c) 2012 By Meathead, and all rights are reserved. For more of Meathead's writing, photos, recipes, and barbecue info please visit his website AmazingRibs.com and subscribe to his email newsletter, Smoke Signals.
Popular in the Community