The cooking of Food Network's Melissa d'Arabian is about more than Ten Dollar Dinners that are both easy and delicious; her brand of cooking is an extension of her life experiences and her philosophy about living well.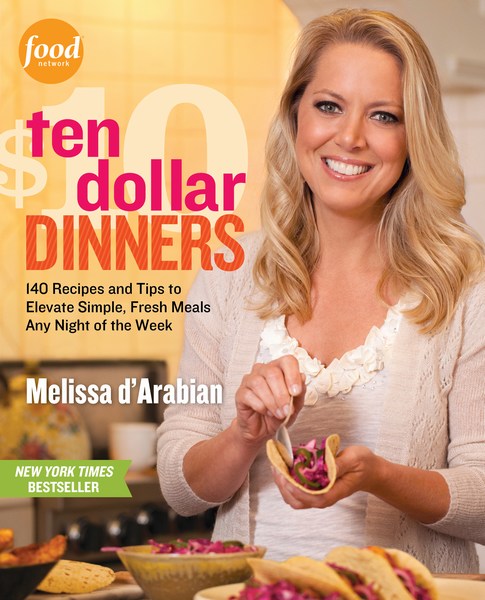 New York Times bestseller Ten Dollar Dinners (Clarkson Potter, a division of Random House, Inc.)
Raised by a single mom who put herself though medical school when Melissa was just a child, d'Arabian learned the hard way that the seemingly simple everyday act of feeding your children isn't so easy for everyone, and there's some days when it's downright impossible. In grade school, Melissa's mom often had to send her to school without lunch, or lunch money. So Melissa took advantage of the school's pay-back program: she would tell the principal that she "forgot" her lunch, and she would get a meal ticket -- and an IOU -- for the forty-five cent lunch.
"I did this for a while," recounted Melissa, "until the IOUs piled up and my mom was notified. My mom told me there was no way she could pay all this money back, and that she just couldn't afford even forty-five cents for lunch."
Then the receptionist at her school caught on to the fact that Melissa often "forgot" her lunch, and she knew that Melissa didn't live in the best part of town. The receptionist put two-and-two together and connected Melissa to a program whereby she could earn a "free" lunch. "I would serve lunch to the other kids during the lunch recess," explained Melissa. "Then when they went out to play I could sit down and eat for free. That small action on the part of the receptionist had a huge impact on the trajectory of my life."
Melissa's self-proclaimed personal life ambition is "To partner with women and help them to achieve whatever is their life ambition -- which really, whatever it is, is a life well-lived."
Starting with her mother and the kind receptionist, Melissa's life has centered around women and how they can have a positive impact on each others lives. "I didn't get married until my thirties, and my mother died by suicide when I was in college. So up until my mid-thirties, my girlfriends were my family, we were each other's support. I love women, and I'll always try to help any woman achieve her goals!"
After earning her MBA from Georgetown University, Melissa found herself living in France, working for Disney in finance and strategy. There she met her husband Philippe, who had yet to go to business school himself. When he did want to go, it was Melissa's income and savings that helped him attend.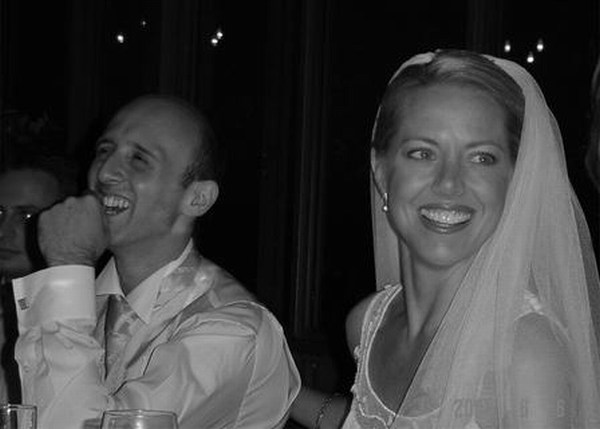 Melissa and Philippe tie the knot (Photo courtesy Melissa d'Arabian)
Since winning The Next Food Network Star and launching her show Ten Dollar Dinners, I had read some criticisms about why d'Arabian would even need to think about budgeting her meals, that her "rich husband" made it such that she didn't need to concern herself with penny-pinching. Not so, not in the slightest.
"Besides the experiences of my childhood, when I decided to have children myself and stay at home to raise them, I was the one earning the bigger paycheck, not Philippe, and I gave that up to raise my kids," explained Melissa. "The idea of some wealthy husband bankrolling anything I do is really, well, kind of a joke! My husband and I have laughed over what we've read about me, that I'm a 'trophy wife' -- I said to Philippe, who is six years younger than me, 'Am I pretty enough to be a trophy wife?? I thought I was the ugly old one!'"
Taking hits in stride, and striving to create a life well-lived for herself and her four daughters is part of the motivation behind both her TV show and her first cookbook, the New York Times best-seller Ten Dollar Dinners. The other part of Melissa's motivation tied in with her real need to budget for a family of six adjusting to living on one income, while not sacrificing eating healthy and well, and while juggling the 24/7 job of being a stay-at-home mom.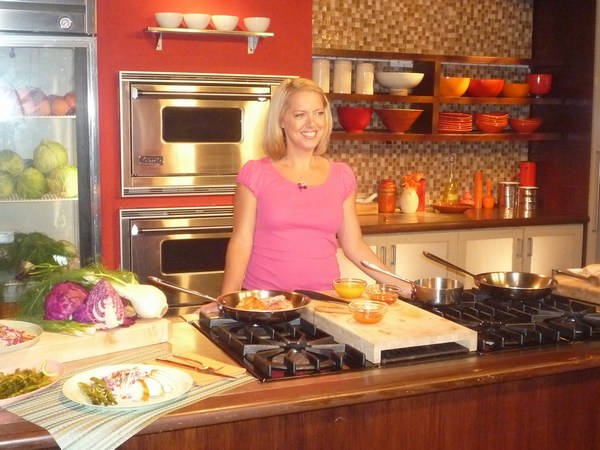 Right after winning The Next Food Network Star in 2009 (Photo courtesy Melissa d'Arabian)
"It's not always easy to put a good -- and good for you -- dinner on the table every night. I sympathize with women who think they just can't find the time, whether you work outside the home or not. No woman should feel bad about herself!"
Melissa's "Ten Dollar Dinners" are about economizing both time and money, and about steering away from the unhealthy habit of fast food on a regular basis. "There are faster and healthier ways to feed your family," emphasized Melissa. "So fast food should be a treat. In my house we do 'movie night' and while I can make a pizza from scratch in no time, sometimes the kids want what they call 'doorbell pizza' and so we have it, it's a treat!"
For families struggling with both tight budgets and time, Melissa advises, "Start slow. One night a week, make a dinner from my book, then two nights... then three. Pretty soon you'll find that it's not only cheaper, it's quicker, and you've developed a habit of wanting to cook."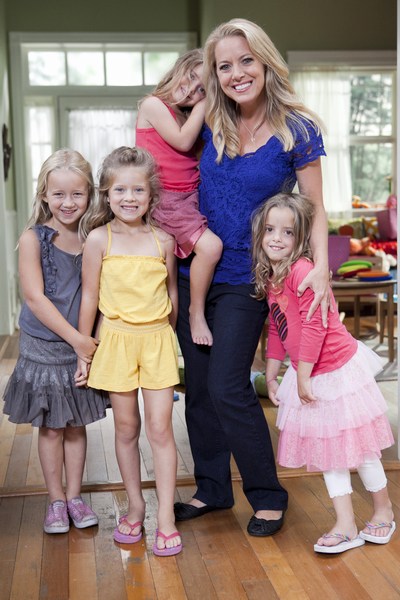 Melissa on the set of Ten Dollar Dinners with daughters Charlotte age six, Valentine age seven, and twins Margaux and Océane age five (Photo courtesy of Food Network)
The recipes in Ten Dollar Dinners are super simple, yummy, and yes, inexpensive. Beyond that, the book offers advice on how to shop, save, and spend. Facing occasional criticism that her meals aren't in fact just $10, Melissa explained, "I talk about price points in my TV show, and I bring the idea into my book. I share how to shop, how to stretch your dollars and where to save. And, yes, my dinners don't cost more than $10, give or take twenty-five cents."
Some of the ingredients used in her recipes are a bit more expensive, take Gruyère cheese, but, as Melissa explained, "You can always take the large pre-cut piece up to the cheese counter and ask them to cut it into a smaller piece so you only use what you need for one meal. Get to know your butcher, your fish guy, they'll be happy to cut things down in size for you! And of course, stock up on sale items and freeze them for later use."
Now that Melissa is juggling work and family, she says she has developed a new appreciation for the challenges that face all women, both stay-at-home moms and career moms. "I had to learn how to balance my life. My family is my first priority, and I do everything I can to be flexible, it is a challenge, but I make it work for all of us!" One of the things Melissa does is include her daughters in her work. When writing Ten Dollar Dinners her girls helped in the kitchen, and they even sat in on photo shoots.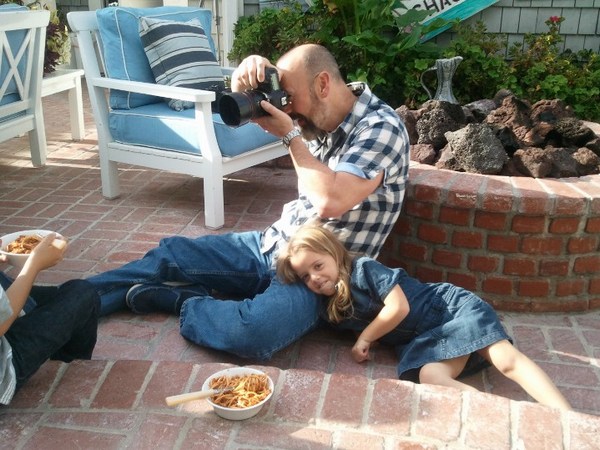 Daughter Margaux with Ten Dollar Dinners photographer Ben Fink (Photo courtesy Melissa d'Arabian)
Seeing cooking as a means to a life well-lived, Melissa told me she also views cooking as "a way to connect with the Earth through fresh ingredients and a way to connect with family and friends by bringing them around the table to share in a good meal." Then she smiled and proclaimed, "That's the big picture behind why I'm doing what I'm doing, why I have this TV show, and why I wrote this book!"
Regina Varolli is the author of "99 Things You Wish You Knew Before Going To Culinary School." Praised as a must-read by Bobby Flay, Johnny Iuzzini and many others, the book is available on Amazon.com