 For two seasons now, fans of "The Real Housewives of New Jersey" (Sundays at 10 p.m. ET on Bravo) have watched the bad blood between series mainstay Teresa Giudice and sister-in-law Melissa Gorga boil. But things have taken a turn recently on the show, which is now winding down its fourth season, and viewers have seen the families bonding like never before.
We've been watching you guys in California and it seems like the Giucides and the Gorgas were getting along quite well. Were you guys genuinely enjoying each others' company?
I was. That's pretty much how I am: If you come to me and call a truce, you know, she's family, of course I'm going to forgive her and try to move on and just hope she puts the past behind and doesn't do any of the hurtful things she was doing again. That's pretty much what I did. I said, "You know what? This is Joe's only sister. Deep down inside, as much as he gets upset with her, he loves his sister. He wants it to just be normal. He wants to be able to see his nieces." And I know that he wants that. So I really just put two feet forward and did everything I could to make it perfect, make it right and I really, really was enjoying myself. What you're seeing is really honest. It's real. I was enjoying spending time with her. I don't know how real it was for her because of what you'll see comes later on, but for me, it was real and it was true. I just don't know how anyone could throw a punch after that. After we got to that spot, I just see no reason to hurt anyone again or put anyone down. You'll have to watch to see if it stays that way or not.
There was a whole lot of closeness going on in those RVs. The Joes peed together and you and Teresa got handsy.
We were! [Laughs.] We're Italians and we're touchy-feely. That's what we do. We were having a good time. We were comfortable with each other. We were all letting our guards down and being what a true family is.
What did you think when you saw it?
Oh, I teared up. I really did. I was sitting on my couch and I teared up. It was sad. No matter what issues I have with Teresa, you don't wish that on anyone. It was very obvious that she knew exactly who he was on the phone with from the footage. It's sad and I guess she's in some type of denial right now, but I think eventually she'll get her head on straight and be ready to deal with it.
Is there anything embarrassing the show has ever caught that you wish didn't air?
Only my husband drops his pants! I think I did know he did that -- I was sitting right there, but I didn't picture the whole world seeing him dropping his pants. And the blur! I don't think the blur is that good on Bravo either, to be honest with you. I was like, "If you really look ... I mean, Oh my gosh!" I wish he would stop dropping his pants.
In the future, when your kids watch, are you worried about explaining all of Joe's nudity?
No. They're just too young. They're just not into it. I don't let them watch it, so they don't really know what's going on. And they're friends at school -- my daughter's in first grade -- so their friends don't watch the "Housewives" -- they're in bed at 10 p.m. So I don't have to deal with any of that yet.
Have we seen the worst between you and Teresa this season? When we watched the Season 3 reunion, you were all in a very bad place and Jacqueline didn't even show up. Is that because of something we already saw or the result of something we will see?
Yeah, when you see the finale, you'll understand. And it goes in with a lot of what Jacqueline just released in People magazine about her son. So between the two and between something with her son, maybe that's why she didn't show up. She was very stressed out and I think the viewers are now seeing why Jacqueline had zero tolerance level and was done with all the pettiness. She didn't want to sit around and listen to Teresa complain about her sister-in-law because she was dealing with her son being diagnosed as autistic. This stuff was not important to her, which it shouldn't be.
Have you been in touch with your nieces?
Yeah. I went to their birthday party and I call them for their birthdays. We call Gia on her cellphone and Gia will call Joe on his cellphone, but [we have] not [been in touch with] Teresa.
I just saw a video of you rocking out to your new song "I Just Wanna Dance." What's the latest with your music career?
I'm really really excited for that one. It comes out September 9. It's a very high energy dance track and it features an up-and-coming artist Santino Noir, who is excellent too. I was looking for an opportunity to do a dance track with a male vocal coming in and I found it. I think that anyone who loves the music that put out thus far is going to be really happy when they hear this. It's my absolute favorite and there's no denying that it's great. It really is.
If you had to pick "Housewives" or your music career, which means more to you?
The music. Definitely the music.
Do you know yet if you'll be a part of the next season of "RHONJ" if it gets picked up?
We don't know yet.
It seems like this season has really taken a toll on a lot of the relationships between the "Housewives," mainly because of the fallout with Teresa. Does it ever make you not want to do the show anymore?
No because I never did anything to hurt anyone. I can always go to bed and I never have to feel any regret inside because I've never hurt Teresa. I've never done anything to humiliate her or try to hurt her marriage or hurt her career. So no, I have no regrets. I'm doing things right. I can't control what other people do and her actions are on her. I don't need to sit here and regret being on a show because she's doing things to hurt me and my marriage and my family. So I don't regret it and yes, I'd do it again. As long as I can go home everyday and be proud of who I am and not feel like I'm trying to ruin someone else's life then I have no reason not to do it.
I'm enjoying it. It's a great opportunity. I'm a working mom now, which is great. I help Joe out, which has never happened because I was always a stay-at-home mom. We're enjoying it. Our marriage is solid -- thank God -- and we can get through and we don't let any of this go to our heads. I keep my home very normal. Our friends come over and everything is the same as it was three years ago. There's nothing different about me, there's nothing different about Joe. We're exactly the same people so it hasn't affected us and it hasn't affected our family.
We've heard a lot from your castmates that Teresa is someone who has changed as a result of the show. Do you ever feel like if you guys all hadn't done the show, things would be different with your family and Teresa's?
No. We were on the outs before the show. The show didn't create this.
But do you think being on the show made it any worse?
No. I don't think it has actually. I think it's the same as it always has been.
What else do you have going on?
Well, I'm working with Voli low-calorie vodka. They approached me and it just made sense with my lifestyle. It's about having a good time and being able to go out and have a drink and not consume too many calories. It made sense. And with Pitbull and Fergie [who are also ambassadors for the brand], it's great circle to be involved in. I really agree with the brand. It's the world first low-calorie vodka. Joe and I like to go out and have fun and I like to keep a healthy lifestyle and stay in shape so it made sense.
And I'm really just focused on my music. I have some amazing producers interested in me and wanting to make songs with me. I'm looking at record labels now, which is beyond anything I could have ever dreamed of. So I'm happy, my family's happy and all is good.
Tune in to see what happens between the Giudice and the Gorgas when "The Real Housewives of New Jersey" airs on Bravo on Sundays at 10 p.m. ET.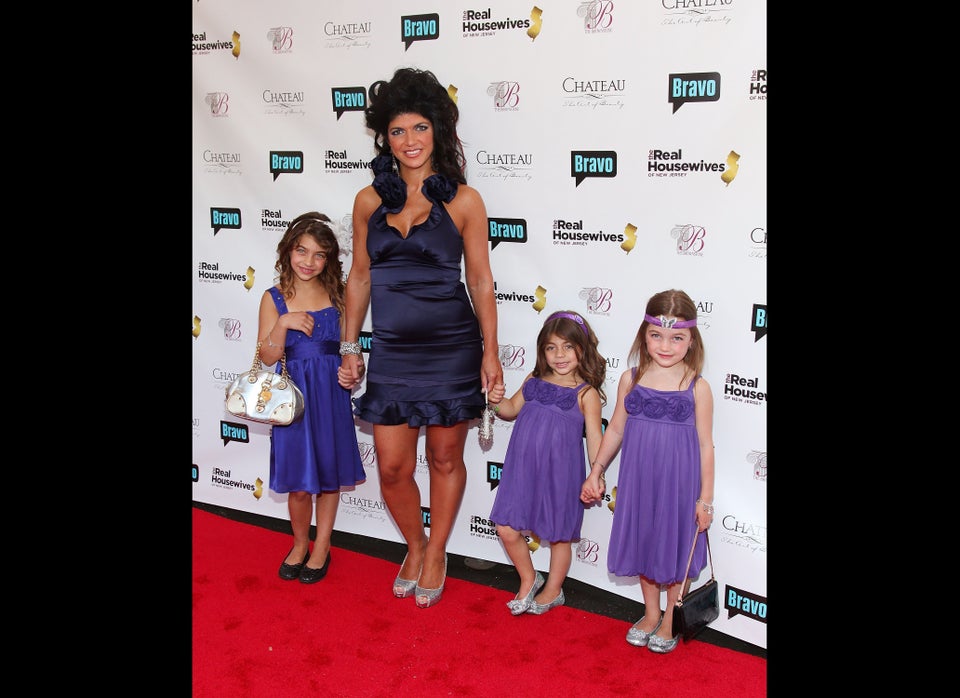 The Real Housewives of Bravo
Popular in the Community