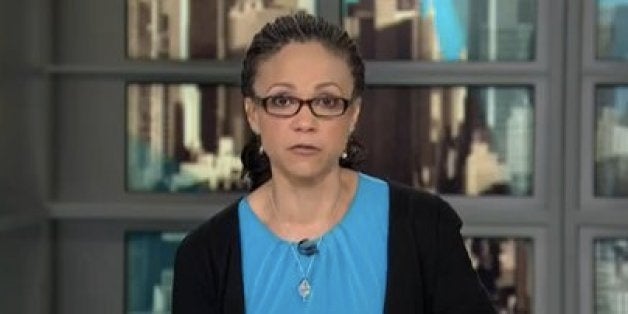 Melissa Harris-Perry teared up on-air Saturday while apologizing for her controversial comments about Mitt Romney's grandchild.
The MSNBC host came under fire earlier this week after joking about a photo of Romney's family which showed the former GOP presidential candidate holding his recently adopted grandson, Kieran, who is black. She subsequently apologized on Twitter and in a statement. On Saturday, Harris-Perry expressed again that she was "deeply sorry" for how the segment unfolded.
"Whatever the intent was, the reality is that the segment proceeded in a way that was offensive, and showing the photo in that context, that segment, was poor judgment," she said. "So without reservation or qualification, I apologize to the Romney family."
She added that the families of public figures, "especially their children, should not be treated callously or thoughtlessly. My intention was not malicious, but I broke the ground rule that families are off-limits and for that I am sorry."
"Also, allow me to apologize to other families formed through transracial adoption because I am deeply sorry that we suggested that interracial families are in any way funny or deserving of ridicule," Harris-Perry said, tearing up.
"On this program we are dedicated to advocating for a wide diversity of families. It is one of our core principles and I am reminded when we do so, it must be with the utmost respect. We're genuinely appreciative of everyone who offered serious criticisms of last Sunday's program, and I am reminded that our fiercest critics can sometimes be our best teachers."
On Sunday, Harris-Perry had shown the picture and asked her roundtable for captions. Two of the panel members joked about Kieran Romney being the only black person in the photo, while Harris-Perry said she wondered what a wedding between Kieran and North West, the child of reality star Kim Kardashian and rapper Kanye West, would look like.
In her apology earlier this week, Harris-Perry apologized to the Romneys and families "built on loving transracial adoptions," and noted that she was a "black child born into a large white Mormon family."
CORRECTION: Melissa Harris-Perry said that she is "genuinely" — not "generally" — appreciative of people's criticism of last Sunday's show.
Related
Popular in the Community