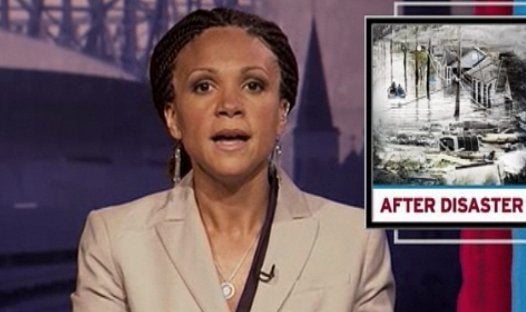 MSNBC's Melissa Harris-Perry marked the sixth anniversary of Hurricane Katrina with a searing monologue about what she saw as the country's failure to learn from the disaster on Monday's "Rachel Maddow Show."
Harris-Perry was in New Orleans filling in for Maddow, who was on vacation. Hurricane Irene had made it impossible for her to fly to New York, but the Tulane professor called the arrangement "strangely apropos," seeing as it was the sixth anniversary of Hurricane Katrina.
She criticized the country's lack of progress on the vulnerabilities that Katrina exposed, namely the inadequacies in public infrastructure and the racial and economic disparities that made the hurricane so devastating. She recalled, "We watched as Americans were abandoned on the rooftops of their homes, and we realized that our system could not even get water to the people of a major American city for days."
"Whatever momentum our renewed sense of responsibility brought has been halted by this recession," Harris-Perry said. She cited cuts to the social safety net, and opposition to environmental regulation and infrastructure as examples of the government actively working against that progress.
Harris-Perry said that while Hurricane Irene showed that people have learned to prepare for short-term disasters, the long-term lessons of Hurricane Katrina have fallen by the wayside. "Six years later, the long-term lessons about public policy, mutual investment is what we as a people are still refusing to learn," she concluded.
WATCH:

Calling all HuffPost superfans!
Sign up for membership to become a founding member and help shape HuffPost's next chapter