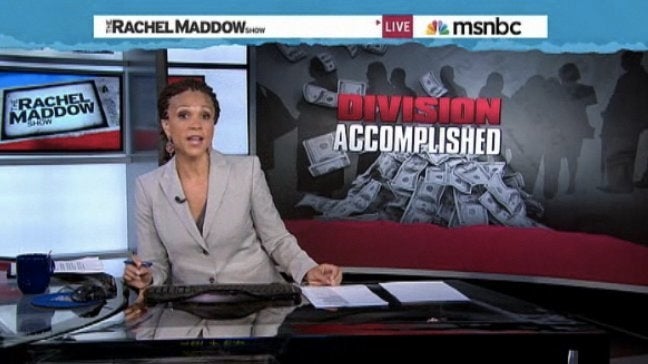 Harris-Perry tweeted the news on Thursday, and wrote that her new show will follow Chris Hayes' weekend program, "Up With Chris." The new show, which does not yet have a title, will air on Saturday and Sundays from 10:00 a.m. to 12:00 p.m. The show will debut on Saturday, February 4.
Harris-Perry has been a frequent guest on MSNBC, with appearances on "The Rachel Maddow Show," Al Sharpton's "PoliticsNation," and "The Last Word With Lawrence O'Donnell." Harris-Perry has filled in for hosts Rachel Maddow and Lawrence O'Donnell.
Harris-Perry's ascension is also notable in an industry often derided for its lack of diversity. She is now one of two black women, and three black hosts anchoring programs on MSNBC.
The addition of Harris-Perry's show also marks an increase in the cable news additional scheduling changes for the network's weekend programming. "Up With Chris," which previously aired at different times on Saturdays and Sundays, will now air on both days from 8-10:00 a.m. MSNBC weekend anchor Alex Witt will expand her live news coverage on Saturdays and Sundays. "Weekends with Alex Witt" will air from 7-8:00 a.m. on Saturdays, and 12-2:00 pm. on both Saturdays and Sundays.
Harris-Perry tweeted that she will remain as a professor of political science at Tulane University, and live in New Orleans during the week. Harris-Perry is also a columnist for The Nation.
Below, see MSNBC's new lineup with the addition of Harris-Perry.