In her first in-depth interview since her very public split with MSNBC, Melissa Harris-Perry recalled a moment during her tenure at the cable network when she realized she "was working for people that truly did not care about me."
"Every time after that that there was any kind of controversy on the show, it was completely clear that the priority was to protect [MSNBC] and [MSNBC]'s reputation," Harris-Perry said. "There was never much of any concern about the personal costs, emotionally, fiscally, sometimes literally in terms of safety."
In early February, Harris-Perry, who is also a full-time professor at Wake Forest University, was in Iowa with 22 of her students as part of the university's "Wake the Vote" program. While she was sitting in a hotel lobby, a man who recognized her from MSNBC approached and began incoherently threatening her and invoking Nazi Germany.
"I just want you to know why I am doing this," Harris-Perry said the man told her. She and a friend then started yelling at the man, who fled the hotel, jumped into a car and drove away.
"I don't know if he was there to kill me," she wrote of the incident.
Afterwards, Harris-Perry told "Another Round," Wake Forest increased security for her and her students on a subsequent trip for the New Hampshire primaries, but MSNBC refused to do so.
"They said: absolutely not," Harris-Perry said. She said it wasn't necessarily MSNBC's responsibility to provide more security, but argued that the channel should have done so anyway. She wasn't being targeted because she was a college professor, she said -- she was being targeted because of things she said on MSNBC.
"The reason somebody wanted to harm me, the reason that people send hate mail to me, the reason I don't read my Twitter @ replies for four years is because I work for MSNBC," she said. "The reason my kid puts up with stuff at school, the reason my husband deals with hate -- that actually is because of y'all. I'm just asking for one day could I be able to tell the parents of my [students] that I know for certain we'll be behind [MSNBC's] security perimeter, because I've worked here for four years, and their response was 'no.'"
"And I have to say," she continued, "that level of contempt from them, towards me, which I don't particularly think was racialized -- I just think they simply did not care -- was extremely painful and hard to take. I didn't stomp off and quit. It wasn't the straw that broke the camel's back in that sense, but it was certainly very revealing that I was working for people that truly did not care about me."
Listen to Melissa Harris-Perry's full interview on "Another Round" above.
An MSNBC spokesperson told The Huffington Post that Harris-Perry's accusations were "not true," but wouldn't elaborate further.
Near the end of February, Harris-Perry wrote an email to her staff at MSNBC explaining that she would not be appearing on the channel during her allotted slot the upcoming weekend.
In the message, which was later leaked to The New York Times, Harris-Perry said MSNBC repeatedly bumped her show for election coverage, wrested editorial control away from her team and made her feel "worthless."
"Here is the reality: Our show was taken — without comment or discussion or notice — in the midst of an election season," she wrote. "After four years of building an audience, developing a brand and developing trust with our viewers, we were effectively and utterly silenced."
"I will not be used as a tool for their purposes," she added. "I am not a token, mammy or little brown bobble head. I am not owned by [NBC News Chairman Andrew] Lack, [MSNBC President Phil] Griffin or MSNBC. I love our show. I want it back."
Days after her letter became public, the network severed ties with Harris-Perry, sparking an outcry from loyal fans, media observers and even some politicians.
"I have to say that when I watched the show, Melissa Harris-Perry was talking about politics in a unique way, like few others on the airwaves," Rep. Luis Gutierrez (D-Ill.) said in a speech delivered on the floor of the House, standing next to a sign reading #NBCsoWhite. "She brought diverse voices to the table to talk directly and unapologetically about the politics of race in America."
"I'm a relatively well-off, way over-educated black girl who had like eight jobs, and now seven. I am fine.""
"We're proud of the diverse backgrounds of MSNBC's journalists, hosts and analysts," MSNBC's senior vice president of communications, Mark Kornblau, said in a statement after Harris-Perry left.
"We'll gladly put that up against everyone else in the news business. We're also proud that MSNBC identified Melissa as a unique voice four years ago, gave her a platform and stuck with her. And — despite her claims to the contrary — it absolutely would have continued had she not sent a destructive email," Kornblau wrote. "The MHP show was safe – plain and simple. It was not being canceled or even altered and there was no consideration of that. We're surprised and sad about how this ended but we wish her the best."
In her interview with "Another Round," Harris-Perry said that while she was upset over the spat with MSNBC, she's otherwise "fine."
"I am not a civil rights case," she said. "I don't want anyone to march or nothing. I am not a cause. Go to Flint. Real horrible shit happening in the world. I'm a relatively well-off, way over-educated black girl who had like eight jobs, and now seven. I am fine."
"What I do think is not fine is that the end of the show is the end of a space where a lot of voices otherwise can't be. I do think mass media has a responsibility to put those voices there. I don't care if I'm not on air. I want those people there."
And asked if she would accept an offer to get her MSNBC show back, Harris-Perry said "no."
"The one good thing about this whole thing is: I've been hungry for four years," she said. "So I might just start having a sandwich and try to get a radio show."
CORRECTION: A previous version of this story stated that Harris-Perry's interview with "Another Round" was her first since leaving MSNBC. It was actually her first in-depth interview.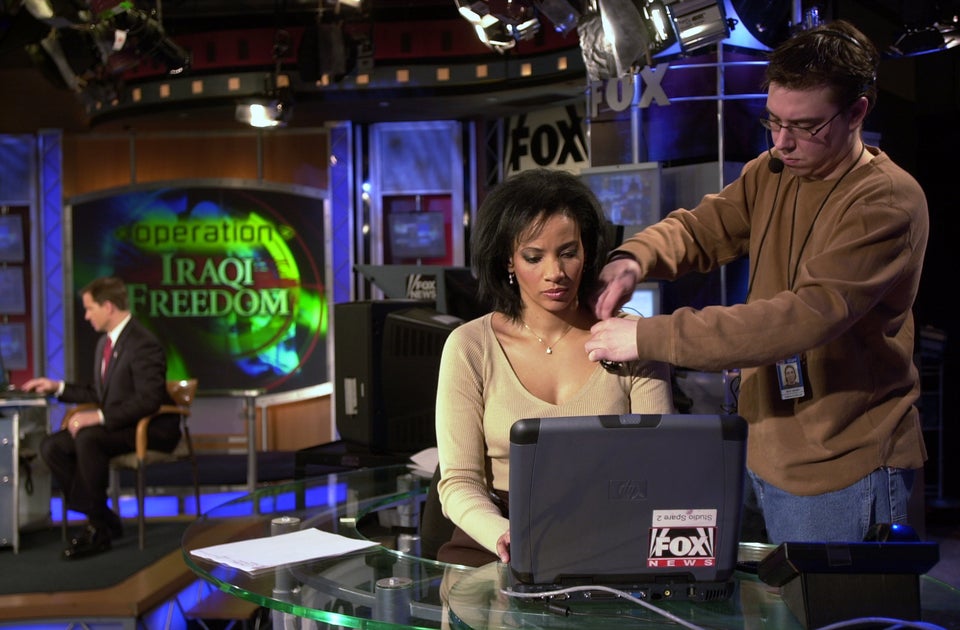 19 Of Fox News' Most Unforgettable Moments
Popular in the Community