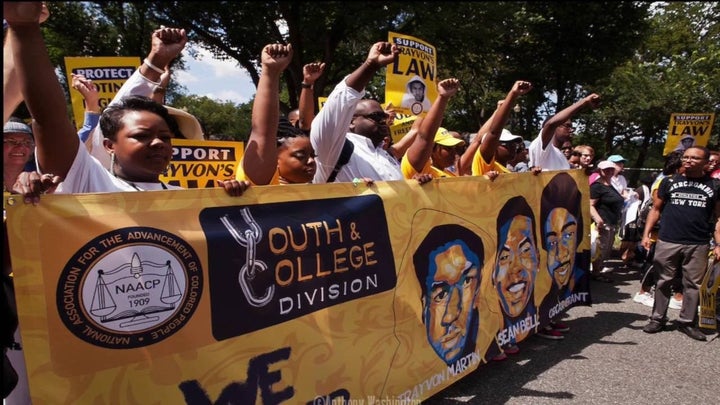 Melissa Harris-Perry published a thought-provoking article in the New York Times this morning entitled "How to Save the N.A.A.C.P. From Irrelevance." I like and respect Melissa Harris-Perry, but for her to dismiss the role of the NAACP (National Association for the Advancement of Colored People) and other legacy civil rights organizations by saying that "they should step to the side" is problematic. These organizations have been the foundation of the past and present civil rights movement in terms of providing a sustained platform to voice issues and to fight for justice.
While the Black Lives Matter movement should be applauded and supported, there is no need to denigrate and erase legacy groups. To dismiss individuals and organizations who have been on the front lines and have been engaged in the civil rights struggle for years is beyond the pale.
Harris-Perry made some valid points in her commentary about the need for courageous leadership in the area of civil rights activism and the shortcomings of the bureaucratic dysfunction that many organizations face. There is likely a need for the NAACP to rethink and streamline their organizational structure in order to increase efficiency. Additionally, we all need to tap into the bravery of previous generations and be more courageous in our endeavors.
We can't afford to be scared to speak up about injustice. We can't afford to be afraid to be disruptive and expose inequitable patterns, policies, and practices. Ida B. Wells was right when she wrote that "the way to right wrongs is the turn the light of truth upon them." We all have to do more to make the invisible visible. Too many people have some form of authority and influential platforms, but end up capitulating and saying nothing when it counts the most. Leadership must hold the line.
There is undoubtedly trepidation in some segments of the NAACP about how to deal with the growing presence of youthful activism. It would be prudent to help channel the passion of young people into efforts to create tangible policy change. You cannot sustain a change process without passion. Legacy organizations, however, have been inaccurately characterized as the "old guard" and the "establishment."
Ben Jealous came on as the previous President of the NAACP at the age of 35 years old and Roslyn Brock became Board Chair at the age of 40. They and other legacy civil rights organizations like the National Action Network (NAN) and that National Urban League (NUL) have burgeoning young leaders like Mary Pat Hector (NAN), Rev. Shane Harris (NAN), Rev. Charles Williams (NAN), Carlos Clanton (NUL), and Janai Nelson (NAACP LDF). The presence of these young leaders in legacy organizations was discounted in Harris-Perry's piece.
Contrary to her claim of the organization's irrelevance, the NAACP has been very active in their efforts to "disrupt the balance of power for the most vulnerable" in recent years. Many of their efforts have often been overlooked by the mainstream media in favor of more trendy twitter activists. The NAACP responded to Harris-Perry's claim of their irrelevance by tweeting "9 cases won in the past year against voter suppression and voting rights protecting the vote of millions."
The attack on traditional civil rights organizations is not new. A similar tension existed between SNCC (Student Nonviolent Coordinating Committee) and the SCLC (Southern Christian Leadership Conference), but the assertions put forth by Harris-Perry are like SNCC saying that the SCLC and NAACP of the 1960s had nothing to do with the Civil Rights Movement of that time and that they were co-opting a space created by SNCC.
Harris-Perry was engaging in some revisionist storytelling. Unfortunately, a lot of the truth tends to be sacrificed in the media's search for something new and different to counter tradition. It is great to highlight and spotlight new activists, but there was no need to disrespect and dismiss those who have been on the ground doing the work well before 2014. Contrary, to popular belief, the struggle for civil rights did not begin in Ferguson.
There has always been tensions in the civil rights community in trying to get space to be heard, but we need more focus on having some solutions than just being heard. Some people tend to think that they are more radical because their tone is sharper and more brash, but at the end of the day all talk is cheap. What you can change in terms of public policy and practices is what matters.
Organizations like the NAACP have stood the test of time. A few years of recent activism can't replace that. Twitter activists and hashtags are important, but they can't take the place of organizations that have the bandwidth to organize on the ground nationally. There is no doubt that the NAACP can rethink their structure and tactics to have an increased level of impact, but Harris-Perry's broad indictment against them is significantly flawed.
No one is arguing against multiple approaches, but don't discard traditional approaches because someone else wants to go another route. Why do the NAACP, NAN, and other legacy civil rights organizations need to move aside as Harris-Perry suggested for other groups to emerge? We need all approaches. Any team that has a playbook with only one play or one strategy is a losing proposition. Don't blow up someone else's bridge because you want them to cross yours. In the age of Trump, we can't afford to burn the bridges that brought us this far.
Marcus Bright, Ph.D.is a Scholar and Activist
Calling all HuffPost superfans!
Sign up for membership to become a founding member and help shape HuffPost's next chapter