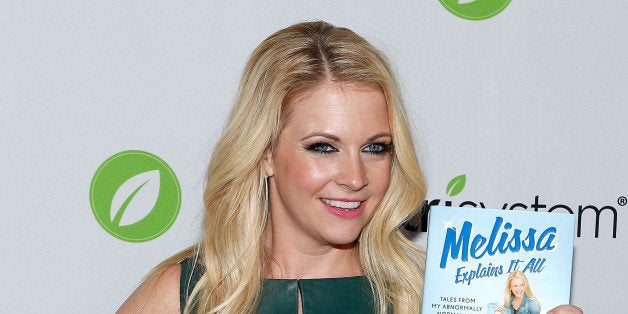 Perhaps Hart has a solid relationship with co-star Joey Lawrence, who she currently stars opposite on the ABC Family sitcom, "Melissa & Joey," because she doesn't exactly have kind things to say about kissing him in her book:
"Joey Lawrence uses enough lip balm for both of us, creating such a thick barrier that there's hardly any skin-on-skin contact. It's hard to get turned on when it feels like you're kissing one of Madam Tussaud's wax statues."
The former Nickelodeon star did, however, have much better things to say about her 1996 "Sabrina the Teenage Witch" TV movie co-star, Ryan Reynolds, with whom she cheated on her boyfriend of six months. Hart writes that the two fooled around in her hotel room, "I remember that his lips were pretty wonderful, plus he had these big hands and shoulders that completely swallowed my petite frame. It was a terrific distraction from how strongly he smelled of hair product."
Since Hart reigned supreme in the '90s, it's rather fitting her first on-screen kiss was with "Dawson's Creek" star James Van Der Beek aka "Van Der Blah," as she calls him, on the set of "Clarissa Explains It All." She also shared on-screen smooches with "Saved By The Bell" star Mario Lopez in the TV movie "Holiday In Handcuffs," and she said her sisters had a total meltdown when she got to lock lips with none other than Backstreet Boys heartthrob Nick Carter while in Australia.
But we can't say we're too surprised to learn that Hart's best on-screen kiss was with her "Drive Me Crazy" co-star Adrien Grenier, because frankly they are still making everyone jealous.


BEFORE YOU GO
PHOTO GALLERY
Former Child Stars Who Avoided The Hollywood Curse