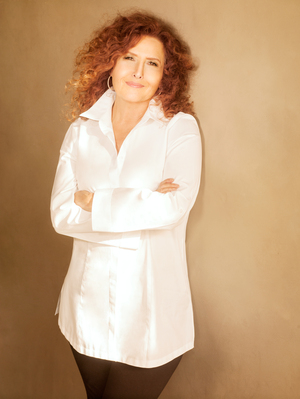 From "Midnight Blue" to "Come in From the Rain," Melissa Manchester has written and sung songs that have touched hearts around the world. Now for the first time in 11 years the Grammy Award-winning star is back with a new album called You Gotta Love the Life, which reflects how she feels about the turbulent industry she has survived in for over 40 years.
"This walk just takes a lot of courage because your artistic talent is just the point of focus that gets you to the starting gate," Manchester said. "Then you have to embrace this insecure version of normal. It doesn't work for everybody."
Unlike her previous albums, You Gotta Love the Life was not recorded with a major record label, but independently with crowdfunding, something her students at the University of Southern California's Thornton College of Music introduced to her. Manchester took the plunge and launched an Indiegogo campaign that raised the finances to bring a mixture of original tunes -- some featuring guest stars like Dionne Warwick, Stevie Wonder and Al Jarreau -- and remakes of classics to life. A good portion of the money came from "Fanchesters," a nickname Manchester's daughter came up with to describe her mother's loyal fans. Many of those Fanchesters will surely join Manchester when she travels around the country on a mini tour to perform new songs and old favorites like "Don't Cry Out Loud."
Since she was a child growing up in New York, Manchester understood the level of perseverance it took to succeed as a creative being. Her father was a bassoonist for the New York Metropolitan Opera and her mother was a designer with her own clothing line. Manchester began as a jingle singer and at one session she met Barry Manilow who introduced her to Bette Midler. As Manchester recalled in People in 1980, Midler asked her if she'd like to sing in back of her. She responded, "No, I'd like to sing instead of you!" Needless to say she got the gig and became one of Midler's original Harlettes. Soon after her solo career took off.
Manchester realizes how much she's grown and believes she's found "the balance between emotion and strength."
"Sometimes that's a woman's issue specifically because we are wives, mothers, daughters and we're always taking care of other people, and we forget to take care of ourselves," Manchester said. "But, this is neither a woman's issue or man's issue. We have to take care of ourselves and check in with ourselves to see how we're doing."
There was never a plan B for Manchester. She always knew she wanted to be a singer and songwriter and continues to find ways to express herself. She's already planning her next album, working on a musical, touring, and trying to think of the first sentence to write to spark the inspiration for a memoir.
"I really want to know what my part is and what I was supposed to learn in this life," she said.
Photo: Randee St Nicholas
Calling all HuffPost superfans!
Sign up for membership to become a founding member and help shape HuffPost's next chapter