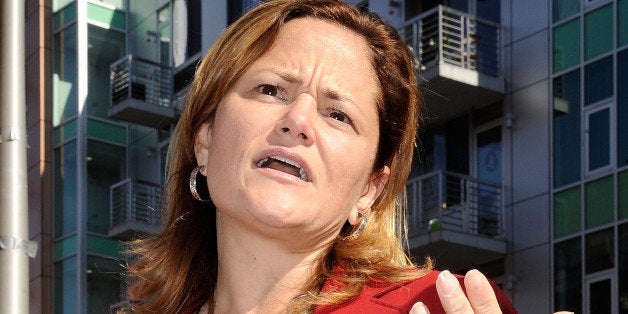 DOWNTOWN BROOKLYN — City Councilwoman Melissa Mark-Viverito appears headed to become the next speaker of the City Council.
Mark-Viverito's ascent was made possible after the Brooklyn delegation abandoned its earlier commitment to stick with the Queens and Bronx Democratic Party leadership — and ditched Garodnick in favor of a deal with the Progressive bloc, which also backs Mark-Viverito, sources said.
If the deal holds for the next three weeks, Mark-Viverito will have enough votes to become speaker of the City Council.
"I am humbled to have the support and confidence that my colleagues have placed in me," Mark-Viverito said in a statement Wednesday night. "Today is the culmination of over two decades of my work at the grassroots, in nonprofit organizations, in labor and as a public servant. I know that my fellow members will work with me in the City Council to create a more inclusive legislative body where every member's voice is heard and validated."
If chosen, she would be "the first Puerto Rican woman, the first Latino, and the first member of the Black Latino and Asian Caucus" to hold the seat, her supporters said in an email.
In a statement, onetime speaker candidate Jumaane Williams, a city councilman who represents Brooklyn and is a co-founding member of the Progressive Caucus, said he was withdrawing his name from the race in order to back Mark-Viverito.
"Though there is approximately three weeks left before the official vote, I believe that Council Member Mark-Viverito will prevail," Williams said, adding that his bloc came to a decision on Mark-Viverito independently of a round of phone calls made in her favor by Mayor-elect de Blasio on Monday night.
"This decision is not a result of pressure, including phone calls from anyone, to support a specific candidate," Williams said, adding that he was not among the people who got a call from the mayor-elect.
A number of news outlets reported Wednesday that, despite the deal that seems to lock up Mark-Viverito as the next speaker, Garodnick remained in the race.
One of his allies — and a former candidate for speaker herself — Bronx Councilwoman Annabel Palma, released a statement Wednesday afternoon in support of Garodnick's candidacy.
"Dan has been a close partner of mine in the Council, and a true friend of the Bronx. I know we will do great work together next year under his leadership," she said.
However, a source close to the Progressive bloc and Mark-Viverito's team, said that Garodnick's decision to stay in the race was little more than a ploy by the Bronx and Queens county leaders to gain leverage.
"It's now out there that county leaders are propping Dan up in order to go to the powers to be and say, 'We'll stop this nonsense if you give us x, y or z,'" the source said.
Garodnick's team said Wednesday that he was still a viable candidate and would remain in the race.
REAL LIFE. REAL NEWS. REAL VOICES.
Help us tell more of the stories that matter from voices that too often remain unheard.