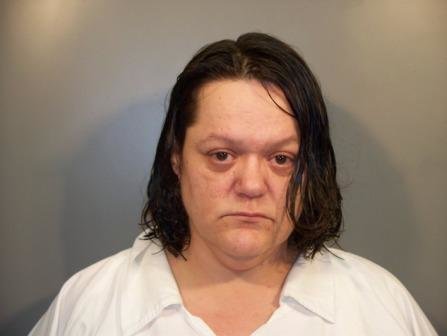 A woman who was sentenced to 20 years in prison for using methamphetamine while pregnant may soon go free.
In 2014, Melissa McCann-Arms was convicted of introducing a controlled substance into the body of another person after her newborn son tested positive for methamphetamine. She admitted to police that she used the drug around four times during the course of her pregnancy.
Under Arkansas criminal code, it is illegal "for any person to administer or cause to be ingested, inhaled, or otherwise introduced into the human body of another person a controlled substance," unless the drug is prescribed. The statute has traditionally been used to prosecute date rape cases.
On Thursday, the Arkansas Supreme Court reversed McCann-Arms' conviction, ruling that she couldn't be convicted under the statute because it does not apply to fetuses or unborn children. The court rejected the prosecution's argument that McCann-Arms may have transmitted drugs to her child in the short period after he was born and before the umbilical cord was cut, stating that there was no evidence of such a transfer.
An even more fundamental problem with the state's position, Associate Justice Josephine Linker Hart wrote, is that the law applies only when there is an "active undertaking to dose another person," like slipping a pill in someone's drink. The law doesn't explicitly criminalize "passive bodily processes" that may enable a drug to pass from a mother to her unborn child.
Lynn Paltrow, executive director of National Advocates for Pregnant Women, a nonprofit civil rights group, applauded the court's decision to overturn McCann-Arms' conviction. "First of all, it means that a woman who was innocent of the crime for which she was convicted will be free from prison," Paltrow said, adding that she knew of at least two more women in Arkansas who should be released as a result of this decision.
McCann-Arms' case is part of an disturbing trend across the country to use criminal law to control and punish pregnant women, Paltrow said.
"The greatest threat to America's children is not their own mothers," Paltrow said. "The use of the criminal justice system to address health risks during pregnancy is unanimously opposed by every leading medical group to address this issue."
Carl Hart, a neuroscientist and associate professor of psychology and psychiatry at Columbia University who has researched the health effects of methamphetamine, said that a positive drug test result for a newborn is not evidence of harm, and should not be interpreted that way.
"We try to encourage women to exercise, eat well, and to minimize caffeine, tobacco and alcohol intake during pregnancy," he said. "We think about methamphetamine use in the same way. We know that some women will not comply, and their children will still be fine."
Karen Farst, a child abuse pediatrician at Arkansas Children's Hospital, said she was glad to see the conviction reversed.
"From a public health standpoint, I don't think criminalizing drug use in pregnancy is the best approach, because it can take away our opportunity to intervene at a very important point, when they may be the most motivated to seek treatment," she said.
Farst said that the majority of kids in Arkansas who are born testing positive for an illegal drug in their system are born healthy and at term. A positive test should trigger an assessment to ensure the baby is going home to a safe environment, she said, but should not automatically result in the mom's incarceration.
"From what we know about meth and cocaine, they don't have as much of an effect on the physical health of the baby as alcohol does," she said.
Farah Diaz-Tello, an attorney with the National Advocates for Pregnant Women who argued McCann-Arms' case before the high court, said she was overjoyed at the ruling, but warned that the work is not yet done.
"One prosecutor has already vowed to try to change the law to permit the arrest of new mothers," Diaz-Tello said. "It will be up to medical experts and Arkansans who value maternal and child health to ensure this doesn't happen."
Prosecuting Attorney Andy Riner, who filed the case against McCann-Arms, said he was disappointed with the court's decision. "We are prepared to continue this fight in the political system," he said.
CORRECTION: A previous version of this story stated that McCann-Arms was convicted in 2012. She was convicted in 2014. This story has also been updated to include a comment from Andy Riner.
Popular in the Community