"I was in New York for many, many years doing dramatic plays, so I'm quite comfortable," she said. "And I always kind of think if you, you know, put all the things I've done together, I may have even done more drama than comedy in its totality."
At the multiplex, most people have seen McCarthy in broad, slapstick comedies, particularly in the years since her scene-stealing turn in 2011's smash hit "Bridesmaids." In that movie, McCarthy's no-holds-barred physicality ― from pooping in a bathroom sink to propositioning "not an air marshal" Jon on an airplane ― earned her an Oscar nomination for best supporting actress, a rare nod from an Academy prone to undervaluing comedic performances. Major releases like "Spy," "The Heat" and the all-female revival of "Ghostbusters" — all from "Bridesmaids" director Paul Feig — continued to showcase her strengths.
But in duds like "Tammy," "The Boss" and this year's "Life of the Party," McCarthy settled into a typecast. The template was plain: A cartoonish woman faces some kind of larger-than-life, nearly always implausible premise (road-tripping with her foulmouthed grandmother, moving in with her employee after an insider trading scandal, becoming a party animal at the same college as her daughter). Add some toilet humor and exaggerated antics; rinse and repeat. The characters could only be funny so many times before they descended into the same old schtick that McCarthy could seemingly perform in her sleep.
It's no wonder that "Can You Ever Forgive Me?," from director Marielle Heller, feels revelatory. As washed-up author turned literary letter forger Lee Israel, McCarthy trades the exuberance and effervescence of her previous roles for moroseness and misanthropy. The movie is darkly comedic, but compared to any of her boisterous action flicks, it's a subtle ride at the theater. Even before the movie came out, the focus on McCarthy's supposed transformation ("she is unrecognizable in a wig!") and the film's October release date — right in the thick of Oscar season — brought awards buzz and helped drive home a compelling narrative: Melissa McCarthy, dramatic actress, has arrived.
But Melissa McCarthy, dramatic actress, was there all along, going back to her 2000s breakout role as Sookie St. James on the celebrated TV series "Gilmore Girls."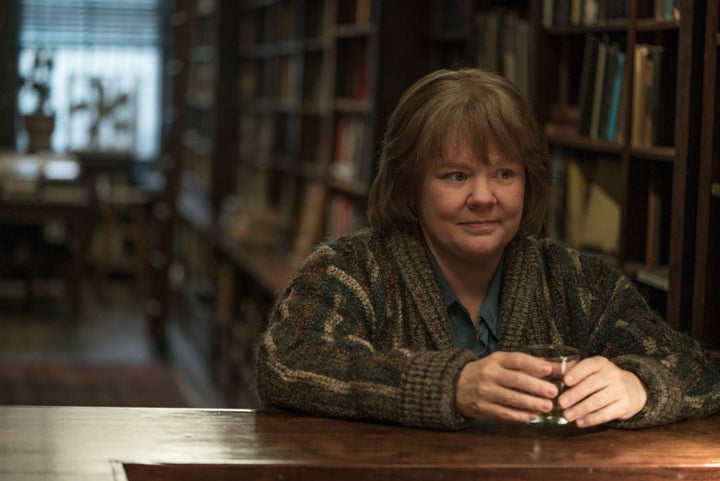 Watching McCarthy as the best friend, chef and business partner of protagonist Lorelai Gilmore (Lauren Graham), it's easy to dismiss the role as comic relief. Sookie is the lovable klutz ― story lines frequently involve her making a mess or going overboard in her elaborate culinary creations. But McCarthy imbues the role with empathy and compassion, upgrading warm and bubbly Sookie beyond the sidekick archetype commonly found in female-driven rom-coms.
As the series progresses, Sookie's storylines evolve in tandem with McCarthy's talents. The character navigates life and career transitions that transcend the typical B plot. In the fourth season, when Lorelai and a pregnant Sookie are tasked with planning a children's "Lord of the Rings" party, Sookie's struggles to make the event kid-friendly ― by preparing spreads of crudité and turning macaroni and cheese an unappetizing shade of green ― become a proxy for her deeper concerns that she lacks maternal instincts.
"I don't know how to talk to them. I don't know how to feed them," she tells Lorelai, unleashing a stream of anxieties, her eyes wide and full of worry. "I make them eat jalapeño chipotle cream sauce. I'm Mommie Dearest."
Scenes like this are sprinkled throughout the series, giving audiences a glimpse at McCarthy's ability to pull off both the show's witty repartee and its poignant, heart-aching moments.
One of McCarthy's best scenes in "Bridesmaids" similarly bridges her comedic and dramatic modes. At the home of a down-on-her-luck Annie (Kristen Wiig), Megan starts manically play-punching and kicking her forlorn friend: "I'm life, and I'm going to bite you in the ass!" The risible pep talk quickly turns tender, though, as Megan explains how she went from being bullied in high school to becoming a high-level government operative ("don't repeat that!"), reminding Annie that she has "another best friend sitting right in front of her."
And yet, after "Bridesmaids" made her a major box office draw, McCarthy rarely got a full vehicle to showcase her dramatic chops. Besides the middling 2014 dramedy "St. Vincent," in which she played a single mom opposite an easily rankled Bill Murray, McCarthy has been all chuckles.
The attention being paid to McCarthy's latest turn as a dramatic actress is deserved, but the sudden performed magnanimity of critics also perpetuates the idea that capital-A acting is serious and comedic work is second-rate. McCarthy's roles have always elevated comedy itself, treating it like a craft worthy of just as much adulation.
Her supporting role in Judd Apatow's "This Is 40" illustrates her comic versatility. McCarthy shines in her handful of scenes, which are less about physicality and more about verbosity, like in a confrontation with Paul Rudd and Leslie Mann's characters after a dust-up at their kids' school.
"Maybe if I looked more like this fake, bullshit couple. Looks like they're in a bank commercial," she says, punctuating her insults with glares at Rudd and Mann. "That's what you look like: like you're a bullshit, bank commercial couple. I would like to rear up and jackknife my legs, and kick you both in the fucking jaw with my foot bone."
McCarthy in "Can You Ever Forgive Me?" represents the best of both worlds. The movie's opening scene contains some of her classic physicality: Newly fired from a dead-end office job, Lee gulps down a glass of whiskey (which she's been guzzling at her desk), dumps the ice in the trash and shoves the empty glass in her bag, all in one flourish.
With swashbuckling swagger, McCarthy as Lee commands every scene, verbally sparring with her agent, hatching schemes to deceive bookstore owners and antique collectors and gallivanting around New York City with her drinking buddy and accomplice Jack Hock (Richard E. Grant, in a scene-stealing performance not unlike McCarthy's earlier roles).
But as Lee's literary scam gradually reaches its inevitable demise, she also has quieter moments of self-reflection, mourning lost career opportunities and relationships.
"I was just supposed to be something more, wasn't I?" she asks late in the movie.
"Can You Ever Forgive Me?" succeeds in showing McCarthy as something more, but she's been demonstrating for years now that she is one of the rare marquee actresses who can move seamlessly between comedy and drama. If the role does mark a new direction, hopefully it heralds the beginning of a career phase in which she continues landing roles that incorporate the full range of her talents.
Calling all HuffPost superfans!
Sign up for membership to become a founding member and help shape HuffPost's next chapter