During her lifetime, Lee Israel was the living embodiment of the age-old adage "crime pays." 
Israel, who died in 2014, spent two years in the early 1990s writing forgeries of letters by the likes of Noël Coward, Ernest Hemingway and Dorothy Parker, and then auctioning them off to collectors for then-hefty sums. Though the New York-based writer had early success with her biographies of Tallulah Bankhead and game show panelist Dorothy Kilgallen, she had no literary prospects and was on welfare prior to turning to fraud. (Check out a scene from the film above.)
After a number of false starts, Israel's story finally made it to the big screen this fall in "Can You Ever Forgive Me?" The film, which opened in limited release Oct. 19 and expanded to additional theaters nationwide Nov. 2, stars Melissa McCarthy as Israel and Richard E. Grant as her best friend, Jack Hock. 
McCarthy has earned a flush of early awards season buzz for her portrayal of Israel, and for good reason. She brings the fraudster to life with grace and aplomb, finding empathy in a woman whose behavior is criminal and, in some respects, downright despicable.
The real-life Israel also identified as a lesbian, and McCarthy handles the queer aspect of her character's identity with appropriate nuance that may surprise fans most familiar with her comedic roles in "Bridesmaids" and "Ghostbusters," among other films. Grant, meanwhile, undergoes a radical physical transformation, in his portrayal of the openly gay Hock, who died of an AIDS-related illness. 
McCarthy recently spoke with HuffPost about the film, why her approach to Israel was "very different" from her portrayal of former White House Press Secretary Sean Spicer on "SNL" and what she hopes a modern LGBTQ audience takes away from her performance. 
What part of this film tested you the most?
The play of stillness was a fun challenge. I've played so many strong women who have been energy-forward, and there's more physicality and verbal sparring. Lee was more turned inward. She did a type of deflecting that was more like, "I will wait you out, in hopes that you go away." And it usually worked. There's a stillness to her character that I found very interesting.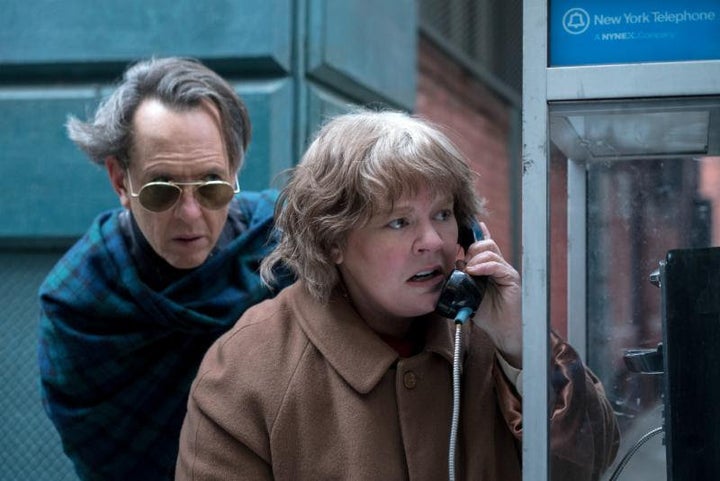 How familiar were you with Lee Israel prior to the film?
I wasn't, and I felt like I should have been. That was my takeaway when I first read the script. Researching her was challenging. Initially, I thought I'd do a ton of research, watch things. But true to her personality, she didn't want people in her life and didn't offer that up [during her lifetime]. Also, she lived at a time before people felt the need to document every moment of their lives, so it's just not out there.
Luckily, [two of] our producers, David Yarnell and Anne Carey, knew her very well. David was the person who poked, prodded and made her write her memoir, which she did not want to do. She was difficult about it and I think he might have called her "a pain in my ass," but she finally wrote it. And Carey, for 10 years, was taking her book and trying to turn into a film and meet with Lee for dinner. Carey would always show up and Lee would be waiting there, drink in hand, and once dinner was finished, she'd get up and go before the bill would come.
By embracing falsehoods, Lee makes her best work. Did you feel a connection to that because as an actor, you're playing pretend?
I feel like we're on similar paths in terms of what we do. I don't want to play someone exactly like myself. I'd be very uncomfortable. As a character, strangely, I have no hesitation in how I do something. It gives me a lot more courage than I have in my normal life.
Lee lived through other people. She was a great writer when she could write through someone else's voice. Turns out she was a great writer either way, but [having] the safety net of standing behind someone … I really relate to that.
No, because Lee is someone I found engaging, and I wanted to look at the heart of why she did troubling things. Whereas with the other one, I was just holding the mirror up. I wasn't examining him. I just wanted to hold up the mirror and have his own words reflect back because they're crazy enough. It was a very different world.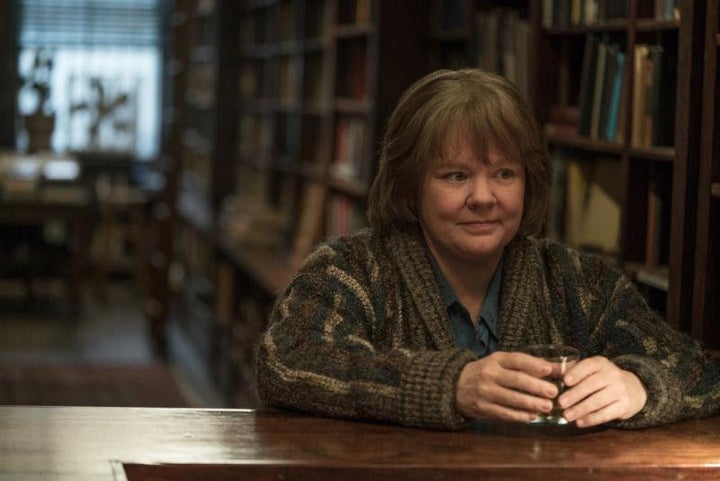 You play up Lee's queerness very matter-of-factly. How was it to make that aspect of her identity so casual?
It made nothing but sense to me. It's a part of who you are, and it's integrated into your being from the beginning. It shouldn't be like this separate entity that's added on, like you picked it up along the way.
This film is sort of a love story between two queer people who are living in New York at a specific moment in history. Is there a message for a modern queer audience you'd like relay in your performance?
The fact that she went to Julius' [New York's longest-operating gay bar] in the early 1990s was very telling of how uncomfortable she was. In the early '90s, gay men and lesbians didn't intermingle. I was at Julius' in those days and it was not a place to be seen. I think Lee went there because there was a bit of safety in the company, but she would not be bothered. It was another way for her to shield herself. Toward the end, when Jack is losing his battle with AIDS … at that time in New York, "epidemic" is not a big enough word. It's a good thing to be reminded of the fact that people now don't have to shield themselves. Not that long ago, you did.
What do you hope audiences take away from the film?
For me, I hope people will think about seeing the invisible people who are around them all the time. Lee and Jack were just people no one looked at. No one passed by Lee and thought, "I wonder if she's remarkable." They were just invisible. How many people do we pass each day that we don't even look at? Especially today. I hope people look up and actually see people.
This interview has been edited for clarity and length.
REAL LIFE. REAL NEWS. REAL VOICES.
Help us tell more of the stories that matter from voices that too often remain unheard.