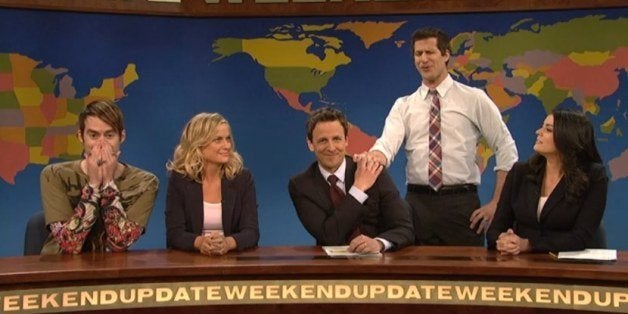 Each longtime "SNL" cast member seems to have his or her own unique way of leaving the show. When Darrell Hammond (still the longest tenured cast member in the show's history) left, not a direct word about it was mentioned, but during the final sketch, the stage filled with just about everyone imaginable as Will Ferrell sang Billy Joel's "Goodnight Saigon." When Kristen Wiig left in 2012, Mick Jagger serenaded her off the stage. Last season, Bill Hader had a wonderful sendoff as Stefon, then joined Fred Armisen and Jason Sudeikis as they jammed together in the guise of Armisen's Ian Rubbish band.
For Seth Meyers – who left "SNL" last night after nearly 13 seasons (we wrote a more thorough goodbye post to him, with the help of some current and former cast members, here) – there was no Billy Joel song and there was no Mick Jagger (though, there was Stefon). Meyers had a quieter, more direct sendoff. There were no special sketches -- just an announcement at the end of "Weekend Update" as his friends Amy Poehler, Bill Hader (as Stefon), Andy Samberg and Fred Armisen (as David Patterson) joined him onstage as he said his goodbyes. Which for Meyers – always gracious and always understated – was fitting.
Melissa McCarthy brought a frenzied energy to the show – but that energy seemed to deflate after "Update," which isn't terribly surprising.
"Weekend Update" (Meyers, Strong, Killam, Hader, Poehler, Samberg, Armisen) From a purely technical standpoint, this might have been one of the weaker efforts of the Meyers-Strong era. A lot of the jokes fell flat (though, Meyers' delivery on a joke about a Google Glass redesign, "You don't want to look nerdy … when you're wearing a computer on your face," should be taught in "Why Seth Meyers Is Good At His Job 101") and even the always reliable Taran Killam couldn't gain too much traction with his beleaguered Southerner who doesn't understand snow.
Anyway, it doesn't matter. By the end, when Poehler, Hader and Samberg joined Meyers behind the desk, this became a deserved celebration of Meyers' 13 seasons. I was a little surprised that Hader showed up as Stefon, just because Stefon's sendoff last season was just so perfect. But, Meyers and Stefon are forever linked and it would have been even more odd not to see him on Meyers' last show.
It was classy sendoff for someone who is, by all accounts, a classy guy.
"28 Reasons" (Pharoah, Zamata, Thompson, Moynihan, McKinnon, Wells) The biggest pure laugh of the night was when Pharoah, in one word, listed reasons 2 through 28 on "why to hug a black guy today." The second biggest laugh of the night was the look on Bobby Moynihan's face after Pharoah listed reasons 2 through 28 on "why to hug a black guy today."
"Valentine's Day Commercial" (Bayer, Bryant, Kilam, Moynihan, Mooney, Bennett, Zamata) It's funny because it's true. (Only I prefer to do my last minute shopping at Duane Reade.)
"Cold Open: Halftime Spectacular" (Bennett, Pharoah, Moynihan, Mooney, Killam, Milhiser, Wells, Bryant, McKinnon, McCarthy, Thompson) I'm a sucker for "big productions" – and this just might have been the biggest production in terms of cold opens in recent memory. This had energy. And anyone who's ever been to a less-than-stellar Broadway production can recognize the overemoting that's probably not going to go over too well at a Super Bowl halftime show. (Also, if this were a real Broadway production, I'd probably pay to see it.)
"Women's Group" (Bayer, Strong, McCarthy, Bryant, Pedrad) This seems like a sketch that was at least partially brewed in the head of McCarthy herself while daydreaming during "Mike & Molly" table reads.
"Super Champions" (Mooney) I mentioned on Twitter last night that I wish Kyle Mooney had his own show just doing this. That was met with a flood of responses that basically there's a treasure-trove of Kyle Mooney doing just this on YouTube. (I am still laughing at Mooney approaching a group of people looking at a map and asking, "Trying to find the right way?")
"Melissa McCarthy Monologue" (McCarthy, Moynihan) Well, at least it was different, even though it made absolutely no sense. And the setup of watching McCarthy insult Moynihan (then walk out of the studio with a llama) was much better than the battle-royale payoff.
"Guess That Phrase" (McCarthy, Bennett, Thompson, Bayer) Yes, this was dumb. And, boy, does McCarthy try do everything in her power to save it – which she does. Honestly I'm not sure any other host could have made this particular sketch funny. (And, for the love of Pete, I don't want to find out.)
"Summer in a Day" (Moynihan, McCarthy, Milhiser) I hate not liking the esoteric 10 to 1 sketch (or, in this case, the next to the 10 to 1 sketch). And I really see what Moynihan was going for here, but the execution just didn't work. The timing just seemed off and in a sketch like this, that needs to be pretty much spot on perfect to pull this off. (Who knows? Maybe this is one of those sketches that grow on a person after time. By the end of the season I'll probably be calling this the sketch of the year. But, for now, it gets a five.)
"Girlfriends Talk Show" (Bryant, Strong, McCarthy) I barely remember anything about this sketch other than what I already know about it as a recurring sketch. Of all the iterations, this was the one that Aidy Bryant got the least amount of great lines – which is the only reason this sketch ever works in the first place. At this point, it feels like "SNL" is doing this sketch just to do it – and there needs to be a better reason than that.
"Delaware One" (Killam, McCarthy, Milhiser, Mooney) McCarthy reprises her role of the once disgraced basketball coach who is now a politician. I mean, congratulations to Michael Grimm for doing something dumb enough to get a "SNL" sketch made on his behalf, but the prior installment of McCarthy as Kelly was much better.
"Art Exhibit" (Mooney, McCarthy, Pedrad, Wells, Wheelan) I almost want to think of this as a strategic move. That it was on purpose that a dud of a sketch was placed directly after this week's emotional "Update" – knowing that whatever came after "Update" wasn't going to work. To be fair, it most likely was the fact that (A) this followed Seth Meyers' emotional "Update" and most likely not everyone was 100 percent focused (I can only imagine that everyone who was in this sketch was thinking, I wish I was backstage hugging Seth like everyone else is right now instead of on live television and (B) this seemed to suffer from some technical difficulties – blocking, sound – that are probably related to point "A."
Average Score for this Show: 6.03
Mike Ryan is senior writer for Huffington Post Entertainment. You can contact him directly on Twitter. Click below for this week's "SNL," Not Ready For Primetime Podcast featuring Mike Ryan and Hitfix's Ryan McGee.
Related
Before You Go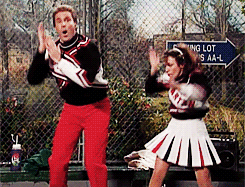 SNL GIFs
Popular in the Community