There are very few people in the world whose light you can feel through your computer screens. Had I never met this talented artist, I would have still been able to sense her genuineness and abundant joy just from following her online. I however have had the pleasure of watching her grow over the last 18 years both up close and personal and also from afar. And it is with great pleasure that I introduce to you all...
This week's spotlight: Melissa Mitchell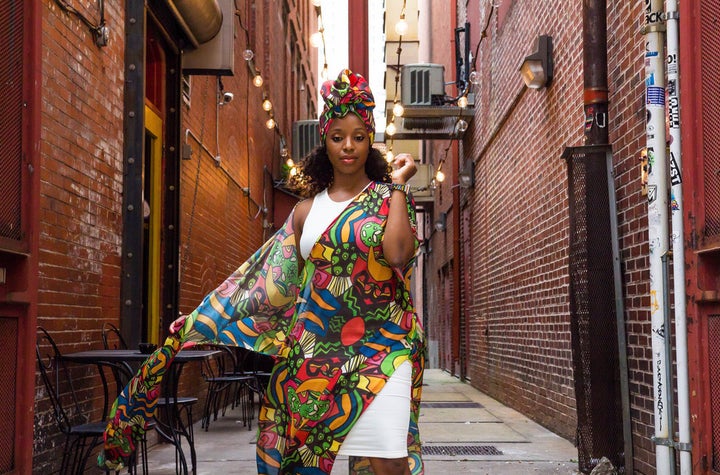 A Miami native, with Bahamian roots and a graduate of Florida A&M University with a Bachelors in Public Relations and Masters in Public Management, art was the last career path Melissa believed she'd be traveling down. A now self taught artist, and having sold nearly 1,000 wraps since their inception less than one year ago, Melissa's story is so beautiful, it's best told in her own words.
Tell the readers a little about yourself and how you got into art.
I like to say that I am a colorful girl, trying to pull the black and white lenses off of folks. (lol). For as long as I can remember, I have always been a little different. When I was about three years old, my mother bought me a pair of pink cowgirl boots and I begged to wear them with my Christian school uniform. Yes---even at 3 I had a passion for fashion. My parents objected at first, but eventually did whatever it took for us to get out of the house on time. It was from that very moment I knew that there was something to this whole not following the crowd thing. All through my schooling, I made my own clothes, I strayed from anything that seemed too "normal," and had a deep affinity towards fashion and colors. Even through college I was known as "the girl with all those colors." I had an extensive shoe collection, and people rarely knew what I would show up in. I loved to keep people guessing and I still do.
Fast forward to 2010, the year that would change my entire world. On February 26th, I'm having a deep talk with my dad about life and he hugs me deeply and says, "You know how much I love you right." I'm like--- "duh." I laugh, hand him a smoothie, and head to Target with my mom. About 2-3 hours later, I get a call from him. He is breathing heavily and saying, "help… me….Help…" Then I hear him collapse, but his Bluetooth is still on. On that day I heard my father take his last conscious breath. I am still traumatized by this. I later realize that was the last time I would ever speak to him on this side. For the next two weeks my father would fight for existence before finally transitioning on March 12, 2010. After his death I entered into a very dark part of my consciousness. I questioned God, I cried for hours, I lost my zeal, I didn't understand this new me. The world went cold and black.
For 4 years, I searched for that colorful girl that Mike and Sharon raised. One dreary night during Atlanta's "infamous" snowstorm, I heard God say PAINT. I'm like "nah God…just give me some lotto numbers or something." I heard PAINT clearly again. I am a creative girl who is always customizing or chronicling something, so I had scrap wood and paper left from some sorority gifts I made for my little sister. I found one of the boards, flipped it over, and began doodling in pencil. Then I began to fill those twisted lines with colors, and then I added some defining black lines for good measure. It was literally like the sun was in my room. An undeniable light came on. As I sat in my room, with no Valentine, my daddy gone, electricity going in and out, a head full of conflicting thoughts and a heavy heart---- God gave me a new me.
And that is where Abeille Creations was born.
Melissa means "honey bee" in Greek. My father insisted I be named after one of the hardest working creatures on this planet. I wanted to honor why my parents chose that name for me and found "Abeille" in a french dictionary. Abeille means BEE in french.
My art is truly an extension of my heart. I pour everything I have into everything I create.
I always describe finding my artistic voice as a beautiful accident. To me, art is my freedom, far beyond just finding my purpose. It's a place where I am free to roam, create, and just be. There are no restraints, there is no judgement, there are no boundaries--- art is LOVE. I choose art, because God chose me. Out of all the people on this planet, he gave these patterns and color combinations to me. No matter how similar other works may be to mine, they can never compare, because they didn't come from me.
Simply put, my art is me, and that's its superpower.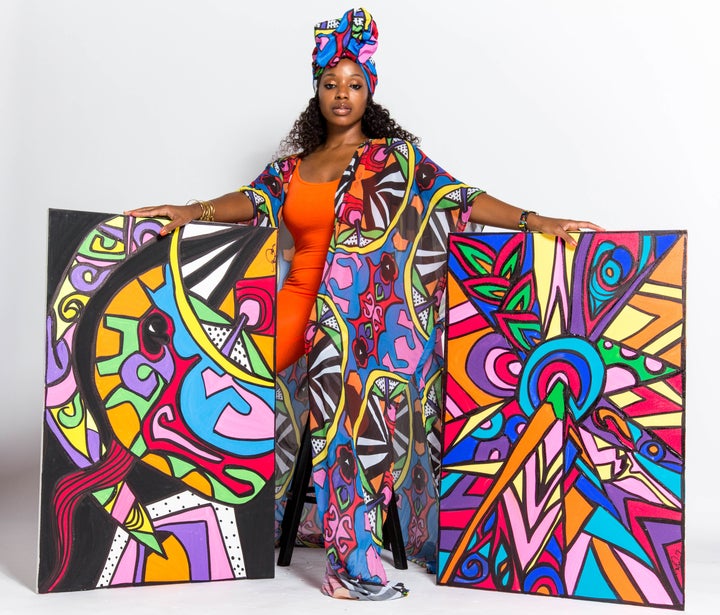 How did your art turn into wraps?
As most things are created, I filled a personal "need." I have been wrapping my hair as far back as 1999 when Badu first jumped on the scene. I kept going back and forth with the natural hair movement and I always seemed to have conditioner on my hair when I was called to go out, so I had to wrap this hair right on up. When I started painting, I needed my hair covered for obvious reasons. After countless journeys to the fabric store to buy authentic African fabric, I found it dried my hair out if I didn't have on another silk scarf under it. One day I was like, "Man it would be dope if I could wear my art." A light bulb went off and the universe started moving on my behalf. I began vetting printers and received a message on Instagram from a couple that had recently moved to Atlanta from Tennessee. They loved my art and wanted to work with me. The first piece of Abeille Creations wearable art was born---through SOCKS. This happened in late July of 2016. It took months to find the perfect headwrap material, but here we are. My printers, and now partners, have truly been a blessing.
What inspired you to start this business?
I think I always knew deep down I was supposed to be doing something more than a regular 9-5. I am one of those people who are NOT afraid to step out on faith and try something new. I have had a few online stores in my day that ranged from selling earrings and vintage clothes, to custom shirts. I was also no stranger to using social media as a marketing tool.
After selling my first painting through Instagram, I knew that this art life would prove to be more than a stress reliever. I was also inspired by my parents and their spirit of hustle and enterprise. My entire life I witnessed my parents work full time jobs, and come home to run a full church ministry, as well as other small ventures. I knew I possessed the blood in my veins of a go-getter. I simply refused to be anything less.
What is unique about your art?
My art is unique, because it has my DNA in every fiber of its being. I like that I am able to tell my own story through colors and lines. Art is merely a conduit for me to share the stories of God's grace over my life. People want to know the who, the how, the why, and my answer is always the same, "….but God." I would not be where I am without him opening doors, shining a light on me, and favoring me beyond measure.
My art opened doors to places and people that I may not have ever come in contact with. So my art is unique because it is me and it is God's tool for elevating me to WHO I am called to be on this earth.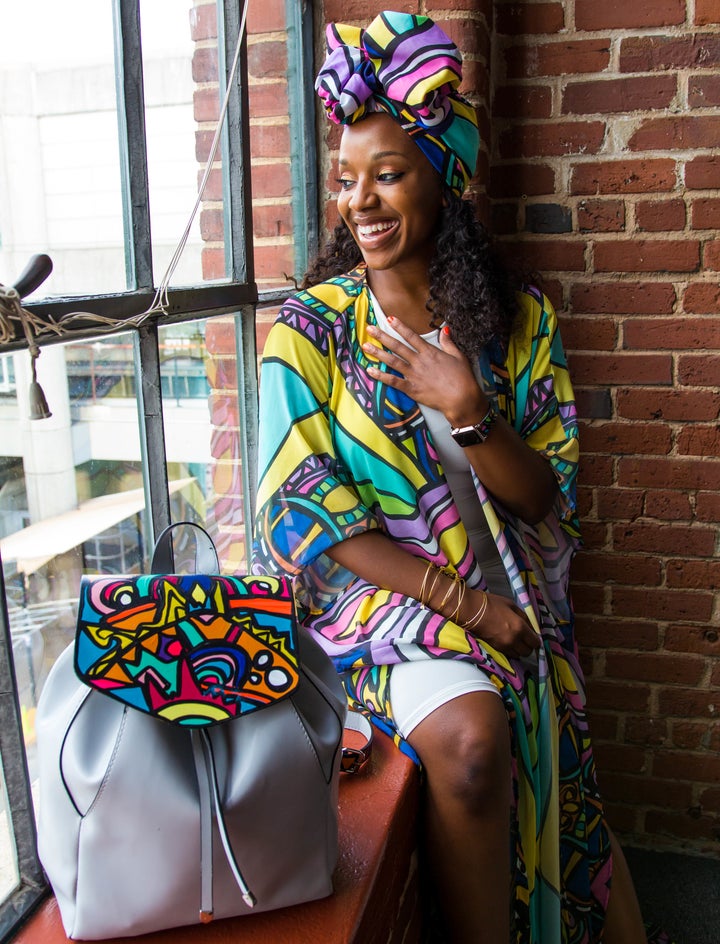 What process do you go through when making a business decision?
I truly only do things that I "feel" are right for me. I get numerous offers to partner on deals, create new works, travels to shows, or merely bridging a new art relationship. If I have even the slightest ill feeling, I am NOT moving forward. I make decisions that fit into my bigger picture. I don't forge partnerships that aren't mutually beneficial in some way. I want my business to be known for having quality products and for being full of integrity, so who I move with is important. Generations from now, I want my name to be good in the earth, no matter what it's attached to.
What have been some of your failures, and what have you learned from them?
This is a tough question. I can't think of a major, "failure." I can however think of a major challenge. My greatest challenge has been maximizing my TIME. I am still balancing a 9-5, so I have be mindful of how lost I get in my pieces. One night I was up painting until almost 5 am and had to start getting ready for work a little after 6am. Some days I want to create for hours on end, but I have to be aware of my schedule and timing of it all. When you are building, you have to plan your days accordingly. I only "busy" myself with things that will add to my momentum. As a business owner, your best weapon should be discernment. You will know what deserves your time, and what you should pass on.
What would you say are the three key elements for being a successful business owner?
Patience – you must have patience in ALL THY WAYS. I have to work very closely with clients because I am the designer, my own publicist, my own customer service, and saleswoman. I have learned not to take criticism personally and how to push past anything that is NOT in favor of success. I have developed a great deal of patience being a business owner.
Process- you have to develop a system that works for you. For me, it's knowing how to deal with managing time, my schedule, how many clients I can take on within a week, when to paint, when to shut off my phone, etc. I have developed ways to maximize my full potential.
Practice- you have to constantly perfect your craft AND practice what you preach. You ARE your brand and should give your best all the time.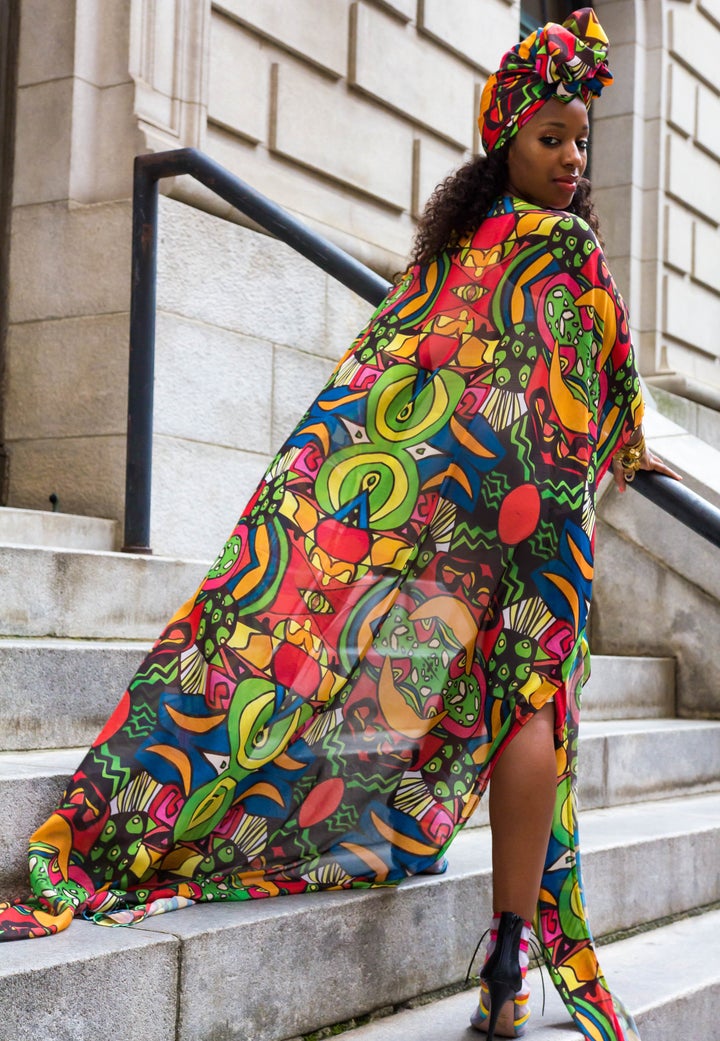 Where you see yourself and your business in 10 years? 20 years?
In 10 years, my headwraps will be in major department stores. I will have designed unique pieces of furniture and my home décor will have designers in awe. My athletic line will be worn by major athletes. Planes will take flight with my designs on the side of them, and celebrities will call me by name for fashion favors. I will be the IT queen when it comes to all things art and fashion.
In 20 years, I will be dropping my kids off at FAMU and will have produced several television shows about entrepreneurship, managed an army of proteges, and invested in major projects globally.
My dream is to go around to hospitals and hospice centers to provide art. I want people to come into the world and leave it knowing that life is full of the colors you are able to see and feel. Heaven is a place where your soul is free. Art is a window that reminds us of the realities that exist beyond earth. Art allows your brain to roam. I want to serve as a true interpreter of the Heavenly language that few understand.
My dream project would be to load up an RV, travel the country, and paint the world happy!
How can the people contact you or support your art?
----------------------------------------------
Donteacia Seymore is an American inventor and innovation strategist. She helps inventors all over the globe build, fund, and launch their incredible ideas. If you're looking to create a product and need a little guidance, download the free guide, How to Build Your Product in 4 Easy Steps —-> Click here to get the Guide! Or go to bit.ly/build4steps
If you don't have a product and want to catch more of my interviews with dope entrepreneurs, sign up for my weekly podcast, The G Spot Podcast so we can help you find your sweet spot in today's global marketplace ——> Click here to subscribe Or go to www.thegspotpodcast.com
Related
Popular in the Community