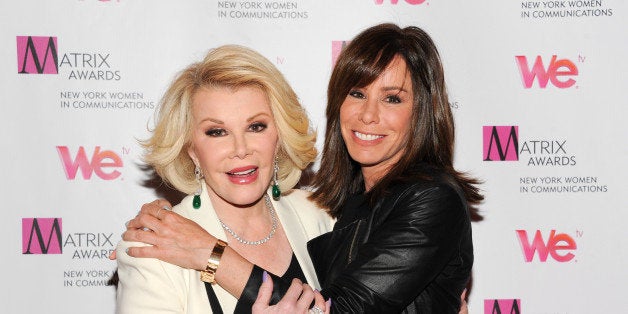 Melissa Rivers made the hardest decision we ever have to make -- she took her 81-year-old mother, Joan Rivers, off life support. While Melissa Rivers' brave decision played out in public, this happens to families in hospitals all across America every day.

The unfortunate reality is that many of us will be faced with making this heartbreaking decision for a loved one at some point in our life.
I've helped thousands of people with end-of-life decisions and I can tell you that the process is beyond stressful. It's extremely confusing and it's racked with guilt. As we mourn the death of Joan Rivers, here is what we can learn from her daughter's brave decision.

1.We all hope our loved ones will live forever, but sometimes our optimism can turn into denial. We need to recognize the end of life when it comes.
How do you figure out when it's time?
Start by gathering the medical information. Don't be afraid to ask questions when you don't understand and keep asking until you do understand. Every situation is different, but this is key -- insist on brain flow studies and brain activity testing to make sure your loved one's condition is not reversible.
If the situation is not reversible, unfortunately it's time to accept the end of life. As tough as it is, we need to put our feelings aside and ask ourselves what our loved ones would have wanted if they knew their body could not recover.
2.Know that guilt is to be expected. Your feelings are normal. When you have those guilty feelings, remember that it was your loved one's body making the ultimate decision.
Life support gave that body a second chance. If the body does not recover, it's nobody's fault. We are responsible for doing all we can to be healthy, but we are not responsible when the body winds down.

End-of-life decisions are topics none of us want to think about and yet they are part of life. Joan Rivers lived with gusto and joked about death often. She used humor as a coping mechanism and a way to confront reality.
Confronting reality before it smacks us in the face is actually easier because we are less emotional and we can think more clearly.
Don't know where to start? Use Joan and Melissa to begin the conversation. Ask your loved ones what they want and don't want.
I know it's overwhelming, but really we only need to do two things -- pick and choose. Pick what you would want and what you don't want. Choose who would speak for you if you can't speak for yourself and make sure that person is willing to carry out your wishes.
As she did so many times in life, Joan Rivers has once again helped us start a conversation that seemed too difficult to touch. Thank you, Joan, for doing that one last time. Thank you, Melissa, for stepping up and setting an example.
Popular in the Community