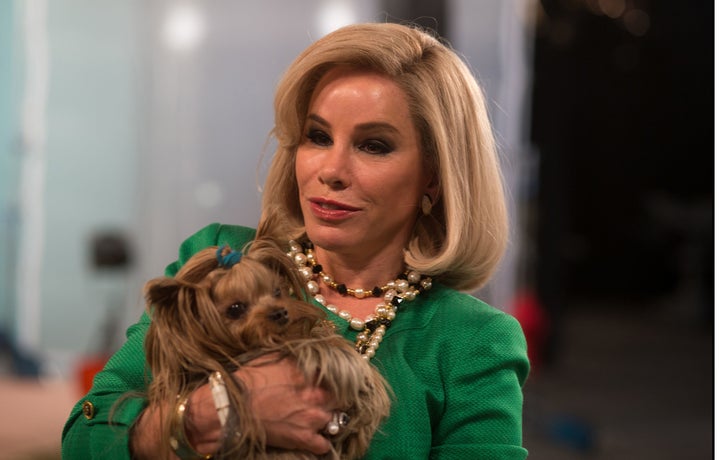 About halfway through "Joy," David O. Russell's new movie about the struggling single mother who created the Miracle Mop, the title character lands a deal with QVC. She will be given the chance to peddle her invention on television, and the first time she is ushered backstage, Joy quickly finds herself face to face with the network's most famous representative: Joan Rivers. 
Just over a year since the brassy comedian's death, it's uncanny to see such a larger-than-life personality portrayed on the big screen -- and even more so because it's Melissa Rivers, Joan's daughter, who plays her. 
Not long after Joan died of complications during a routine throat operation, Melissa received a message from her agent saying that Russell and producer John Davis wanted to meet with her. Melissa had known Davis for years, but she found herself "tongue-tied" in the director's company. They discussed Joan's life and QVC tenure, but it wasn't until Melissa was driving home that she realized Russell was asking her to appear in the film.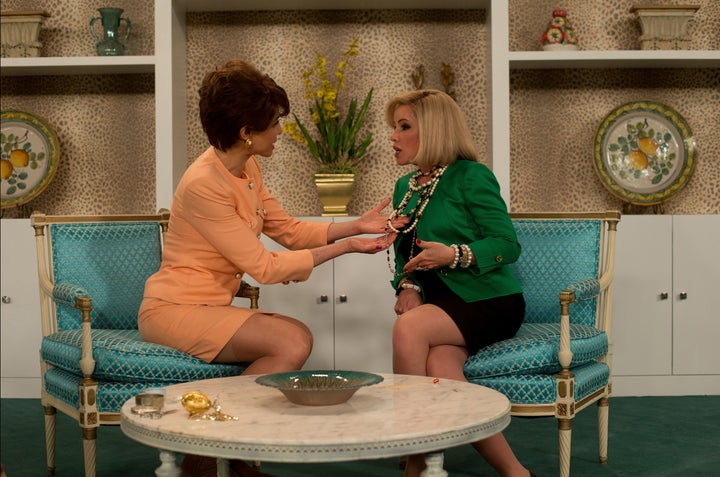 "It was a couple of months after my mother had passed and I can't say I was good at figuring anything out at that point. I was completely befuddled," she told The Huffington Post via phone last week. "And then I was like, 'I think they want me to be in the movie -- I'm not really sure what just happened.'" 
The grief of her mother's death hadn't yet lifted, and Melissa wasn't sure whether to accept the offer. Lying in bed one night, she considered how Joan -- a workaholic whose original show-business intent was to act -- would have advised her. 
"I swear to God I heard my mom say to me, 'Run! Don't walk! Don't be a schmuck! Come on!'" Melissa recalled. "And that's exactly what she would say."
So, Melissa said yes and, in April of this year, spent three days on the movie's Boston set, sharing brief scenes with Jennifer Lawrence, who plays Joy, and Bradley Cooper, who co-stars as the QVC executive who grants Joy airtime. The moment she appears on screen is like a burst of energy for the film, whose QVC sequence is by far its strongest subplot. Knowing how much vitality she brought to a room, it's almost as if Joan herself has arrived -- a sensation that not just any actress imitating the late comedian could achieve. 
Melissa avoids the "caricature" she sought to eschew, particularly during a moment where Joan offers a piece of advice that only she could get away with. She marches up to Joy, who is dressed in black slacks and a white button-down blouse, eyes her from head to toe and barks about her legs being too nice not to wear a skirt. It's a line Melissa said she suggested after Russell asked what sort of unsolicited counsel her mother would provide. It also echoes the famous 1985 episode of "The Tonight Show Starring Johnny Carson" where, while guest-hosting, Joan told Oprah Winfrey that she was too pretty not to lose weight. 
For someone still processing the loss of her parent, "Joy" is a "bow" at the end of a long year in which Melissa and her 15-year-old son have been cementing their "new normal." Melissa's time in front of the camera has been limited, particularly outside the world of "Fashion Police," the E! series she has executive produced since its 2010 launch and began co-hosting earlier this year. Nervous for her first day on the set, Melissa found an ally in Lawrence, who invited her to attend a private workout class one evening. And at the movie's premiere earlier this month, the real-life Joy Mangano, on whom the film is based, shared warm memories of her time with Joan -- just as she did during a roundtable interview at HuffPost's offices last week, where she confirmed that Joan would instruct people not to touch the yappy dog she brought to the QVC set, as seen in the film.
"The reception has been so warm and nice, and it's been such an emotional, up-and-down year for me and so many transitions that I was so touched," Melissa said of her experience with the movie. "It sounds so fucking Pollyanna, but I think that's what made it into a bow for me."
PHOTO GALLERY
Joan Rivers Through the Years
Calling all HuffPost superfans!
Sign up for membership to become a founding member and help shape HuffPost's next chapter