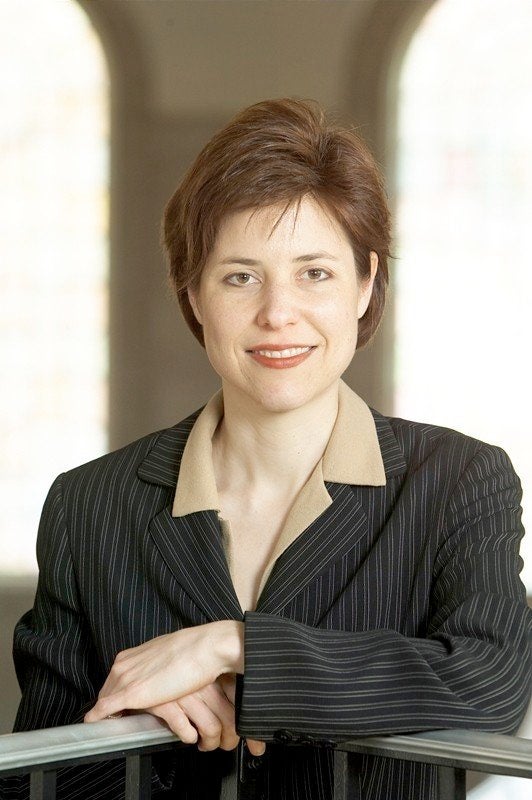 The White House on Wednesday appointed Melissa Rogers, a Baptist lawyer whose career has specialized in religion's role in public life and in the government, to be director of the Office of Faith-Based and Neighborhood Partnerships.
Until recently, Rogers, 47, was the director of the Center for Religion and Public Affairs at Wake Forest University Divinity School and a nonresident senior fellow at The Brookings Institution. She succeeds Joshua DuBois, who has led faith-based efforts under President Barack Obama since the president's first term.
Rogers, who is well-known for her centrist approach to controversial topics like same-sex marriage and the contraception mandate in Obamacare, will also serve as special assistant to the president.
She'll join an administration that has been both hailed and hammered for its relationship to religious groups. Most notably, the U.S. Conference of Catholic Bishops and other organizations sued the White House over the requirement in Obamacare that employers provide coverage for birth control and the morning-after pill in their insurance policies. The lawsuits and complaints have continued despite two revisions by the administration, attempts to take the burden of paying for birth control-related coverage away from religious employers.
The faith-based office, launched under former President George W. Bush in part to provide federal grants for social services to religious groups, expanded under Obama to support broader cultural issues such as responsible fatherhood, reducing unintended pregnancies and promoting interfaith cooperation. But it has been critiqued for allowing religion-based employment discrimination; under a Bush-era policy that Obama vowed to change during his first campaign, faith-based groups that get taxpayer dollars are exempt from federal nondiscrimination laws.
Rogers, who served for a year on a panel of faith advisers Obama created, has been among those critical of how the administration has handled religious issues. In an interview with The Huffington Post last year, Rogers said the administration made a mistake in its first release of the contraception mandate, which initially did not except religious groups aside from houses of worship from providing contraception in their health insurance policies. In the same interview, which was arranged to respond to Republican accusations that Obama is anti-religion, Rogers said the administration has helped secular and religious groups find "more common ground," but still had work to do regarding employment discrimination at religious institutions that receive federal funding.
Rogers did not personally return an email or phone call requesting comment on Wednesday, but a White House spokesman replied on her behalf. "I'm honored to be able to serve President Obama by forging and promoting a wide range of effective partnerships with faith-based and secular nonprofits that help people in need," she said in the statement sent by the White House.
The White House spokesman added that Rogers "will work to advance the President's vision by promoting partnerships that serve the common good in ways that respect church-state separation and religious freedom. Like President Obama, Melissa believes that government and religious organizations can partner to promote the common good, but that government should not promote religion or become excessively entangled with it."
The Rev. Welton Gaddy, president of Interfaith Alliance, a liberal faith-based group, praised Rogers' appointment on Wednesday.
"Much work is yet to be done on the proper relationship between federal money and sectarian organizations, including resolving whether these organizations can continue to accept taxpayer dollars while discriminating in hiring based on religion -- which I do not believe they should be allowed to do. I know of no individual better suited to oversee this important endeavor, with sensitivity to the competing views and priorities at play, and with great integrity, than Melissa Rogers," he said.
Rogers' "genuine spirit and concern for others has earned her the trust of people on different sides if issues. Her wide and deep competence on legal and policy matters will be very helpful in her new role," added the Rev. Jim Wallis, president and CEO of Sojourners, a social-justice oriented Christian group.
The choice of Rogers strikes a contrast to DuBois, who was tapped at age 26 to lead the faith-office after successfully coordinating faith-based outreach during Obama's first campaign. DuBois, who received a master's degree in public affairs from Princeton in 2005, was a Pentecostal minister and a Senate aide to Obama. He left the faith-based office last month to pursue a part-time professorship at New York University and launch Values Partnerships, an organization that helps businesses and nonprofits with faith-based issues. The Daily Beast also recently announced that DuBois will pen a regular column on the site.
Rogers, meanwhile, has spent much of her career in working on religion-related policy and scholarship. She was executive director of the Pew Forum on Religion and Public Life, and general counsel of the Baptist Joint Committee for Religious Liberty. Rogers has testified on Capitol Hill before members of the Senate and House Judiciary Committees, and was appointed to the State Department's Religion and Foreign Policy Working Group in 2011.
Related
Popular in the Community