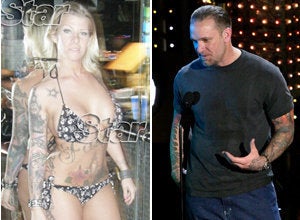 Jesse James' ex-wife just gave an interview claiming he is a chronic cheater, and now another alleged mistress tells Star magazine that she and Jesse had a two-year relationship while he and Sandra Bullock were married.
Like Michelle McGee, the second mistress, Melissa Smith, is a stripper covered in tattoos and she met Jesse online and ended up having lots of unprotected and crazy sex with him. She was also jailed last year for beating up a cop and arrested for DUI.
In the April 5 issue of Star -- on sale today -- the sexy blonde stripper spills the exclusive details of her affair with the Jesse -- including unprotected sex, kinky requests and intercourse on his office couch.

Like Michelle, Melissa first made contact with Jesse online. But he reached out to her via MySpace in September 2006 (a year after he married Sandra) when he saw a photo of her on the Web site posing in front of a car at a West Coast Choppers party in Long Beach, Calif.

"I got a message from this guy saying,'Nice car...that's my godfather's.' After a few exchanges, he introduced himself as Jesse James and gave me his e-mail address with the name Vanilla Gorilla" -- the nickname Jesse goes by and Michelle referred to as well.

Soon after Melissa traveled to California, where Jesse promised he'd take her for a ride in one of his cars, but they never made it out of his office!

After making small talk about the artwork on his walls and taking photos together, "I said, 'Well, I guess I should get going,' and he said, 'You don't have to,' and moved his chair closer to me and started rubbing my leg. We ended up having sex on his couch," Melissa details.
Popular in the Community