The Foundation Room at Boston's House of Blues brings to mind the inside of a genie's lamp, warm and dimly lit, walls lined with real Moroccan silk. This weekend wishes did indeed come true here, thanks to the musical talents of Scott Grimes (ER, American Dad!), Bob Guiney (The Bachelor, The Today Show), and musician Jay Gore as they rocked out to honor one little boy's powerful legacy of compassion.
Young Joseph Middlemiss only met Grimes once, on May 30, 2013, when the actor-singer was preparing a benefit concert for their shared hometown of Dracut, Massachusetts. 6-year-old Joe, who had enough charisma and musical versatility to rival any celebrity, observed the pre-show sound check, played a few numbers on the drums, and received a "Happy Birthday" serenade from Grimes. The two bonded instantly over their enthusiasm for music as a healing tool and a way of life.
"It was Joseph's best day ever," his mother Kate Middlemiss remembers.
Sadly Joseph passed away a few short months afterward, on September 23, 2013, due to complications from cardiomyopathy, a rare congenital heart defect he'd dealt with since birth. His loss devastated not only the Middlemiss family, but the entire Dracut community, which had revered the effervescent little boy as a never-ending source of hope, light, and love.
Some people are just innately kind. That's what Joseph was. Once when he was four years old, we were in a store and the person in front of us didn't have enough money [to pay the cashier], and immediately Joseph is tapping my husband Scott saying, "Dad, Dad, help this guy out." He's no longer here to spread his kindness, but we are in fact his legacy. As his parents we just want to continue that, and we started with the All You Need Is Love Mission.
The All You Need Is Love Mission (so named because Joseph adored the Beatles) is a major component of the Joseph Middlemiss Big Heart Foundation, which Scott and Kate began developing soon after their son's death. Its purpose is threefold -- to promote random acts of kindness and further kindness education among children (both Middlemisses are elementary school educators); to support at-risk families and children in a wide variety of areas; and to raise awareness and funding for cardiomyopathy research. As part of the foundation's pay-it-forward project, people can order mission cards that tell Joseph's story and pass them on by doing random acts of kindness for others while taking a picture to document the spread of the mission.
What the Middlemisses have managed to achieve over the last eleven months is tremendous. Mission cards are circulating the globe, reaching as far as the United Kingdom and Australia. The foundation is collaborating with similar organizations such as Connecticut's Newtown Kindness Project and Be Like Brit (which supports children in Haiti) to extend its message of compassion further outward. Local families continue to benefit from JM Big Heart, which granted four martial arts and four music scholarships to underprivileged children in Massachusetts earlier this year, and the Middlemisses maintain a partnership with Boston Children's Hospital, where Joseph was treated, to help wherever they can.
"We're trying to look at the whole family unit," Kate notes. "Instead of just giving money to the hospital, we're working with social workers to identify families that could benefit from more substantial help while their child's in the hospital -- funds for housing, meals, activities for their other children."
Funding for cardiomyopathy research remains foremost on the Middlemisses' agenda, since their 11-month-old son Jack was also born with the condition, which currently has no cure and only rudimentary treatment.
With [other diseases like] childhood cancer, there are protocols you can take. With cardiomyopathy there's only one answer and it's not a great answer -- a heart transplant. There you get a whole new set of problems, and unfortunately there's a lot of children like Joseph that are lost in the middle somewhere. I always say, "Why us?" and I believe everything happens for a reason, and I think if Jack didn't have the condition as well, maybe I wouldn't be one hundred percent about giving to the foundation and searching for a cure. I'm not only fighting for the memory of my 6-year-old who has passed, but also for the life of my 11-month-old.
From darkness comes light and magic. Scott Grimes reached out to the Middlemisses upon learning of Joseph's passing, and Dr. Charles Steinberg, senior advisor to the Boston Red Sox (Joseph was a huge Red Sox fan), immediately pledged to help in any way possible when he heard the family's story. Flash forward a few months, and you have the Jam for Joe at the House of Blues, starring Guiney and Grimes with contributions from the Red Sox (top sponsors for the event included My Little Black Box, Trinity EMS, and PrideSTAR EMS).
Ensconced in that crush of people -- a mix of Dracut locals, Red Sox devotees, and Guiney and Grimes' most passionate fans -- it was easy to see why Grimes had connected so easily with the Middlemiss family that fateful day in May. Music is humanity's greatest tool for unity, but beyond that the whole atmosphere at the House of Blues swelled with everything they shared, that gratitude for the essentials, that exuberance for life, that intrinsic openheartedness. Fittingly, near the end of the event Grimes was named the Joseph Middlemiss Big Heart Foundation's first honorary board member. Good things come to those who care.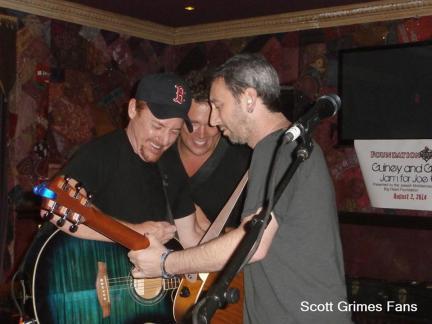 Scott Grimes, Bob Guiney, and Jay Gore jamming for Joe at the House of Blues (courtesy of Heather Skene/Scott Grimes Fans)
Each word and note of the evening's setlist carried a special significance, whether it was the Boston pride of "I'm Goin' Home," the bittersweet wistfulness of Guiney and Grimes' newest release "Tired of Saying Goodbye," or guest artist Kate Karcz's renditions of Joseph's favorite songs, including a gorgeous "Let It Be" cover. While the music played, and for a long time afterward, there lingered the happy intoxication of togetherness. A quick scan of the gift bags and a list of the auctioned prizes (including Red Sox tickets, autographed CDs, coupons for Dracut shops and restaurants, and more) disclosed that all who love the Middlemisses had come bearing whatever they could give. Still further investigation revealed, more importantly, that many in attendance were parents of children with illnesses or had suffered from traumatic childhood illnesses themselves. We must always be alert to what binds us -- there but for the grace of God and good neighbors go you and I.
Kate agrees that community is all: "From the moment we took Joe home from the hospital seven years ago, we never did it alone. We've had tons of help, and part of this is just trying to give back for all that we've been given." (Continuing plans to expand JM Big Heart's international influence are in motion, but it's telling that the foundation's next event will be centered in Dracut, the Superhero/Rock 'n' Roll 5K Road Race on September 27, featuring rock bands at every checkpoint.)
So this is how wishes are granted -- by random acts of kindness, by heroes ordinary and extraordinary, by taking the time to listen to one another's stories. When we spread the word of the little boy with the big heart and the bigger boys who told his tale so beautifully, it's clear that we can change the world, one positive thought at a time. Now that's a song we can all sing to.
For more information about the Joseph Middlemiss Big Heart Foundation and how to get involved, please visit jmbigheart.org.