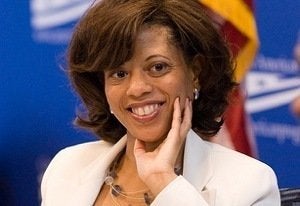 It's a poorly kept secret that inside the Obama White House, plenty of of aides, staffers, and high-ranking officials support gay marriage. In fact, the assumption within gay-rights advocacy circles is that the president himself supports the idea -- though never publicly.
So when one of Obama's top advisers, Melody Barnes, suggested that she personally supported gay marriage before a crowd at Boston College last week, it could have been a minor story. But it became a bigger one when the White House press office responded defensively, first insisting that no such support for gay marriage had been offered and then not signing off on the release of the video of Barnes's appearance until the dead-news hours of Friday afternoon.
Barnes's statement was actually a bit ambiguous. The domestic policy adviser was asked by Paul Sousa, a gay rights activists at the school, whether she personally supports "equal civil marriage rights for gay and lesbian Americans, and if so, are you speaking or will you speak with President Obama on this civil rights matter?"
Barnes, clearly searching for words, responded that, with regard to her own views, "based on the relationships I've had with friends and their relationships that I respect, the children that they're raising, and that is something that I support."
When reports first surfaced on Monday afternoon -- first on Twitter and then on the Huffington Post -- aides at the White House hadn't heard or seen the remarks, they said. And when they reached out to Barnes, who was on her way back from Boston, they said even she seemed surprised that they had been interpreted as a personal endorsement of gay marriage. Indeed, about two hours after the first story was posted, the Huffington Post was contacted by Kent Greenfield, a law professor at Boston College, who said that Barnes's comments were far from definitive.
"I kept expecting her to say more and be more explicit with her views," Greenfield said. "It was the kind of statement where people got the impression that they wanted to get from it."
In light of the confusion, two White House aides encouraged the Huffington Post to update its reporting to reflect that Barnes was being less than explicit. We obliged. One of those officials, refusing to go on record, offered a comment that, in retrospect, wasn't quite true. Barnes, the official said, was not discussing "her personal views on marriage equality or other issues."
The official added: "As she clearly stated at the event, her personal views on issues are irrelevant to her work of advancing the administration's agenda. In response to the questioner, she did provide an overview of what the president is doing to help advance equal rights for LGBT Americans."
Another official expressed concern that it would unfairly leave Barnes and the White House open to attack from both sides of the gay rights debate.
By Wednesday, the confusion over what Barnes had actually said had not dissipated. Boston College officials had yet to post the video, despite having told attendees they would, Sousa said. Moreover, it was the White House that was hold things up, having not given the school clearance to post the footage.
"We have sent a copy of the video to members of the White House staff to view, but no decision on posting has been made and nobody has asked us not to post it," Boston College Law School spokesman Nate Kenyon told the Huffington Post. "It takes us a few days to post video from any event, sometimes longer if there's a backlog. And it is our policy to require permission from anyone we tape before we post, and if they don't want it public for whatever reason, that's fine. I have no idea if that would happen here, but it's happened before."
Sousa and others, including John Aravosis of the popular gay-issues-themed political website AMERICAblog, accused the administration of "temporarily" censoring the video. It took two full days until Kenyon got the nod to publish Thursday morning. And it would take until Friday afternoon to get the footage live. "We have one AV staff person," Kenyon told the Huffington Post. "We have three other projects in queue."
By then, however, it was clear that Barnes had been addressing her personal views of gay marriage. Ben Krohmal a law student who attended the event, had posted on a school-related website copious notes he had taken from the exchange. The transcript, a Boston College official told the Huffington Post, was essentially accurate.
The video would be the final say in the matter. Footage was finally published (by ABC News) at 1:00 p.m. on Friday, three hours before Kenyon said it would be released. And in it, Barnes implied that there was a difference of opinion between her and the president.
"When I walk in to the White House," she is recorded as saying, "I work to put all arguments in front of the president, I also work for the president and we have very robust policy conversations."
There's nothing controversial about that. The president, after all, has embraced the notion of having divergent viewpoints within his administration -- a dynamic that, logically, would extend to the issue of gay marriage.
But for a White House that has been extremely cautious when it comes to cultural issues, the endorsement of gay marriage by even one official apparently presented a very unwelcome diversion.
Indeed, even after the video surfaced, the White House seemed particularly eager to move on to a new topic. The Huffington Post asked several times to talk with Barnes for this piece. The requests were denied.
Support HuffPost
The Stakes Have Never Been Higher
Popular in the Community