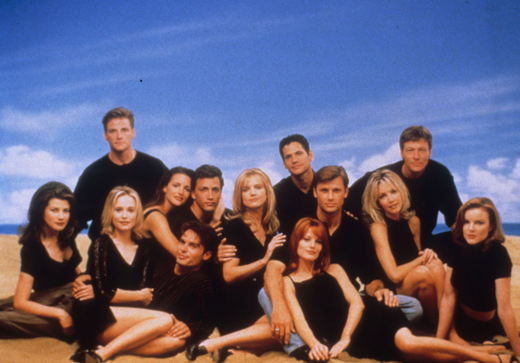 On July 8, 1992 a young woman named Natalie ran out of a West Hollywood apartment complex in the middle of the night -- suitcase in hand -- leaving behind roommate Alison Parker without enough money for rent...
And so began the convoluted chronicles of several twentysomethings who resided at a Los Angeles address that would soon become one of the most popular destinations in primetime television.
During that summer, I was a preadolescent bookworm who had nothing else better to do than stick my nose in paperback horror novels and rent movies from Blockbuster Video. All I knew was that MP was a sexier spin-off of the hugely successful Beverly Hills, 90210 (remember when Kelly hooked up with older handyman Jake before her mom's wedding?) and featured older characters, which I preferred. (I wasn't your average 12-year-old; while my peers obsessed over the latter, I found entertainment in more adult fare like Knots Landing reruns and Picket Fences.)
Melrose was unlike most dramas in terms of its production. While most one-hour shows produced 22 episodes within a full season, MP pumped out 32. This proved to be both beneficial and detrimental for viewers. Those extra episodes per season meant less reruns but also a higher demand for creative storylines. It may have run for seven seasons, but in all actuality, it felt more like ten. Maybe that's why many felt the nighttime soap depleted its creative juices halfway through its run (we'll get to this later).
The first season was a soggy, episodic mishmash of GenX melodrama (My car broke down! My roommate ate all of my peanut butter!). However, towards the end of the show's inaugural run, executive producer Aaron Spelling, as TV historians will tell you, brought in what he called his "lucky penny": actress Heather Locklear of Dynasty and TJ Hooker fame. Inserted into the opening credits as a "special guest star" (where she stayed for the following six seasons - don't ask me why), Locklear assumed the role of Amanda Woodward, that miniskirt-wearing minx who would eventually climb up the corporate ladder at D&D Advertising, buy the whole damn apartment building, and create a ripple effect within several relationships. The reviews and comparisons were instantaneous: "It's Dynasty: The Next Generation!" And so forth. Needless to say, I became obsessed and collected every magazine cover and TV Guide ad.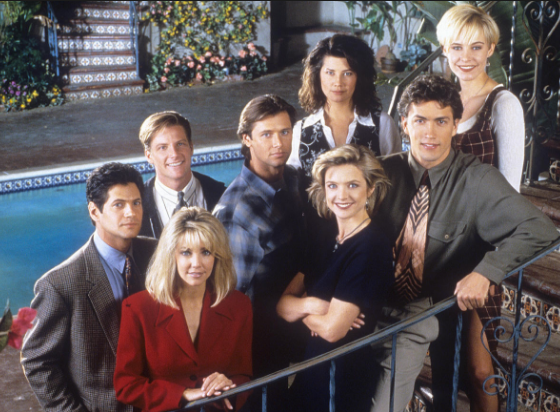 By Season 2, things started to get juicy. Amanda snagged gullible Billy from good girl Alison. Womanizer Dr. Michael Mancini ditched struggling fashion designer Jane to be with Dr. Kimberly Shaw (a pre-Desperate Marcia Cross). And a feisty, little redhead named Sydney Andrews took up residence at 4616 Melrose (did I forget to mention that wig-swapping, incest-driven wedding finale?). However, nothing could beat the show's third season during which it reached its creative (and ratings) zenith. More affairs! Corporate takeovers! Attempted murder! Sex cults! And let's not forget one of the best television cliffhangers to come out of the Clinton era, the action-packed finale in which a troubled Kimberly has visions of the man who sexually abused her as a little girl, goes off her rocker, and plants several firebombs throughout the complex, her thumb hovering over the detonator in the final shot. (The actual fireworks didn't go off until four months later due to the sensitivity surrounding that real-life bombing in Oklahoma City).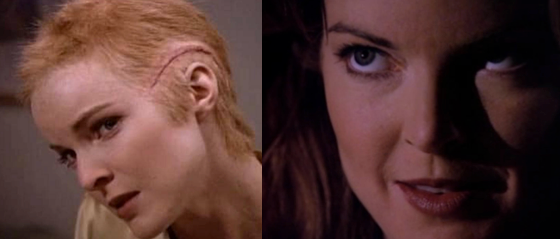 Season 4 was what I like to call The Season of Cray. After that explosive, shark-jumping premiere, it was as if the writers had flung random words and adjectives at the wall to see what would stick -- kind of like that Magnetic Poetry: multiple personalities, pool drownings, chandelier-crashing mobsters, head-on collisions, girl fights, sabotaged fashion shows, Jane the stroke victim, Sydney the fashion victim, illegal lobotomies, mental institutions and...Loni Anderson.
Once the fifth season rolled around, producers and writers had learned their lesson, bringing the focus back on relationships, particularly long-term ones like the unlikely pairing of Jake and Alison (somehow, it worked), and crafting a nifty mystery surrounding the arrival of Taylor McBride (the scene-stealing Lisa Rinna) and her chef husband Kyle (the charming Rob Estes). The season 5 finale was classic Melrose despite the disrespectful dispatching of a favorite character: Sydney, on her wedding day, gets plowed down by a runaway car in front of the very church where, minutes before, she got married to Craig Field (Baywatch beefcake David Charvet).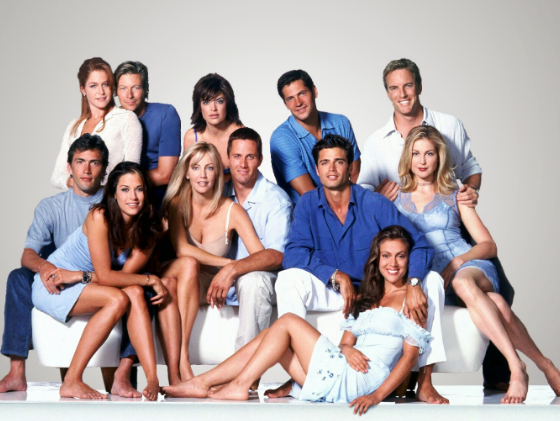 Season 6 introduced us to Dr. Brett "Coop" Cooper (a former lover of Kimberly's, back in her comatose-in-Cleveland days), his redheaded vixen of an ex-wife, Lexi (Jamie Luner, having just transferred from Aaron Spelling's failed Savannah at The WB), and Jennifer Mancini, Michael's sexpot kid sis (played by Alyssa Milano). The penultimate season ultimately demonstrated that the show was starting to run on fumes. Billy's wife Sam cheats on him with…a baseball player? Taylor fakes a pregnancy? Snooze.
The seventh and final season reflected a severe cut in the show's budget. With the smallest cast in the series' history -- seven main players, including the return of Jane Mancini -- Melrose was starting to close its doors. But before Dr. Peter Burns (Jack Wagner) and Amanda walked off into the sunset to Semisonic's "Closing Time" after getting married for a second time (y'know, after faking their deaths to elude the Feds), the show tried to relive its heyday by digging another skeleton out of Amanda's closet. Turns out she murdered, in self-defense, the high school football jock who tried to rape her BFF. This turned the unhinged Eve (soap vet Rena Sofer) into the next Kimberly Shaw. Nice try but...no.
Melrose Place ultimately proved that a primetime soap could exist and thrive after the heyday of the genre in the 80s. It was also one of the last cultural examples of legitimate watercooler television. After its second season, it even spun off the delicious trainwreck that was Models Inc. and inspired a number of wannabe sudsers like CBS's Central Park West (from MP's creator Darren Star), Fox's Pacific Palisades, and NBC's Titans. But none could hold a candle to Amanda Woodward & Co.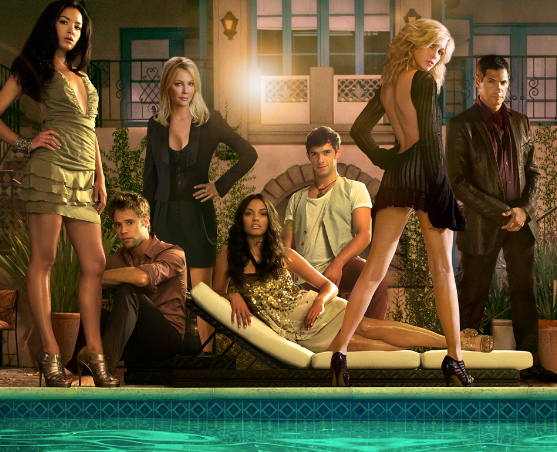 As for that short-lived 2009 reboot on the CW, in hindsight, let's treat it as an 18-episode reunion miniseries. Despite the resurrection of Sydney Andrews (still scratching our heads on that one) and the return of Jo Reynolds (Daphne Zuniga), Michael and Jane Mancini, and Queen Amanda herself, the show was, at best, an attempt to capitalize on the beginnings of a 90s nostalgia that was seeping into the popular culture of the 2010s. It was an admirable accomplishment, what with the medical-intern-by-day-hooker-by-night plot and the introduction of charismatic bisexual publicist Ella, played with relish by the fabulous Katie Cassidy. But in the end, what this Twitter-era Melrose seemed to be missing, besides an audience, was the fun camp that made the original so irresistible (a shame, because it had been getting really good at the end).
Now that I proudly call Los Angeles my home, I can't help but feel a little tickle of nostalgia whenever I drive by the real Melrose Place, a small, two-block street in West Hollywood that's home to pricey boutiques (hello, Marc Jacobs bookstore) and the delicious Fig & Olive. It's also fun to hear L.A. newbies describe any residence of theirs with the words "kind of like Melrose Place," just because there's a pool in their courtyard.
Many thanks to creator Darren Star and uberproducer Aaron Spelling for leaving an indelible imprint on my adolescence and the lives of others, even inspiring some of my friends to tap into their inner Amanda Woodwards.
To quote a character from Scream 4, "you were my 90s."
Calling all HuffPost superfans!
Sign up for membership to become a founding member and help shape HuffPost's next chapter
This post was published on the now-closed HuffPost Contributor platform. Contributors control their own work and posted freely to our site. If you need to flag this entry as abusive,
send us an email
.