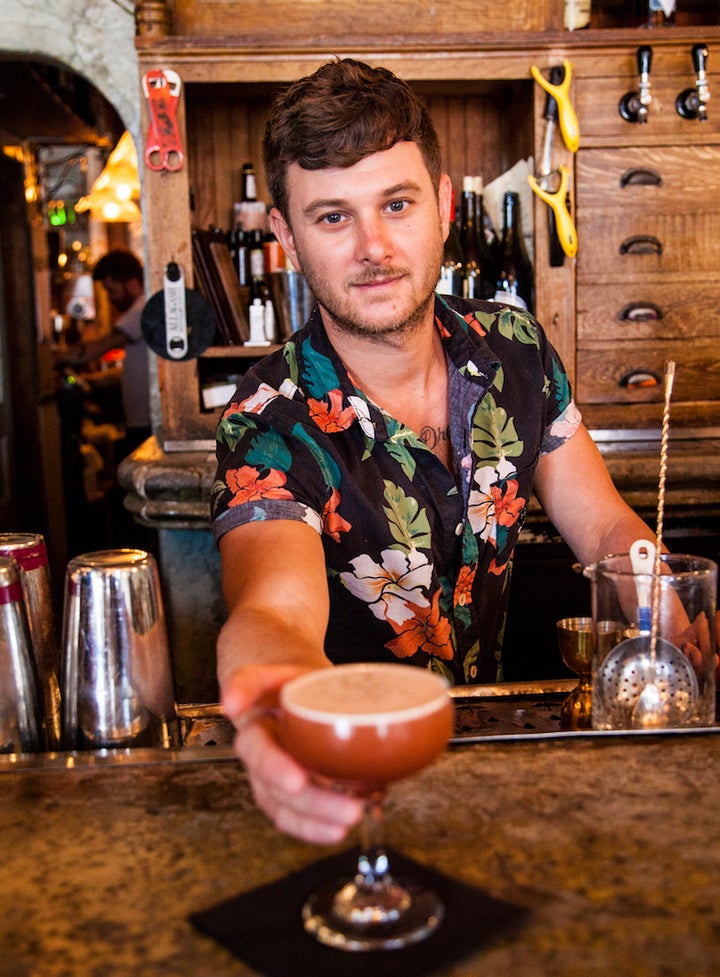 "Meet the new boss. Same as the old boss."
So sang Roger Daltry on The Who classic Won't Get Fooled Again. That line refers to things changing but not really changing.
Another expression about change that I like is "To be the man, you gotta beat the man" by wrestling icon Rick Flair. That one is more straight forward—if you want to be the champ, well, you're going to have to dethrone the champ.
I love both of those quotes and it's funny how they apply to the new cocktail menu at Melrose Umbrella Co.—one of the best handcraft cocktail bars in Los Angeles. Since the bar opened five menus again, it was head barman Dave Purcell that paved the way; crafting one bold and daring menu every new season. But now that Dave is taking on new responsibilities and is stepping out from under the Umbrella, he has positioned Scott Eton as his successor. And it's Scott who took the reins and structured this new Volume V menu.
So, meet the new boss, same as the old boss in that another Melrose Umbrella Co. menu is once again offering bold and dynamic cocktails, which are among some of the best in town. While Scott has proven himself to be the man on this new menu, he didn't really "beat" the man (in this case Dave Purcell) as he has been training and studying with the man in question for quite some time. Together they teamed to create a solid fall cocktail menu. And you can bet your bottom dollar that Dave still branded his beloved style and firmly stamped it on these new libations.
"Volume V was the longest menu development we have ever done," says former Melrose Umbrella Co. General Manager Dave Purcell. "It took nearly four months to articulate all the elements to make it work. It was definitely a labor of love, and this baby was past term. But this is the first menu that I got to have the shared support of Scott fully onboard. Scott's drinks have always been delicious and his craft always honed, but this is the first menu where you can see his belief in himself really presented. We all struggle with being in our heads and doubting things that we're working on, easily vacillating between thinking something is great or thinking our palate is blown out, but behind these drinks I can see his humble smile and nod of satisfaction in what he has done."
Classics with a twist on this menu include The Perfect Manhattan; Collins; Daiquiri; Umbrella Seltzer (think vodka soda); and Boulevardier. This last drink is a pleasing mix of cognac and Campari and is a favorite of mine even though it is named incorrectly as a cognac Negroni is actually called a Parisian Negroni. A Boulevardier is a bourbon Negroni. And yes, I argued plenty with Dave about this as I have over many other things while bellied up at the Melrose Umbrella Co. bar. Scott is calmer about these things but I hope in time he'll give it right back to me the same way Dave has for quite some time now.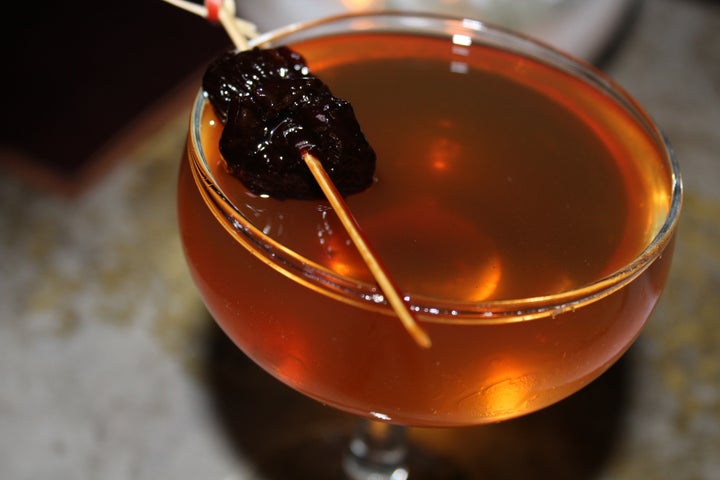 It was Dave Purcell who quickly learned what I like in a cocktail and crafted my now favorite Fedora, saying with a smile, you'll like this. Now it's up to Scott and the new crew to lead the way in the L.A. cocktail game. And with new menu drinks like the rum-based Midnight Market; the gin/mezcal combo The Reservoir; and the Japanese whiskey fueled Kiss Kiss Bang Bang, our beloved Melrose Umbrella Co. is in good hands. But needless to say, we'll miss Dave something awful.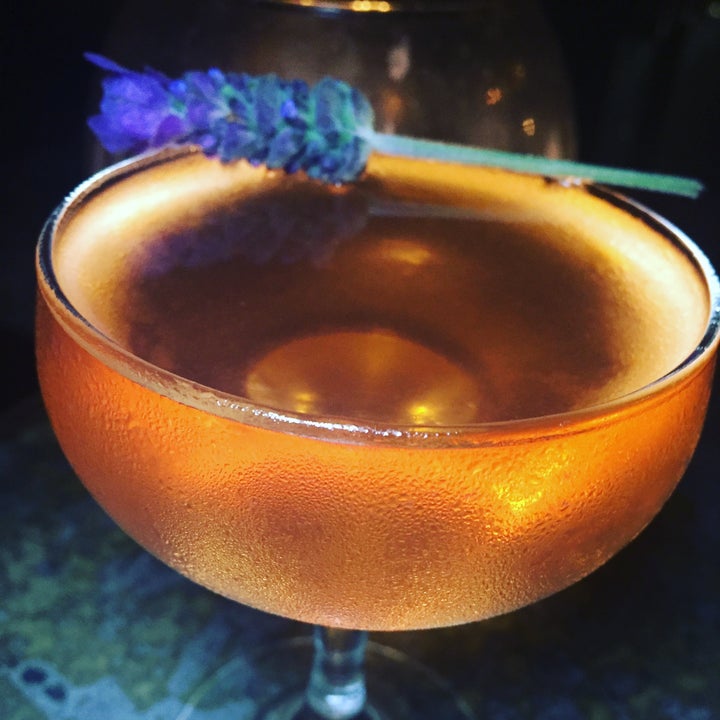 "It's hard leaving a place that is representative of all your successes and faults," Dave Purcell points out. "I've learned everything about running a bar behind the stick at Umbrella. But now that I know it's time to let it go, I'm proud to give it fully to Scott as I've watched him take pride in his ability to teach; in refining the little things; in facing the larger challenges; and in bettering the things that I couldn't do. I've always been proud of what he does and now he's ready to stand on his own and take Umbrella further forward."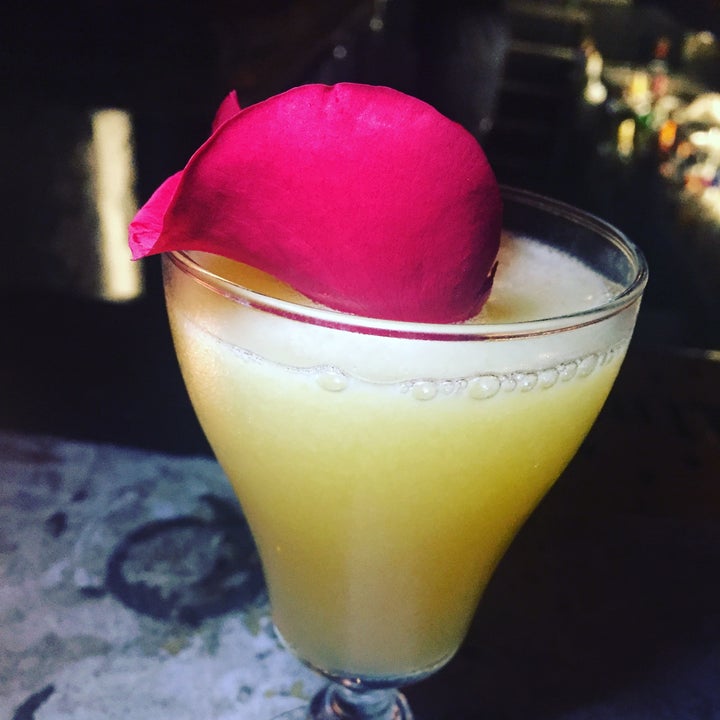 What follows is a brief conversation with new go-to barman Scott Eton who aptly proved himself on the Volume V cocktail menu. The affable bartender now stands tall having put together an impressive array of fine cocktails that keeps the Melrose Umbrella Co. tradition alive and well of offering some of the best drinks in town.
What inspired you for this new menu?
I pull inspiration from everywhere but for this menu and the majority of artistic outlets in my life, I'd say Los Angeles. The diversity of art, food, and beverages in Los Angeles is a constant inspiration. The cocktail, Midnight Market, was inspired by all the wonderful agua frescas I've had the pleasure of consuming growing up in L.A. The Highway Hustle's original intent was to be a take on a Mexican mango candy but then took a slight twist after a brief run in with a Mango Lassi.
Was any one drink tougher to come up with?
I'd say the Perfect Manhattan was definitely a little more difficult to dial in. It started as an obsession with a happy accident. While being tasted on Clyde May's 110 Alabama Whiskey, a co-worker opened a bottle of St-Germain. The floral aromatics in the air with the Clyde mays freshly on my palate led me on a wild goose chase to pair the two together. After deciding that it was going take form as a Manhattan variation, and a week or two of semi successful manipulations, I asked Dave to help me wrangle it in.
Any one drink on the new menu that you're most proud of?
The Perfect Manhattan. It was the most difficult to bring to completion, so it was definitely the most rewarding.
This is your first crack at an Umbrella menu. What's it like stepping up at one of the best bars in town as the featured bartender?
It's exciting and terrifying. Being at Umbrella Co. since its opening I've had the opportunity to work alongside some of the best bartenders in the city. I've had more mentors than I can name so I feel like I've definitely been properly setup. Dave left some pretty big shoes to fill figuratively and literally, but I feel like it's the natural evolution of things and I'm excited and honored to continue where he left off.
How do you think the new drinks stand up to the classics? For someone not so familiar with any of the drinks, how do you recommend they approach the menu?
Classics are classics for a reason. One can only hope to create a menu that can stand up to the classics, but it's a difficult task. Classics are simple and beautiful and there is great beauty in simplicity. That being said, almost everything has been done. And, in order to create something new, the opportunity to have a simple cocktail is a little more difficult. We're always happy to make you a classic or something off the cuff but if you'd like to get to know us, try our cocktails. At the end of the day it really doesn't matter. The experience once you enter our bar should be the same whether you're a vodka soda person or a cocktail enthusiast. The menu is just another avenue to facilitate a unique experience.
Melrose Umbrella Co. is located at 7465 Melrose Avenue.