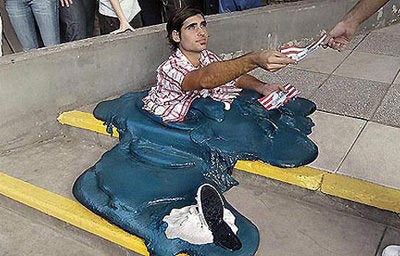 A young man melting into a puddle of himself is something you don't see everyday, much less in a busy public square. Yet this humourous but surprisingly effective spectacle is the latest effort by the Red Cross of Argentina to raise awareness about climate change.
Located in Buenos Aires' Plaza Francia, the oozing young man passes out fliers urging spectators to use public transportation, conserve water, reduce, reuse, recycle and to use energy-efficient appliances. This imaginative piece of guerrilla publicity highlights the fact that much of the funding of the Argentinian Red Cross goes to assisting those who have been most affected by natural disasters exacerbated by climate change.
Read the full story here.
Popular in the Community