Meandering through La Cocina's Street Food Festival on Folsom Street recently reminded me why I love San Francisco so much.
We are home to one of the most ethnically and economically diverse populations in the world. And, of course, our foods and menus reflect this... often taking the next step in mixing it up.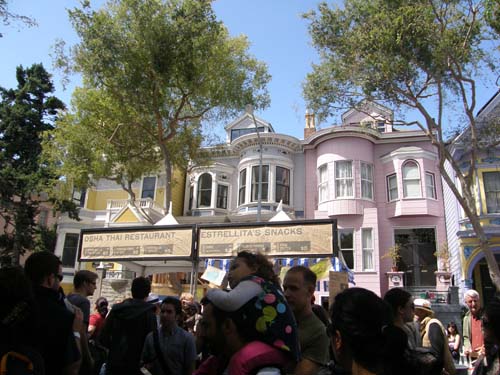 That sunny Saturday, I joined a disparate volunteer army traveling on its stomach (leave it to a Frenchman, Napoleon, to come up with that metaphor!). We sampled and savored from 70 different vendors in booths and trucks... Anda Piroshki's potato piroshki (enhanced by a little dill pickle juice mixed in), the wickedly wonderful Nutella strawberry concoction from the Crème Brûlee Cart, pastrami sliders and an egg cream from Wise Sons. Standing in long, long lines was rendered painless by comparing notes with my fellow tasters. (And I promise to check out Dynamo Donuts soon!)
San Francisco's food trucks have given birth to some amazing cross-cultural dishes, blending and fusing unlikely combinations. Namu offers Korean tacos on sheets of nori seaweed instead of tortillas; Curry Up Now prepares a chicken tikka masala burrito. At the street food fest, L's Caffé made chicken mole croissants. Across the Golden Gate Bridge, Avatar's Restaurant in Sausalito gives foods from India a Mexican accent, resulting in dishes like curried pumpkin enchiladas and Punjabi tostadas.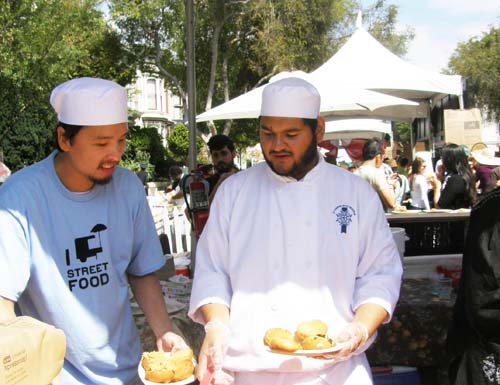 I'm a big fan of John Lescroart's Dismas Hardy mysteries set in San Francisco and I smile each time he puts his characters in Lou the Greek's fictional restaurant for lunch. Lou's Chinese wife merges her culinary heritage with his in creating the daily special... items like kung pao pita pockets or pot sticker kabobs.
This fusion of flavors and cuisines is not really such a new idea and not even exclusive to San Francisco. I recall driving miles off the beaten path in the '70s to make a pilgrimage to Richard Wing's Imperial Dynasty in Hanford, California, a restaurant famous for combining French and Chinese dishes. It was particularly known for cashew butter escargots. In the '80s, in Santa Monica, I enjoyed the elegant creative efforts of Wolfgang Puck and Barbara Lazaroff at Chinois in dishes like catfish with ginger and ponzu sauce or scallops with Pad Thai noodles and lemon grass. Clearly, the LA food truck Jogasaki could not be far behind with the sushi burrito.
Was there a mom in your kitchen who melted your heritage in the pot? My Latvian mother, missing some of the traditional dishes she grew up with that combined bacon and onions with baked or hash brown potatoes, dutifully followed the Good Housekeeping Cookbook recipe for mashed potatoes and then added chopped onions sautéed in butter and crumbled bacon. Now THAT'S comfort food! One of my best friends is from New Zealand with the Kiwi's fondness for Vegemite, a salty brown paste made from brewer's yeast extract. She's adapted it to the California lifestyle by spreading some on a rice cake, adding a layer of cottage cheese and topping it all off with sliced avocado.
I'd love to hear what unusual food combinations you grew up with. Please post a comment below and share your memories.
Related
Popular in the Community