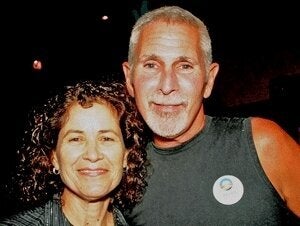 GLAAD, the Gay and Lesbian Alliance Against Defamation held its second annual TGIF South Florida Friday evening happy hour event series at Georgie's Alibi in Wilton Manors on October 17th and a virtual Obama rally broke out.
While GLAAD Director of Public Relations Rich Ferraro stressed that GLAAD "does not take a position and we make no comment on anything related to the Presidential or other elections involving candidates for office," the force of Obama's popularity in the gay community wouldn't stay in the closet.
And here in Wilton Manors, the gay Mecca of Fort Lauderdale, Obama's supporters made their choice of man for the White House very clear. "Oh, Obama is the one. I mean, you don't even have to ask," said Michael Douglas, here with his life partner, Alan Roach. The couple lives in nearby Lazy Lake and both will vote the Obama/Biden ticket. The pair has been together more than nine years.
Alma Arauz and Marc Grossman celebrated at the GLAAD TGIF party.
Alma Arauz lives in Surfside and is a GLAAD volunteer. She and Marc Grossman, who lives in Fort Lauderdale, were sporting Barack Obama buttons. "Barack Obama is the best choice for president because he recognizes the dignity of all people, not just gay people." Grossman said that he was so disheartened by the last eight years of George Bush that he hoped American voters would put aside petty prejudices in order to vote for a man who would help the country deal with what's truly important: the economy, jobs, the war in Iraq, the environment. "We are truly in historic times, and it calls for us to elect a man of history. I believe that man is Barack Obama."
While meeting like-minded young professionals and supporting the work of the only LGBT media advocacy organization in the country, this event also had a voter education purpose. California's Proposition 8, the ballot initiative that would ban same-sex marriage in its Constitution has a similar counterpart in the Sunshine State.
At the GLAAD it's Friday Happy Hour on October 17th are Jon Christian Schwenzer, Doug Candeler, Michael Douglas and Alan Roach.
Florida's Amendment 2, which is on the ballot this election cycle also seeks to enshrine one- man, one-woman marriage into the state Constitution and provide "that no other legal union that is treated as marriage or the substantial equivalent thereof shall be valid or recognized."
No matter that the Defense of Marriage Act (DOMA) passed by Congress in 1986 exempts states from having to treat same sex marriage with any of the rights and privileges as marriage - even if they are married in a state that recognizes same sex marriage. And DOMA prevents the Federal Government from recognizing same sex marriage, again, even it that marriage is recognized in a state where it is legal. Now, only Massachusetts, California and more recently, Connecticut, have legalized same sex marriage.
What troubles civil rights advocates here in Florida is that Amendment 2 would also wreak havoc on all manner of domestic partnerships, including those between heterosexual couples and even arrangements between mothers and fathers with their children in care-giving circumstances. The amendment is vague on the precise meaning of "substantial equivalent therof" so it could allow for disenfranchising contractual and domestic arrangements and take away recognition already granted by many cities and counties in Florida.
GLAAD has given financial contributions and staff resources to the Vote No on Proposition 8 campaign in California, said Ferraro.
Related
Popular in the Community