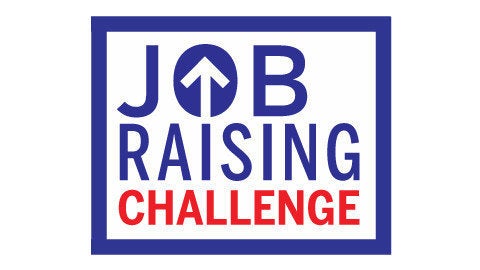 I've been a volunteer at Career Wardrobe since 2010. I became part of their family when I was unemployed and needed to stay busy. At the time I was Chair of a local foundation and steeped in issues that impacted the well-being of women and girls throughout the region. I knew that helping a woman often translated into helping a family. I knew that a community of caring women could nurture someone who is struggling economically and emotionally. All of this informed my choice to help at Career Wardrobe. Their mission to empower women in transition was a perfect fit for me, and once I started working with the staff and clients I was hooked.
I started by sorting through stacks of donated clothing, and then graduated to the client dressing suite where The Story of a Suit often begins. I helped women select interview appropriate suits and other business attire. My inner wardrobe stylist was delighted to have "clientele" to advise, and the optimist in me knew that I was putting these women on a path to increased self-confidence and a better life. It was about fostering self-sufficiency and personal growth. Helping them see themselves through different eyes, in new roles, starting over with a greater likelihood of success.
Over the months I spent at the client dressing suite there were many smiles and hugs of gratitude from clients. Plenty of playful, boisterous "girlfriend" moments complete with high fives and pirouettes in the floor-length mirror: those moments when you connect with another person. I was continually inspired by the women who came through our doors with aspirations, plans to break the cycle of poverty and provide better lives for their families. They often talked about being positive role models for their kids. Career Wardrobe gave them assistance with the struggles of everyday life, helping them reach for success. I saw their worlds change as they enrolled in college, began new careers, forged new relationships.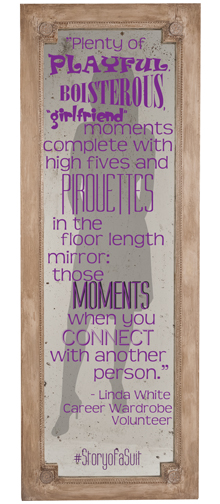 Because of my current work schedule, I've shifted my focus to The Wardrobe Boutique. I'm dressing mannequins, assisting customers, sorting through donated evening wear, miniskirts, and designer jeans and still having fun! I have to enjoy my work whether it's paid or unpaid--it keeps me motivated and committed.
For me, this gig is also about membership in a helping community. Career Wardrobe staff and volunteers keep me uplifted with their positive attitudes, helpfulness, good humor, and deep commitment to the mission. This is the perfect place for me!
Raising Jobs, Raising Women
Career Wardrobe pledges that if we win the The JobRaising challenge, we will expand our service delivery into a new community. That means one lucky community will get our social enterprise resale store, The Wardrobe Boutique, in their neighborhood, complete with our dressing, education, and internship services! Not only that, if we win we will be asking for your suggestions on what community needs us most.
Does your town need a Wardrobe Boutique? Let us know via Twitter or Facebook and use #storyofasuit to tell your own story of the importance of a professional suit, looking the part, and getting the job.
Support HuffPost
The Stakes Have Never Been Higher
Related
Popular in the Community