The mainstream media, despite a fixation with Republican Donald Trump's rising candidacy, have started to notice that Bernie Sanders is closing in on longtime Democratic front-runner Hillary Clinton. Even so, these reports have missed the big story: that most Americans agree with Sanders' mantra against economic inequality. Instead, his position is routinely characterize as simply located on the left.
Now, with the presidential race heating up, it is more crucial than ever for voters to know that in fact most of them support Sanders' signature issue. Just look at this summer's polls, as with the New York Times surveys reporting that 57 percent of respondents want the government to do more to reduce the gap between the rich and the poor, while a whopping 84 percent percent think that money has too much influence in political campaigns.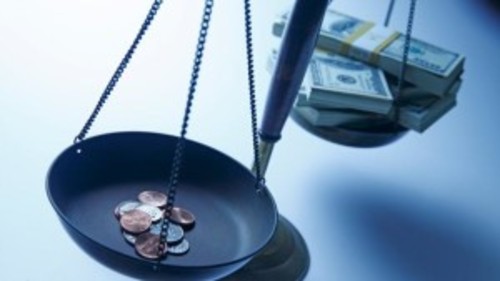 [sevenpillarsinstitute.org]
Even those who cheer Trump's seemingly racist immigration-restriction rhetoric often add that they support him because, as a billionaire, he is not beholden to wealthy donors. All of this of course echoes the populism of the first Gilded Age, a mass movement that also contained elements of the right as well as the left -- but, then too, with the general public mostly supporting the latter's efforts to limit the growing concentration of wealth and political power. The successful campaigns for constitutional amendments establishing graduated income tax and the direct election of senators are echoed today in such initiatives as the push for an amendment to overturn the Supreme Court rulings that have facilitated the outsize influence on our electoral system of big donors.

Meantime the major media outlets tend to focus on Sanders' identity as a democratic socialist, as with a recent New York Times Magazine interview that harped on that theme to the exclusion of policy questions. Sanders' political label does not, however, explain these journalists ignoring the widespread popularity of his message, for public officials with no such tag -- e.g. Elizabeth Warren -- find their own critiques of economic inequality similarly mischaracterized as located on the left side of the political spectrum.
This, even though it is clear that, when it comes the question of economic and political power, Middle America yearns for genuine reforms to reverse the trends that they see as threatening their children's future, and the future of democracy itself.
Popular in the Community