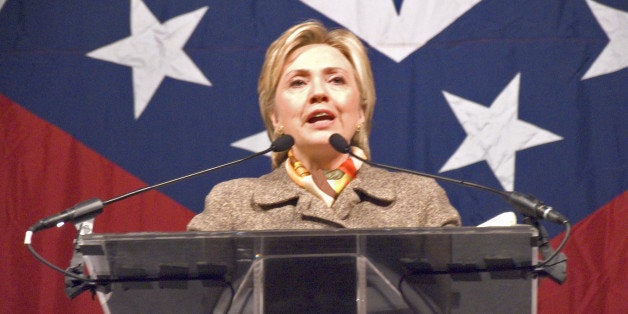 Hillary:
You don't know me -- although we met once in 2007 when you were running for president and came to Boston to speak at Symphony Hall to a standing-room only crowd -- but I am asking you to run for president of the United States for 2016.
I am an independent woman, and a woman entrepreneur, who believes that the United States is in desperate need of a woman president. My Republican friends think I am a Democrat, and my Democrat friends believe I am a Republican. I am neither too conservative nor too liberal, which I believe describes much of America today. I just want what is best for our country.
However, you and I share a lot. First, we were born on the same day, October 26th. We are a couple of years apart but, nonetheless we are both Scorpios. In other words, we are serious in our mission and travel the world as investigators to get to the bottom of things. We have a keen sense of intuition and are in full control of our own destiny. We are resourceful and full of energy and keep coming back.
Of course, we are also women. We have taken are lumps from the men in our lives, but have gotten back up to make it a better day. We have also worked for men and followed the rules, sometimes knowing that we could improve on things, but being good soldiers all the same. However, it is in these circumstances we learned our greatest lessons. We have the ability to observe the powerful in action and see how vulnerable the situations they direct truly are. We learn from these experiences and are better prepared for them.
As I have just become a grandmother and you will join the club soon, I have learned a greater responsibility, particularly since I have a granddaughter. My role is to prepare her for the world ahead, one that is still not as female-friendly as I would like. I can share with her my experiences as a woman entrepreneur and as a leader, but I also must share the lack of respect women still have around the world. I know that this is an issue you hold dear and want to change, whether your grandchild is a male or female.
So why am I writing to you to ask you to commit yourself to this grueling process of putting your hat in the ring to become our first woman president? Because I believe you are the best chance we have -- women have -- of seeing a woman president in our lifetime. I know that you have done more than your share of the hard stuff: sucking up for money, dressing up for the media, dialing down with your opinions when needed, but now it's time to do something for women around the world -- run for president of the United States of America.
Yes, the media will beat you up. Yes, you will not have another solitary minute of personal time. And, yes, you will not be able to commit days a week to babysitting your grandchild as many of your peers are doing right now. However, what you will be doing is making history -- no, saying that is too trite! More importantly, I believe you will make a difference in the world and this country, not just for women, but for every living being. We need female leadership more than ever in a world that is falling apart due to violence (for no other reason than it is the only answer available). I imagine a world that understands the value of peace and family and the desire to appreciate what really is important in life.
Ask any young person what they really want out of life and the answer is to be happy, and money doesn't buy it. Given the opportunity, women can make a tremendous difference in the world and with a woman president of the United States the message will be received loud and clear -- women are leaders.
So, Hillary, what do you say? Will you take the challenge again? Are you willing to take the criticism for missteps, mistakes and anything else thrown at you? Are you energized for the fight? Because the media has nothing better to talk about and you and I know it won't be easy. But this time, I promise women will support you. They have learned a valuable lesson. It's time for a woman president and we can't wait another minute in our history.
Hillary, please run for president of the United States of America; we need you now more than ever, and we promise not to let you down.
Calling all HuffPost superfans!
Sign up for membership to become a founding member and help shape HuffPost's next chapter