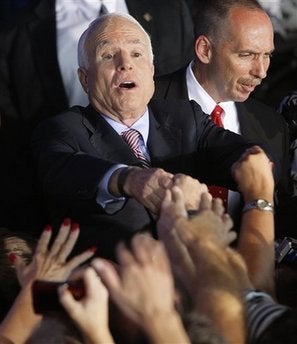 Memo: Campaign staff, surrogates, Gov. Palin, etc.
From: Rick Davis, campaign manager
Re: Elite media's hearing problem
Date: September 18, 2008
As you all know, the Obama campaign, aided by their attack dogs in the elite, liberal media, have jumped all over our candidate's alleged misstatement re the economy's fundamentals. Obviously, John McCain is not so out of touch that he would use the Hoover-esque "fundamentals are sound" line amid an unprecedented implosion on Wall St, recessionary job market, etc...
So here are some talking points on what he really said. Please emphasize them in all campaign-related appearances and be sure to take deep, deep umbrage in the unlikely event that you are challenged on their veracity.
"The fund of mentals is sound." Senator McCain was sticking it to the elites on this one. His comment was directed at Mensa International, that group of out-of-touch, elite intellectuals with super high IQ's (we call them by their derogatory sobriquet: "mentals"). While the rest of us are struggling to make ends meet, their budget is in surplus.

Action item: could someone check to see a) how these nerds break in the polls, and b) the actual status of their budget.
"My bowl of lentils is round." John's a regular guy -- well, really a maverick, but also a regular guy -- who enjoys a bowl of soup at the local diner. His comment actually reflected a deep insight regarding the circularity of the economy.
Message team: need a better narrative on this one.
"The fundamentals are sound...not!" When the senator is not out on the stump, or thinking of new ways to reign in greedy, Wall St. investors, he likes to kick back with youth-oriented television. Here, he was reaching out to young voters by citing the great old Wayne and Garth formulation, but the "gottcha" media corps was too busy gasping to hear the canceling negative at the end of the phrase.

Problem: young voters have never seen Wayne's World.
"The firmamentals abound." The senator was obviously making a biblical reference that only evangelicals would understand.
To do: Check this one out with Gov. Palin.
"The incrementals astound." A clear, even trenchant critique of the astounding nature of our economy's negative incrementals right now, this was twisted by the media to somehow mean the opposite of what the Senator intended.

Econ surrogates: Please use this formulation--"negative incrementals"--on all CNBC appearances.
Thanks all. Sorry we have to deal with these despicable distortions of our message, but remember: the American people are with us. They know that only our economic program can turn those negative incrementals around.

Popular in the Community