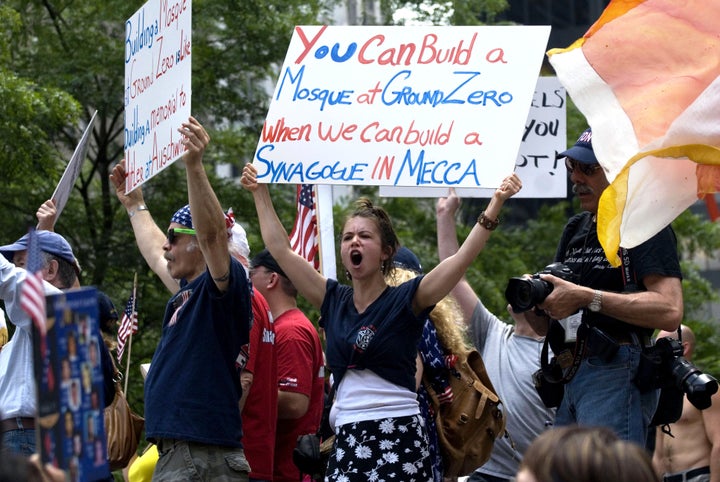 Last week the New York Times reported on the Anti-Defamation League's decision to oppose the building of the Islamic Community Center, the Cordoba House, near Ground Zero. You were quoted comparing the anguish of the 9/11 victims' families to that of Holocaust survivors and their relatives. "Their anguish entitles them to positions that others would categorize as irrational or bigoted," you said.
We can relate to these "irrational" feelings. We are a diverse group of Jews, many of us from New York. Many of our families lost members to the Holocaust. Some of us are lucky enough to still be able to spend time with parents, grandparents, uncles or aunts who made it through the Nazi death camps. We remember how uneasy many Jews felt about the Christian crosses placed at Auschwitz-Birkenau, a situation with many parallels to that of the Cordoba House.
And yet we believe that your position on the Cordoba House is wrong and that it goes against the ADL's description of itself as an organization that fights "all forms of bigotry."
Cordoba House is not a mosque, it is an Islamic Community Center, similar to a Jewish Community Center, with a board comprised of members of different faiths. The center is not "at" Ground Zero, as certain politicians looking to exploit this divisive situation have stated. It is well-documented that the Cordoba initiative and its head, Imam Faisal Abdul Raouf, have done much to promote tolerance and interfaith relations. This, we feel, is something to celebrate. Seeking transparency from it is fine and right, but saying, as the ADL does, that "questions have been raised" about its sources of funding or its ideology is a form of scaremongering that obscures the issue. We should welcome a Muslim leader who has worked hard to overcome hatred.
There are other reasons not to oppose the project. We agree with you that some victims of 9/11 are entitled to "irrational" feelings as a result of their loss. But being less tolerant will not help us heal, and it is not wise for America to alienate millions of its own citizens, let alone the hundreds of millions of Muslims in countries that Americans visit around the world. Remember, there were Muslim victims on 9/11, too, Muslims that worked in the World Trade Center, or were part of the rescue crews that bravely entered the buildings that day.
Previously, the ADL has won respect for its historical defense of the freedoms of others, and helped make more widely known the Jewish commitment to tikkun olam. We fear that your position on the Cordoba House project will tarnish that reputation.
This issue is emotional and complex. No matter what happens with the Cordoba House now, feelings are going to be hurt. But a fundamental principle of tolerance is at stake -- one we look to the ADL to uphold. Tolerance for one means tolerance for all, or else we slip down a dangerous slope.
We urge the ADL to change its position, and we urge everyone who agrees with us to sign the online petition that was started by J Street.
Sandi DuBowski, filmmaker
Francine Hermelin, author/entrepreneur & resident of Lower Manhattan
Julie Hermelin, filmmaker
Tarah Malhotra Feinberg, creative director
Ethan Sandler, writer/performer/producer
Rabbi David Adelson, East End Temple, New York
Michaela Watkins, performer/writer (and cousin of WTC victim)
Rachel Sklar, writer/social entrepreneur
Scott Belsky, author, entrepreneur
Adi Cohen, human rights activist
Mark Hanis, human rights activist
Kristopher Brown, attorney
Simon Glickman, writer/editor
Juliet Simmons, creative director
Gideon Lichfield, journalist
Scott Goodstein, writer & activist
Adam Werbach, environmental activist
Davy Rothbart, writer/filmmaker
Alan Light, writer/editor
Alana Klein, law professor
Ari Wallach, social agenda strategist
Gillian Laub, photographer
Rachel Weinstein, activist and educator
Aaron Davidman, playwright
William Wimsatt, social entrepreneur
Jeremy Goldberg, digital media entrepreneur
Joanna Rudnick, documentary filmmaker
Mireille Silcoff, writer/editor
Jeremiah Lockwood, musician
Josh Spear, digital strategist
Eric Heiman, Design professor, writer
Jason Turbow, author/journalist
Alan Light, writer/editor
Calling all HuffPost superfans!
Sign up for membership to become a founding member and help shape HuffPost's next chapter